What is Content Marketing? + Types of Content Marketing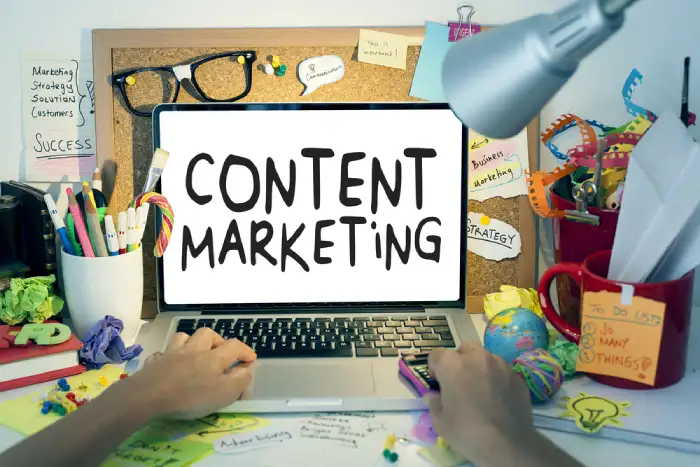 Among the different digital marketing methods available out there to consider, content marketing holds a prominent place. It is also one of the most successful forms of marketing available to consider as of now.
Before running a content marketing campaign, you must clearly understand what content marketing is about. Continue to read, and we will be sharing more details.


What is content marketing?

Content marketing is where you run marketing campaigns with different forms of content to attract an audience, engage the audience, and retain the audience.
Here, you are provided the freedom to use content marketing in numerous ways. Some of the most prominent examples of content marketing include using articles, podcasts, videos, and other forms of media.
As per the content marketing definition, this marketing method can establish expertise while promoting brand awareness. On top of that, it will help you to keep your business at the top of the minds of potential customers when they are about to buy.
To become the brand leader in the industry for a specific product or a service, you need to run an aggressive content marketing campaign.
There are numerous examples of content marketing that you can see from well-established brands out there. However, you must ensure that you have a clear idea of content marketing definition to get the most out of it.
If you want to know what is a persona (part of content marketing), click here.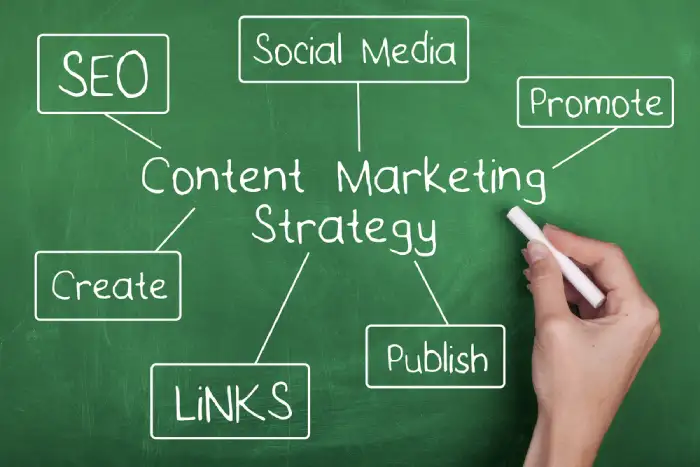 Types of content marketing

Now you have a basic idea of what is content marketing all about. While keeping that in mind, let's look at the different types of content marketing. The knowledge you have will surely benefit you when you are about to run a content marketing campaign on your own.


– Infographics
Infographics are vertical graphics that show different graphs, charts, statistics, and other related information. They can be used as an effective form of content marketing.
There are numerous tools available to create infographics as well. Out of them, Pinterest holds a prominent place. It will help you to curate infographics related to any business topic.


– Blog posts and articles
Blog posts and articles are a basic form of content marketing available to consider. You will be able to write a series of blogs related to the products and services you offer.
Those blogs can be published on your website or third-party websites. If the blogs are informative enough, you will find it easy to create awareness with them.


– Podcasts
Using podcasts for content marketing is rare, but it can still be considered a great option to proceed with content marketing. One of the best things about podcasts is that they are in a position to deliver a wealth of information.
As a result, there is a possibility to increase brand awareness and get potential customers to buy products or services without hesitation.


Videos are the most popular form of content marketing as of now. That's because videos are effective in building awareness. Numerous platforms are available to run content marketing campaigns with videos.
YouTube is an excellent example of such a channel. On the other hand, most brands continue with video content marketing campaigns on social media networks such as Facebook and Instagram.


Savvy content marketers prefer to use books for content marketing as well. For example, "Book Yourself Solid" by Michael Port is an excellent read for marketers, salespeople, and entrepreneurs.
Even if people don't buy the book, it can be used to enhance the effectiveness of content marketing campaigns. That's because you can refer to the book and say that you are the author of a specific book.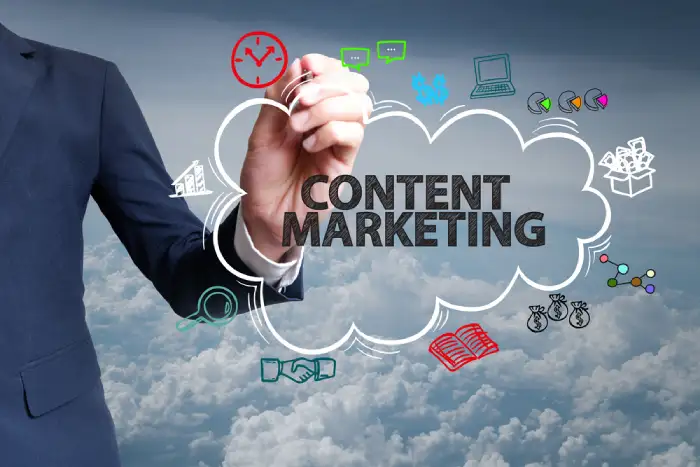 What is content marketing strategy?

Now you have a good idea about the meaning of content marketing. While keeping that in mind, let's look at these tips for content marketing. It will assist you with building a perfect content marketing strategy.


– Learn more about your audience
It would help to learn more about your audience before running a content marketing campaign. That's because you are promoting content to your audience.
Once you know your audience's challenges, preferences, and priorities, you can create content for them accordingly. Make sure that you also create customer profiles so that you will be able to keep focus when designing content marketing campaigns.


– Create different content for different stages of the sales cycle
When you are converting a prospect into a customer, you will have to go through multiple stages in the sales cycle. You need to understand the specific stage of the sales cycle and then create content accordingly. Then you can figure out the best form of content available for you to proceed with it.


– Check how you will be distributing content

After creating content, you must figure out the best way to distribute content. For example, you can publish content on YouTube, upload it to a blog, email it to people, and follow many other distribution approaches.
Make sure that you pick the most effective ways to distribute content so that you can ensure the success of your content marketing campaigns.


– Pick the most appropriate schedule
It is also essential for you to pick the most appropriate schedule to promote your content. For example, you may create a short-term plan for promoting content, which will run for around 6 months. Then you will need to keep track of the plan and get work done.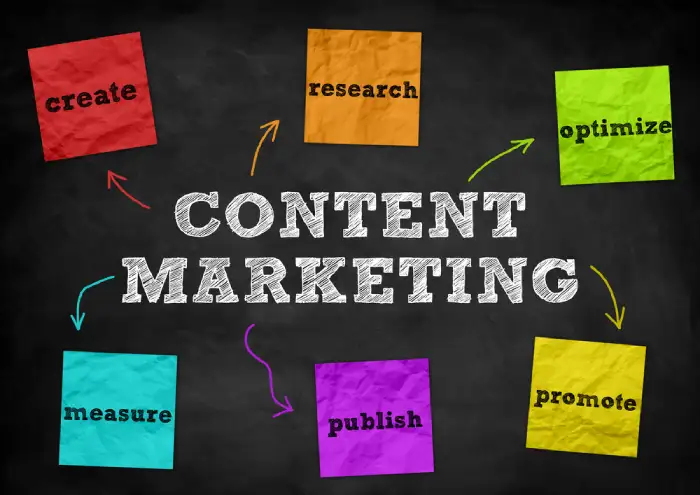 Importance of content marketing

While keeping the meaning of content marketing and tips for content marketing in mind, let's also take a look at the importance of content marketing.


– You can get the audience to stick around longer
Using content as an asset, you will get your audience to stick around your business for longer. That's because you will use content to create a positive experience for potential customers. This will help you capture your audience's attention and create a positive impression of your brand in their minds.


– You can have better traction on social media networks
Another great thing about content marketing is that it can assist you in having better traction on social media networks. This will help you to become the industry leader with ease. Moreover, you may also create a top of the mind attitude among potential customers.


– You can get the audience to trust you
You can develop a strong relationship with the audience when you continue to promote content. This will eventually help you get the audience to trust you. For example, you will be able to answer your audience's questions and interact with them. By doing that, you can get your audience to trust you with your recommendations and advice.


– You can generate better leads
Content marketing is a beautiful approach available for you to generate more leads for your business. When people view your content, you can increase their likelihood of purchasing more from you.
On the other hand, you can place calls to action directly on content, which can further support you by increasing the chances of lead generation.


What are content marketing examples?

There are some great examples of content marketing where you can receive inspiration. Let's take a look at a few such examples.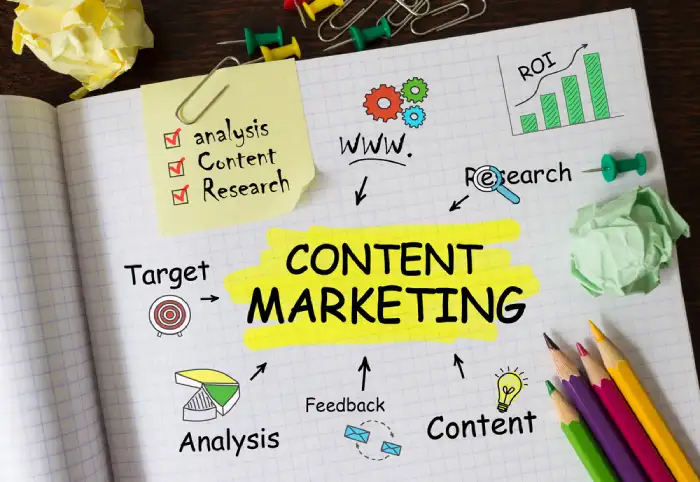 – Wrapped playlists by Spotify
Wrapped playlists are one of the most successful content marketing campaigns carried out by Spotify. It allows the users to do a roundup of songs they have listened to throughout the year.
Then the roundup is broken into artists, years, genres, and other factors and displays. Then it will create a customized playlist based on the most listened to songs of the users. The users will be able to go ahead and share their wrapped playlist on social media as well.


– DuoLingo content marketing on TikTok
TikTok is an excellent platform available to run content marketing campaigns. Duolingo is a popular app and website that allows people to learn a new language.
This company has created a buzz within TikTok because of its content marketing campaigns. DuoLingo TikTok account has got more than 4.5 million subscribers as of now.
The company continues to create visually appealing videos on TikTok and share them. The ability of DuoLingo to create trendy and funny content has helped them to increase brand awareness.
The content marketing campaigns of DuoLingo on TikTok helped them to boost their brand reputation significantly in the recent past.


Now you know what is content marketing all about and the importance of content marketing. Keep these tips in mind and create the best content marketing plan. You will surely fall in love with the results that you get.