What Is Windows Server And What Is It Used For?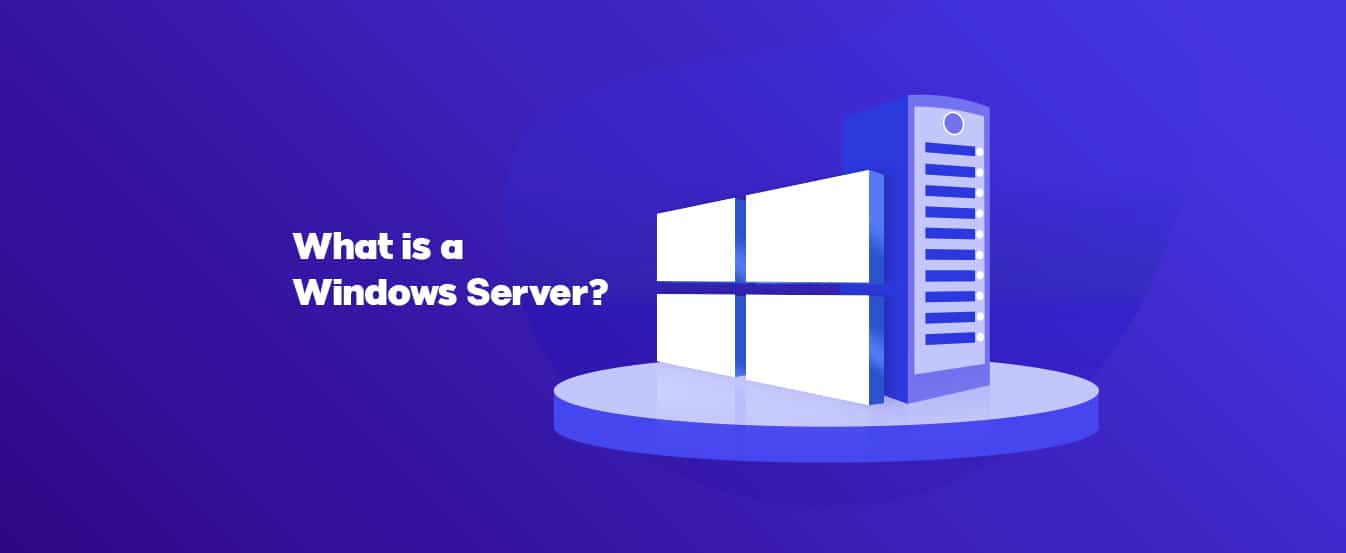 Microsoft's Windows Server operating system shares multi-user services and extensive control over data storage, applications, and shared networks. This article talk about Windows Server history and what it is used for.


What Is Windows Server?

To answer the question of what is Windows Server, it must be said that Microsoft's Windows Server operating system is designed as a series of enterprise-class server operating systems that share multi-user services and extensive control over data storage, applications, and shared networks.


Windows Server development began in the early 1980s when Microsoft produced two operating systems: MS-DOS and Windows NT. At the time, a Microsoft engineer named David Cutler developed the Windows NT kernel to provide the speed, security, and reliability that large organizations need on server operating systems.


Before Windows NT was released, many companies relied on Unix (OS), which required expensive RISC-based hardware to run files and print services. But Windows NT was available on cheap x86 machines. One of the critical features in NT architecture is multi-processor symmetry, which makes it faster for applications to work on devices with multiple processors.


Subsequent windows server duplicates are implemented on the hardware in an organization's data center and on a cloud platform such as Microsoft Azure.


Critical features in later versions of Windows Server include Active Directory, which automatically manages user data, security, and distributed resources and enables collaboration with other directories. Server Manager is also a tool for managing the server and making configuration changes on local or remote devices. However, what you are familiar with is the Windows Server concept.


If you aim to know what is tomcat , check this article out!


what is windows server used for?
Windows servers use for enterprise purposes, covering an extensive network and virtually unlimited connections.


What Is Windows Server History?
Now that you are familiar with the concept of Windows Server let's take a look at its history throughout this article.
1993: Windows NT 3.1 Advanced Server
Microsoft released its
Windows NT operating system
in two formats: one for workstations and one for servers. The 8-bit operating system had a Hardware Abstraction Layer that provided system stability by blocking applications' direct access to system hardware.
1994: Windows NT 3.5 Server
Microsoft updated key network features in this server version and added integrated support for TCP / IP and Winsock. Other network enhancements allow users of operating systems other than Microsoft to access files and applications in the domain.
1995: Windows NT Server 3.51
Microsoft fine-tuned this version to increase performance and reduce the amount of memory required. This server operating system is optimized through its updated network stack to provide faster service to users. Microsoft added more communication support for companies in an environment with Windows NT and
NetWare servers
so users with a single credit can benefit from both.
1996: Windows NT Server 4.0
Microsoft used the Windows 8 UI for this server operating system version and expanded network protocol capabilities to allow network resources in a broader array of non-Microsoft devices. Key features in this release were the ability to use a server as an Internet information server, now known as the Internet Information Services (IIS).
I you want to know more about
what is iis and how it works, read our article.
2000: Windows 2000
Windows 2000
introduced Active Directory, which stores and manages information about network objects, including data, systems, and user services. Active Directory allows administrators to perform various tasks such as configuring a virtual private network, encrypting data, and accessing file sharing on network computers.
Microsoft also introduced several other critical features in this release, including:
Microsoft Management Console (MMC / Microsoft Management Console)
NTFS 3.0 file system
Dynamic disk volume support
Windows 2000 had three versions – Server, Advanced Server, and Datacenter.
2003: Windows Server 2003
Microsoft introduced the Windows Server brand with
Windows Server 2003
and promoted its security enhancements on Windows 2000. Microsoft IIS has made the web server feature more difficult and disables default services to reduce deployment opportunities.
Microsoft introduced server roles with this release. The use of Windows Server 2003 is to allow administrators to assign a specific function, such as a domain controller or DNS server, to a server.
This release's other new features include enhanced encryption, firewall, more network address support (NAT), and Volume Shadow Copy Service.
Windows Server 2003 had four versions: Standard, Enterprise, Datacenter, and Web.
2005: Windows Server 2003 R2
Instead of the version number, Microsoft started using R2. Organizations had to purchase a new windows server license to use the new server operating system. Still, this version did not need to be upgraded, and R2 releases used client access licenses (CALs) of the previous server version.
This release has improved security and safety features in Windows Server 2003.
2008: Windows Server 2008
Hyper-V virtualization software
failover clustering
event viewer
Server Core
Server Manager console
The Windows 2008 server was released in four versions: Standard, Enterprise, Datacenter, and Web.
2009: Windows Server 2008 R2
Microsoft used its Windows 7 kernel for the operating system and improved its scalability and accessibility features.
Microsoft has expanded Active Directory rules and features to improve user account editing and more node control. The company also updated Terminal Services and reinstalled Remote Desktop Services (RDS).
New features in the server version of Windows 2009 include BranchCache and DirectAccess, improving users' remote use.
Like the previous version, this server operating system shares some of the management and security features used in the Windows Vista client operating system. Windows Server 2008 R2 changes from a 32-bit operating system to a 64-bit version.
2012: Windows Server 2012
And what about Windows Server 2012? Microsoft embedded several cloud features for Windows Server 2012, as far as Cloud OS is concerned. The company has also made significant updates to its operating system storage infrastructure and Hyper-V virtualization platform.
New features notable in this release include Hyper-V Virtual Switch, Replica Hyper-V, storage, and ReFS file system.
This version of Windows Server was released in four versions: Essentials, Foundation, Standard, and Datacenter.
2013: Windows Server 2012 R2
Microsoft Windows Server 2013 R2
has undergone several changes, including significant updates to virtualization, storage, networking, information security, and web services.
New features include:
Desired State Configuration / DSC was built on PowerShell to prevent configuration crashes and maintain compatibility across enterprise devices.

The addition of multiple storages to the storage space enhances the mechanical movement of commonly used data blocks to solid-state storage.

Folders allow users to retrieve and save company files on work and personal devices.
2016: Windows Server 2016
Microsoft has come close to the cloud with new features in this release. Microsoft introduced the Nano Server, a minimal server-side option to increase security by reducing the attack vector.
Another security issue is the new Hyper-V shielded VM feature that uses encryption to prevent data damage in the VM.
Network Controller is a critical new network feature that allows administrators to manage switches, subnets, and other virtual and physical network devices.
This server operating system is available in standard versions of the Datacenter. Windows Server 2016 Standard Edition does not have advanced features in virtualization, storage, and networking.
2017: Semi-Annual Channel and Long-Term Servicing Channel releases
In June 2017, Microsoft announced dividing the windows server into two channels: the Semi-Annual Channel (SAC) and the Long Term Service Channel (LTSC).
The LTSC naming convention will maintain the Windows Server YYYY format. (Such as Windows Server 2016). While the SAC release follows the Windows version of the YYMM server version. Microsoft released its first version of SAC, Windows Server 17.9, in October 2017.
2019: Windows Server 2019
Windows Server 2019
is the latest version of Microsoft's server operating system and is part of the Windows NT operating system family. Windows Server 2019 is an operating system that connects to Azure locally, adds additional layers of security, and helps you modernize your applications and infrastructure.
Windows Server 2019 was introduced on March 20, 2018, and the first version of Windows preview was released the same day. But it was released for public access on October 1, 2018.
Windows Server 2019 has the following new features:
Other graphical elements from Windows 7 and later:
Storage Spaces Direct

Storage Migration Service

Storage Replica

System Insights

If you need more details, don't miss

this article