Difference Between Magento vs WordPress for Ecommerce 2021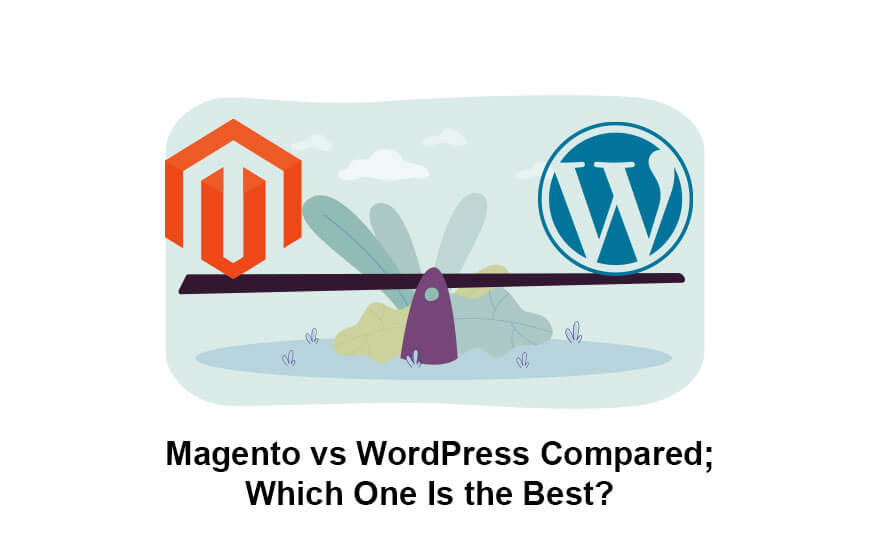 Magento vs WordPress: Who wins? Picking a suitable platform for an online store has never been an easy task for e-commerce business owners. WooCommerce and Magento are great choices for you if you are looking for an e-commerce platform that allows you to explore the full potential of your online store and then manage everything on the store site.
However, this question arises around WordPress vs Magento and which platform is most suitable for your e-commerce site? You can spend a little bit of time and read this article to know which solution is better and what is the difference between WordPress and Magento?
Suggest you read our article about
what does wordpress do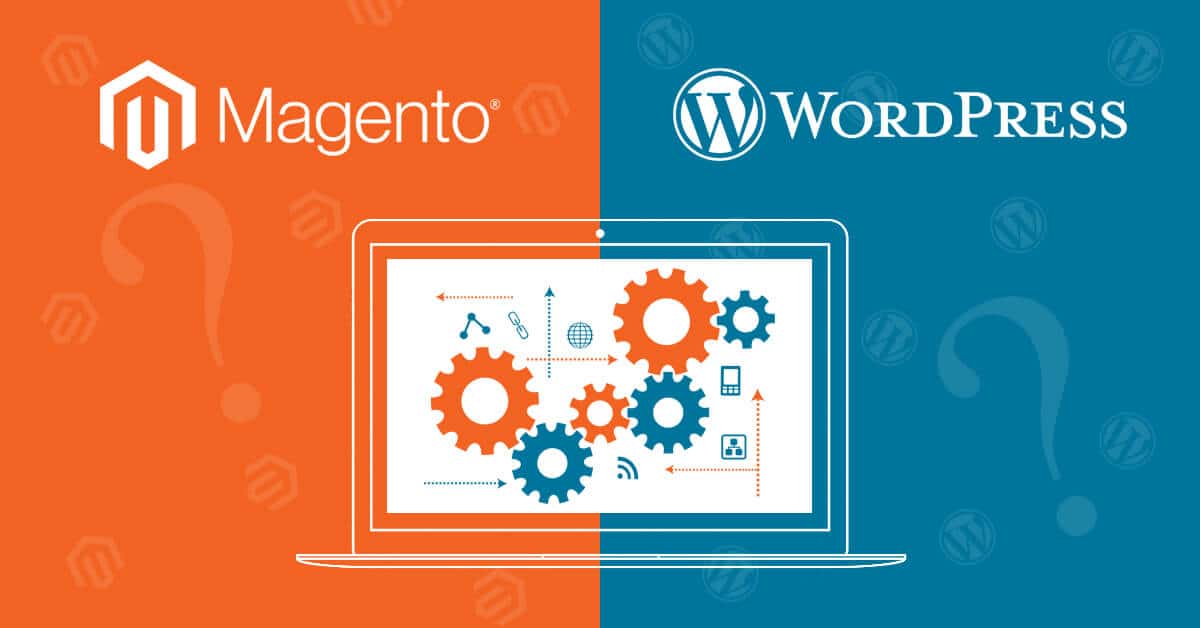 Magento Features
Magento is an e-commerce platform customized to web development professionals, and medium to large online stores. It offers one of the most powerful feature sets in the field, which makes it ideal for stores with high aspirations.
1- Magento Offers several premium services and a free Community version.
2- You can add limitless products by using magento.
3- The Community version of magento is self-hosted, but their premium offerings include hosting.
4- It Supports extensions and provides a wide variety of them too.
5- Magento is suitable for users that have a basic level of web development knowledge.
6- It offers a theme-based system
If you are willing to know
what is magento used for
, don't miss this post!
WordPress woocommerce Features
1- Woocommerce is a Completely free platform.
2- It supports unlimited products.
3- Woocommerce requires you to find your own web host.
4- Woocommerce can protect your store with basic security features.
5- Its platform is very easy-to-use.
6- It is ideal for all WordPress themes and offers a multitude of customization options.
suggest you read our article about
how to make a blog on wordpress
What is distinctive about Magento vs WordPresswoocommerce?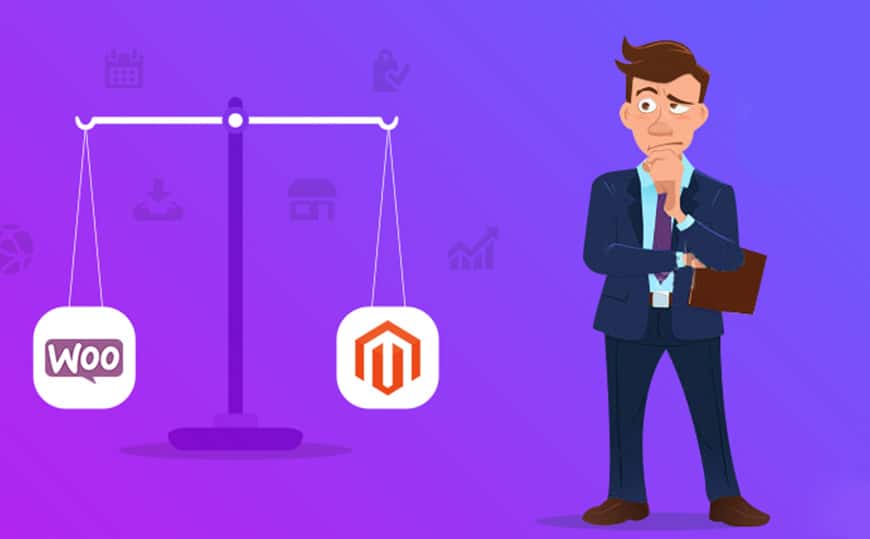 Magento
WordPresswoocommerce
WordPresswoocommerce is a robust plugin for the WordPress platform. It offers all the features you need from an e-commerce solution while keeping the ease of use of its parent platform.
Platforms of Magento vs WordPress for eCommerce
Here, we have gathered all the information you'll need to know about platforms of ecommerce magento vs WordPress. Then we'll go over the results together and decide which is better.
Magento
Magento is an ecommerce platform basis on open source technology which offers online merchants a flexible shopping cart system, as well as control over the look, content, and functionality of their online store. Magento offers search engine optimization, powerful marketing, and catalog-management tools. For comparison and difference between WordPress and magento, we'll focus on the Community Edition's features.
Suggest you read our article about what is the
difference between blog and website
Key Features of Magento
coming with its own theming and layout system, Supports an unlimited number of products. Magento includes efficient APIs that can connect with any third-party solution. One of the other features is product creation tools and intuitive admin interfaces.
Advantages
SEO Friendly
It is necessary to mention that achieving optimal positioning in search engines is important for e-commerce. Therefore, it is a pleasant surprise that Magento emerges in this sense, both in its web architecture and in the sections that can be customized in this sense.
Magento allows you to adjust the URL of each of its pages. It is also possible to change their meta descriptions and other aspects.
Multiple Customization Options
Except for the SEO point of view, Magento has a simple interface, with multiple customization options. Of course, you don't need to be familiar with style languages like CSS or HTML. In Magento, you can alter them as well. And that's precisely where their power lies! In fact, professionals can achieve excellent results by using this platform. You can also improve any aspect related to customer service, payments and, security, SEO optimization. These extensions are perfect for it and some are even free.
Scalability
Magento is built for scalability and should have no problems handling large stores, as long as your host can manage them. In fact, scalability also shines with special intensity. You can sell your products quickly from a very simple shop and when it improves, its design becomes more forceful. Scalability is critical for magento, and therefore their plans are designed to encourage this progression.
Disadvantages
1- Expensive Plans
Among the disadvantages of Magento, the price is usually mentioned. This platform has a free version for entrepreneurs and startups. But, the support and use of extensions requires payment. Magento becomes a very expensive solution in the case of larger companies and online shops. the price of Magento Commerce Starter higher than magento Commerce Pro. However, it should be noted that these plans are aimed at businesses, not individuals.
2- Complex Customization
It's true that Magento is a perfect platform, but it has its drawbacks. One of these drawbacks is the slowness of loading during the customization process. In other words, the performance of its interface is complex.
3- Need for hosting
Unlike other e-commerce platforms, customers of magento vs WordPress woocommerce must host their websites in hostings. Its configuration and proper operation, in addition, is the responsibility of the owners of the online store. Also, many of magento competitors manage domain registration, but it does not. Actually, this platform provides the basic software but is not responsible for these technical details. Another issue is that many customers are not familiar with domains or hosting. In other words, this requires certain skills that have to be learned beforehand, which is a big barrier for some of its users.
In the following, we must consider magento vs WordPresswoocommerce, because contrasting the pros and cons of all will help us find the best option.
WordPress woocommerce
WordPresswoocommerce is a free WordPress plugin that by adding functionality you can have an online store. WordPress website turns into a fully-functional e-commerce website, with just a few clicks. this open-source e-commerce is designed for small to large-sized online merchants using WordPress.
Key Features of woocommerce
Supporting an unlimited number of products, woocommerce Comes with a powerful extension system which is based on the WordPress plugin format. It also offers lots of premium and free themes.
Advantages of WordPress woocommerce
1- WooCommerce is free
WooCommerce is a free, open-source WordPress plugin that is easily accessible for everyone. A WooCommerce store can be installed and opened for business in a very short time compared to custom-made webshops or more complicated CMS solutions.
2- Different Features
Coming with different features, WooCommerce enables users to sell anything, from physical products to digital downloads. However, the code is kept lean through its modular nature and provides only the important features users need at any specific time. In other words, WooCommerce works fast and reliably with the basic features and can be expanded as needed.
3- Security
The WooCommerce provides their customers with the safest online experience possible and works with security experts, such as Sucuri.net. You can implement Security updates quickly and with just one click. You will have a very reliable and safe platform for your business by updating your WooCommerce platform and plugins regularly.
Have your own web shop with WooCommerce
Your WooCommerce store belongs to you alone and there isn't the problem of Selling products or services via a third party which is subject to that party's rules and terms. In fact, many online sellers experience this problem.
Official Extensions
There is a large number of official extensions for WooCommerce such as analytics, payments and shipping, or marketing, and accounting. These official extensions are supported by the WooCommerce development team and are usually easily integrated into an existing web shop. Remember that all extensions you need for a web development agency could easily cost you hundreds, whereas WooCommerce extensions and plugins have the low price.
WordPress woocommerce provides informative analytics
Providing very intuitive and simple built-in analytics, woocommerce makes things especially easy for those who have little or no experience with tracking implementation. Also activating Google Analytics in WooCommerce for additional data and deeper analysis is a simple process. Don't forget without a proper analysis of your efforts, it's difficult to create a solid actionable sales plan.
WooCommerce is highly adapted to SEO
WooCommerce as one of the most well-established platforms in the world is highly adapted to SEO guidelines as provided by Google. WordPress woocommerce also makes SEO optimization of your products much simpler and provides an intuitive interface, where the main product details and any information regarding SEO can be entered and stored.
Disadvantages
Premium themes and extension costs can make sense quickly.
If you don't use WordPress, you need to learn two new platforms.
Magento vs WordPress for ecommerce about price
As explained previously, WooCommerce is completely free, but Magento only offers a free Community version alongside multiple premium services. Indeed, you can only access the price of Magento's premium options via a chat with their sales team.
However, aside from web hosting costs, you can completely get an online store up and running with both platforms without spending a single dime. Also pricing to keep your store running will depend mainly on your choice of hosting provider.
In the end, both WooCommerce and Magento are very good choices for budget online stores, even though the latter only in the case of its Community version. WooCommerce remains the cheapest alternative, when you scale your store since you don't need to install more powerful (and premium) versions of the platform, as may be the case with Magento.
Magento t vs WordPress about product management
If you're already familiar with WordPress, so setting up new items is remarkably simple and you can manage both physical and digital products very well. Also, using extensions such as Product Add-Ons, you can always expand on the platform's functionality.
Magento, on the other hand, supports grouped items, product reviews, wish lists, advanced pricing rules, and product personalization. In fact, ecommerce magento vs WordPress offers several features that WooCommerce lacks without purchasing additional extensions.
In general, we can say magento or WordPress for ecommerce in product management, WooCommerce is the better choice for users who don't need advanced features on their stores from the off.
Difference between WordPress and magento in terms of Security
Magento and WordPress for ecommerce both would enable you to implement several advanced security measures, but mostly through manual tweaks and extensions. Keep in mind, customers expect you to protect their private information and payment details and you need to deliver. In fact, the importance of security when it comes to e-commerce platforms can't be exaggerated. Although, magento security patches aren't easy to apply, but it is a real winner, if you take security seriously and have some experience with web development.
Magento vs WordPress woocommerce about performance
When it comes to performance, it's difficult to ascertain which solution is the overall winner. Regardless of platform, each online store will behave differently due to its functionality and size. Don't forget if your website takes too long to load, some customers will leave and take their money and ultimately your income with them. As a whole, the performance of your online store will depend mostly on you and your hosting provider.
Frequently Asked Questions
Is Magento Better Than WordPress?
When it comes to the difference between WordPress and Magento, we have to say that Magento is a better choice for driving sales, but WordPress is better for marketing your online shop or website. WordPress is a powerful platform that is capable of supporting eCommerce features but they come built-in to the Magento platform.
Is Magento Same As WordPress?
Both Magento and WordPress are powerful open-source platforms but are different in some aspects. While Magento is designed to lunch online stores, WordPress cannot support eCommerce features without using third-party platforms.
last Words
Magento or WordPress for ecommerce?
Which is better
? choosing a winner between ecommerce magento vs WordPress isn't easy, since no single platform will fit the needs of every user perfectly. While some may find themselves more at home with Magento, some of you may agree with our decision to pick WooCommerce.
In general, WordPress is more user-friendly than Magento in terms of Ease of Use. Magento is too a more powerful ecommerce solution. According to marketing and content management, WordPress is a better marketing and content solution. Also, WordPress woocommerce offers better free themes, while Magento's paid themes are ultra-professional.