What Is a Weblog and the Difference Between Blog and Website?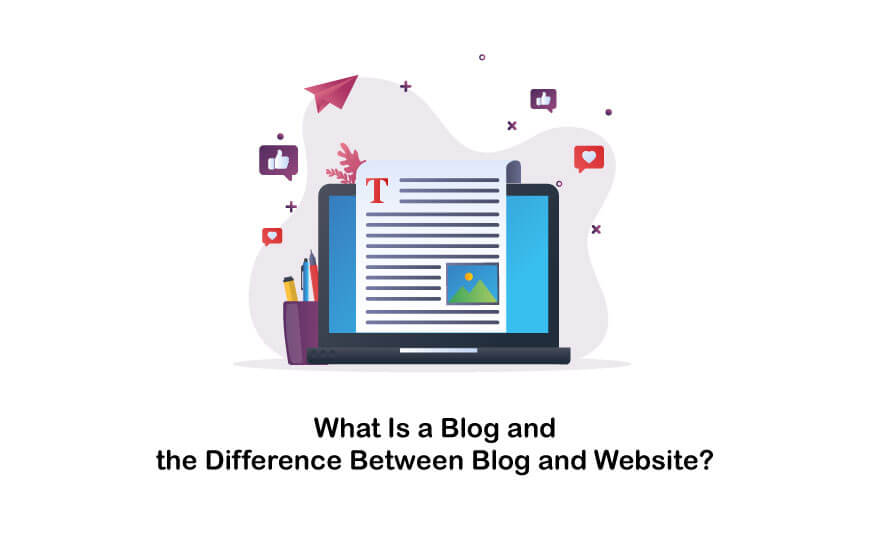 In response to what is a blog, we are going to explain the meaning of the weblog and compare it with a website (blog vs website). Weblogs are important components of today's digital world. It helps businesses to grow faster due to several reasons. In this article, we are going to say what is a weblog and also mention what differentiates blogs from websites. So stay tuned!
What Is a Blog?
what is web blog? The first question that comes to mind is what is web blog definition. The weblog phrase is comprised of the words "web," meaning the global network, and "log," which means daily report or diary. Weblog means a private or group page that is updated daily, or once in a while, with new information. A weblog is indeed a web page that is usually created short and straightforward, and the publishing date often sorts the posts. Similar to the newspapers and magazines' pages, the content and purpose of weblogs are distinctly different.
Suggest you read our article about how to upgrade php version in wordpress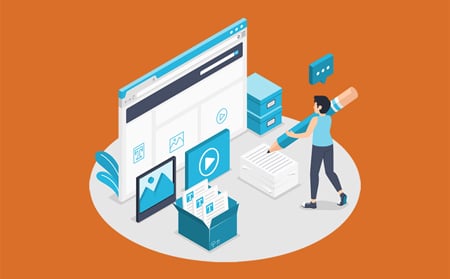 A weblog can include different contents like:
Links and comments about other websites to the news about the companies and people
Various ideas about the everyday subjects
Diaries, poem, and literature,
Picture and music
Different applications and computer software
Political, social, cultural, sports, and even fictional news
Weblogs can be categorized into different groups. As a matter of fact, the definition and application of a personal weblog are not the same as a group one. Now that you are familiar with the meaning of the blog, we will be discussing the different types of it in the next paragraphs.
The first question that arises here is this: what is a personal blog, and in what ways is it different from the group weblog? People talk about what they have in mind on the blog. It means that a personal weblog is made out of someone's thoughts and ideas. Some other types are the group weblogs that include the group's aims and their common interests. Some weblogs are dedicated to group games and entertainment, and some others share scientific researches and articles.
Weblogs facilitate team, organizational, and family communications. They help the relations of small groups in a more manageable approach compared to emails and forums. Using private weblogs in intranet networks let users share their links, files, ideas, and comments with each other. Starting a family weblog helps the family members announce their family news to others. A  blogs or weblogs are helps individuals stay in the group's loop and develop the group's bond and culture.
If you aim to know how to make a blog website , click on the link provided!


What is the history of the blog?
blogs or weblogs are created from online memoirs and magazines in the mid-1990s. At the time, Internet users already ran their web pages, posting regular updates on their personal lives, thoughts, and social comments.
The term blog was first used in the late 1990s, which later became "blog," then "weblog," and finally "blog."
Due to the growing number of such web pages, several tools appeared that made it easier for users to create online magazines and personal blogs. These tools contributed to the popularity of blogging and made the technology available to non-technical users.
Launched in 1999, the popular blogging website Blogger.com was later acquired by Google in February 2003.
In the same year, WordPress released its first version as a blogging platform in May 2003.
Today, WordPress is the most popular blogging platform globally, providing more than 41% of the websites on the Internet.

What Is a Website?
If you are going to use your Chrome or Oxygen or Safari etc., and enter any web URL – like websitesetup.net – you will face up to the websites in the World Wide Web network. As a matter of fact, surfing any whereabouts at all from your web browser will reach out to you on some kind of website. This is that Google is also a website like Facebook, for instance, so is Twitter, and YouTube too. Websites are irrevocably identified by a domain name, by which I mean, web addresses. Since you can seek out, this website's identity is websitesetup.org. Facebook's address is facebook.com, and we can name many others.
Hence, what's the difference between a website and a blog, functionally?
A website is a bundle of web pages, and also multimedia content available controlled by one domain on the Internet. Websites are hosted out some web hosting service. It allows a web page, and its content to be accessed across the World Wide Web. It is internal accessibility accessed through which a secure local area network.
In a hasty way, a website is more static in comparison to a blogs or weblogs. Moreover, we design websites in a formal professional way. In websites, generally, everything is based on written words instead of comments and discussions between users. Websites are used by businesses, the industrial sector, and public services. Creating a website is very simple these days, like others and as many other websites, you can use builders in order to run up a very nice website swiftly.


what is the history of the website?
Websites have been around for over 25 years and have come a long way since their invention. CERN developed the first website in 1991, which was a complete text-based website.
The only tags used on that website were just <table> tags from HTML because not much was being developed at the time.
However, the WWW got better and better with the first search engine development, ALIWEB, and the first MTV landing page. Later, further improvements were made to JavaScript for pop-ups and Flash for web animations. After that, people started building more creative websites.
Amazon's first online e-commerce website was developed in 1994. This opened the door for awesome websites with rich features. Today you will find thousands of e-commerce stores that work online.
Why Start a Blog? (Benefits of Blogging)
Now that you know what is weblog, it is better to understand the purpose of a blog. today, there are lots of reasons to start a weblog for personal use and only a handful of strong ones for business blogging. Blogging for projects, business, or something else that might bring you money has a very simple purpose – to rank your website higher in Google SERPs, a.k.a. increase your clarity.
For your Current job, you should rely on consumers to save buying your products and services. But as a new business, you rely on your weblog to help you get to potential consumers and grab their attention. Your website would certainly remain invisible without the blog, whereas having a blog makes you and competitive and searchable.
So, did you find the main purpose of a blog? Yes, the main purpose of a weblog is to connect you to the appropriate audience. also it boosts your traffic and sends quality leads to your website. If you want to increase the chances for your website to get discovered and visited by your target audience, so your blog posts must be more frequent and better, this means that a weblog is an effective lead generation tool. Besides, the weblog will convert your website traffic into high-quality leads and also allows you to showcase your ideal position authority and build a brand.
Remember great blogging makes your business look more reliable, which is especially important if your brand is still fresh and fairly unknown. As you know an important part of digital marketing is having content on your site that the search engines can index. In other words, your weblog should be a major contributor to your content marketing strategy, and after you understand what is a blog, you explain and specify your purposes carefully.
For more detailed information on steps in setting up a free blog using wordpress , please read the source of our article.
What Is the Difference Between web blog and Website(
blog vs website

)?

You might have been wondering that if someone is supposed to share his thoughts and ideas on a weblog, or for instance, a group of people present their works, then what is blog vs website difference. We are going to discuss the 9 main blogs vs website differences:
Websites are mostly formal and official, whereas weblogs are usually personal
Updating websites requires more time than weblogs
The website has more complicated designs, but weblogs are more straightforward
Websites cover specific issues, while weblogs include all the simple and complex matters of life.
Websites have a formal speech, whereas, in weblogs, it is informal
Websites usually provide a one-way communication (and sometimes a two-way kind by leaving comments). But in weblogs, it is mostly two-way communication (comments)
Censorship and limitations can be considered in websites, yet weblogs have more freedom in this regard
Websites tend to be ordered, and regular, and weblogs are more dynamic
The website has a more modern theme, and weblogs often have a post-modern appearance
If you are interested to know the easiest website builder for beginners , don't miss this post!
Popular Weblog Services
We can mention the below items as famous weblog examples:
And also some other websites by which you can make a profile and have photo albums after registration. for detailed information on the advantages of Wix, please read the source of our article.
If you are interested to know the best seo tools for ecommerce , don't miss this post!
Weblog Content Management Tools
WordPress is one of the most famous and popular content management systems for creating a weblog. It is an open-source and free tool that is designed based on PHP and MYSQL. The software has a series of features such as "Plugin" and "Template" systems. WordPress is used by more than 14.7% of the high-ranking websites and is currently the most famous Content Management System (CMS) on the web. Due to its ease of use, simplicity of the website's appearance changing, and using open-source technologies; it has got ahead of competitors such as MovableType and PhpNuke.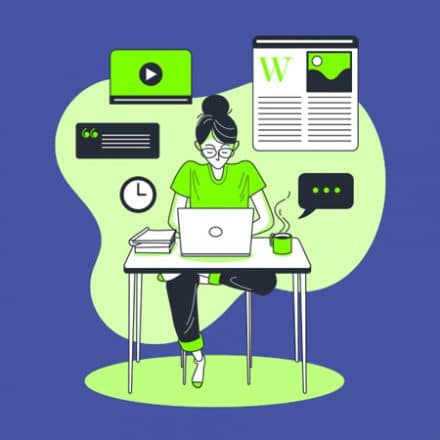 The software was launched in 2013 with a simple program, and after a while, it began to get developed by only a few users. Its development continued until becoming the most powerful tool for creating a weblog and being used by millions of websites and users. Nowadays, WordPress Content Managment System is renowned for being the best content management system for starting a personal weblog on a separate hosting service. Many programmers have developed various plugins for this software that add a lot of new features to the CMS. Big news websites such as TechCrunch, Autoblog, Engadget, blogging stocks, etc. use this system.
The Automattic company, which is the founding developer of WordPress, presented the free version of WordPress on the wordpress.com domain after achieving numerous successes for the CMS. They did it to attract more bloggers to it. Bloggers have much welcomed the services, and until now, about one million weblogs are registered in this service.
If you are interested to compare website hosting vs website builder ,  this article can help you!
Features of the General WordPress Service
WordPress is an open-source tool, meaning that hundreds of people are working on it across the globe. Features of this software:
Uploading pictures on the weblogs feature
Categorizing and tagging of the weblogs feature
Designing and using various themes capability
Possibility of managing multiple weblogs with a single username
Group weblog capability
Features for adding extra pages on the weblog
Features for importing data from other services such as Blogger, LiveJournal, MT, etc
Features for adding widgets of Flickr, Delicious, etc. into it
Features for showing feeds of others on your weblog
BLOG: CMS
This program is a content management system developed by PHP programming language and MYSQL database. This program aims to collect multiple open-source projects into the Nucleus CMS version, including DokuWiki and picture galleries. The project is generally called the "Nucleus CMS" as well. The homepage of the BLOG: CMS website proves that hundreds of sites are using it. It is a weblog management service that lets you write pretty fast. If you are looking for a fantastic service for a blog, it can be a good option for you.
Blog or Website – Which One Is Better?
As a beginner, you may be wondering whether you should start a web blog or web site; which one is better? If you were a novice, you may well be wondering if you could start either a blog or a website, but which one is better? Honestly, the answer to the question depends on what your aim at. Many petit businesses across the globe have a traditional website that is made up of some pages and there is no room for a blog.
These small websites are made to produce the informational web presence for a business, institutes, or individuals oftentimes.
On the flip side of the coin, more businesses are moderately realizing the capability of a blog in their marketing plan. They are usually adding a discrete blog section to their traditional websites and take its benefits to get more flux in the search engine.
For detailed information on the easiest website builder, please read this article.

What Is the Difference Between Blog Posts and Pages?
WordPress is presumably the best and user-friendly blogging platform, and also a worthwhile content management apparatus. Naturally, this platform comes with two content typology: post and page. Oftentimes, a novice blogger gets confused between these two types.
Generally, a blog post is shown in reverse chronological order (from newest to oldest) on your blog page since they are timely content and means your user will probably have to dig out deeper to view older contents. On the other hand, A Page is static "one-off" type content such as you're about page, contact page, products or services pages, home page etc.
Benefits of Blogging?
Every blogger has his own motivation for making his blog. Many bloggers use it as an alternative to writing a diary or even a personal journal. Blogging provides them with a space to share their creations, ideas, emotions etc., with the audience.
Top brands and businesses create blogs to show their products or services to the customer. Moreover, for sharing news, and to reach a wider audience. However, blogging is an imperative part of the digital marketing strategy for businesses. Following are just some benefits of it:
Provides a space to share your thoughts, ideas etc.
Allows you to show off skills, creativity, and talents
Helps you become an authority in the field
Helps you hang out with interesting high-minded people online
Many bloggers make money from it.
Businesses use blogging to make a wider audience
Non-profits can use blogs to raise awareness of the problem which they care about withholding online campaigns and influencing public opinion.
If you are interested to know the best python hosting service , this article can help you!
How To Make Money With Blogs
what the ways to earn money from a blog are? There are some ways to make money with your blog. For example, sell ads space is one thing. This is a strategy most bloggers begin with when hanging on to monetize their blog. But, keep in mind that you are not limited to selling banner ad stains. Consider other ways you could rent out: space on your pop-up box, or social media headers.
Another way is to host webinars, however, some businesses use this way to generate leads, the hosting of paid webinars is also an option for you. Just make sure you're providing the audience with exceptional value. So many free webinars out there, you need to be offering something good enough as a special issue if you want to be charged for
another way to monetize a blog is to sell guest posts. You can publish articles from other sites in your blog and link to them.
Another case is banner and video ads inside different parts of the web blog.
Frequently Asked Questions
What Is a Blog Simple Definition?
The weblog phrase is comprised of the words "web," meaning the global network, and "log," which means daily report or diary. Weblog means a private or group page that is updated daily, or once in a while, with new information. A blog that contains video content is usually called a video blog or vlog.
Why Do People Blog?
People decide to start writing a blog due to several reasons. Weblogs are great ways to build awareness for your brand and increase the chances to be visited by your target audience.
Conclusion
In this article, we mentioned what is a weblog and what is the difference between blog and website (website vs blog). As a final point, it doesn't matter how much you are professional in blogging. If you happy with creating online posts, there is always a way for getting benefits and also there is inevitably and almost a reason for a reader to seek out your words.