What Is the Difference Between Web Hosting vs Website Builder?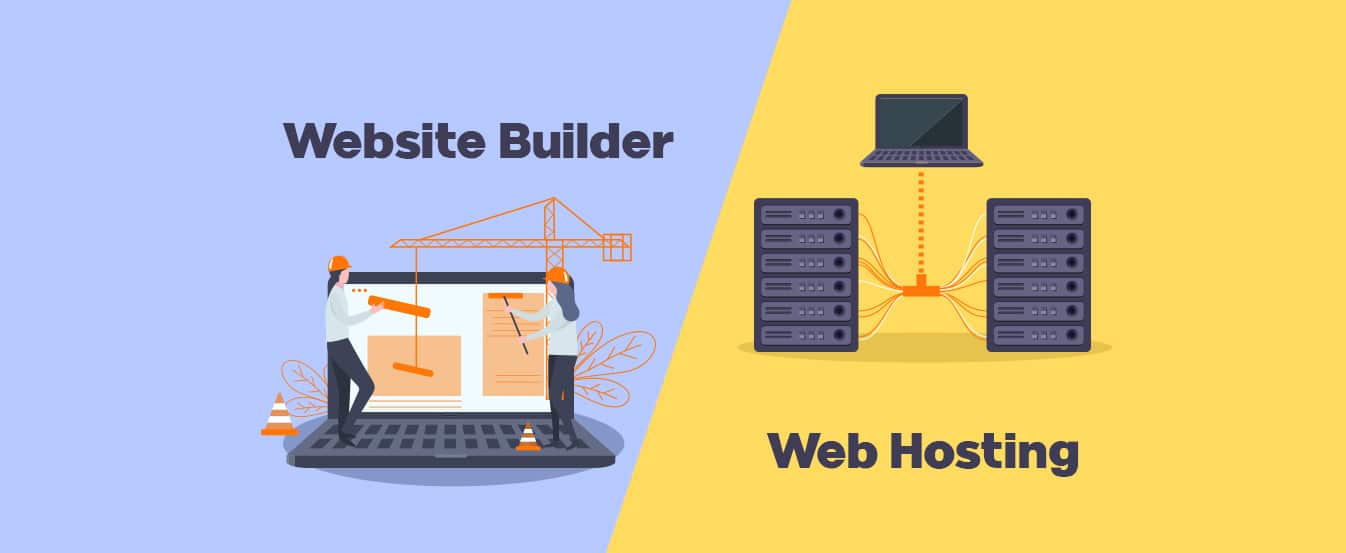 There are multiple tools to help you get a website to go online. To use many of these tools, you need to have some technical knowledge. This involves experience in coding languages such as HTML, CSS, and others. Many people want to create a website but do not have the skills. For them, the best choice is to use a website builder. A website builder is ideal for those without a deep understanding of how the technology works. When you can upload a video to Facebook or add images to Instagram, you will have the basic knowledge to use a website builder.
However, the question here is, do you need to use web hosting simultaneously as a website builder? What is the difference between web hosting and website builder? This article will focus on web hosting vs website builder and give you a complete comparison plus all the extra information you will need in your toolbox.
Difference Between Web Hosting vs Website Builder
Regarding website builder vs hosting differences, we should say that they are two different types of services often needed by new website owners, and each offers something unique.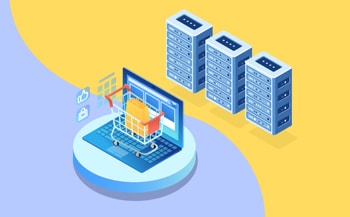 Here are some of the critical differences between website hosting vs website builder to be mindful of:
Web hosting enables a person or organization to rent a space on a server that will hold all the information and data on their website. This space can take several forms and is often chosen explicitly based on a person or a company's needs and budgetary requirements.
A website builder can not host more than one website or function as a server for something other than the website that you are creating. It is not built as a hosting platform; it is both a locker for storage and a building ground for your website. Note, "website builder hosting" is a bit deceptive; the website builder software is hosted, not the website you create via a website builder.
Web hosting is leased space or digital real estate; it's not a website-building facility. When you purchased the hosting and intend to use it to create your website, you put the cart before the horse. Consider it this way: To host it, you need a website. Many hosting packages can include tools for creating a website, but it is an optional feature and not a standard web hosting function.
A website builder allows users to create the website they will be hosting on a server. Website builders have pre-coded and templated "website sections" that you can bring together to make your website and customize it.
The most significant difference between site builders and web hosting at its heart is that web hosting is a piece of ground, while the website builder is what enables the development to occur upon that ground.
If you are willing to know the difference between cloud hosting and web hosting, this article can guide you!
To help you better understand both of these concepts, we are going to cover each of them in detail.
What is Web Hosting?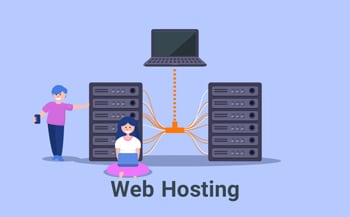 Before we mention the difference between web hosting vs website builder, we have to give you a definition of each tool. Web hosting is what allows you to place your domain on the internet. A web host is an organization that offers a server and the other technology that other people need to access their website on the Internet. Your website is stored on a device specially built, called a server. If you research the subject, you'll see that various hosting options are available.
If you want to know the difference between cloud hosting vs shared hosting, check this article out!
Not having decent web hosting and uptime have been shown to reduce revenue by up to 31 per cent. E-commerce stores using unoptimized shared hosting with less than 95 per cent uptime had a double-digit loss in sales revenue according to a hosting speed check performed by Hosting Info.
When a person is on the Internet and wants to access your website, they type in the website's address or the domain name. Their machine connects to the server where your website is stored, and then, via their web browser, the information you have placed on your website is available.
If you aim to know the easiest website builder, check this article out!
The Web hosting service provider you are using is responsible for maintaining the server where your data is stored. They keep the hardware used to connect your website to the Internet. The hosting you select will decide how much control you have over server configuration, how much storage space you have at your site, and how easily anyone can connect to your website. While allowing others to visit your content, web hosting services often keep your site running smoothly and make your site open to others. A successful web hosting service will guarantee an uptime of 99.9 per cent, ensuring that your website will be available for the vast majority of the year.
It is essential to have a good web host, particularly building an e-commerce website. When your e-commerce website is not accessible to customers on a timely basis, you will lose sales and lose customers because they choose to visit an e-commerce website that is accessible and that react quickly. When tourists decide not to use your site, they will possibly never return. Packages for web hosting provide a range of disk space, monthly data transfer sizes, and security services.
Suggest you read our article about WordPress hosting vs web hosting
Types of Web Hosting
Web hosting is a paragliding concept that refers to renting space on a server; there are more common types that come under it. We must break it down to understand the differences between web hosting and a website builder. Some popular kinds of web hosting are:
Shared Hosting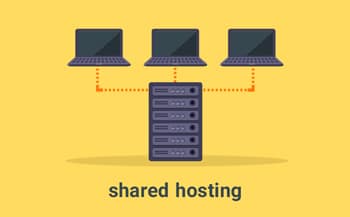 Shared web hosting is like an apartment complex; small businesses rent apartments, and space and facilities are shared. It is the most inexpensive and common form of hosting available and is typically the first form of hosting used by various companies and individuals when they launch their websites. This form of hosting is ideal for people whose websites are relatively small and have less unique or complex needs. There are also limitations to storage and could be restricted to one or a few websites you own.

If you want to know about the pros and cons of shared hosting , click on the link provided!
Dedicated Hosting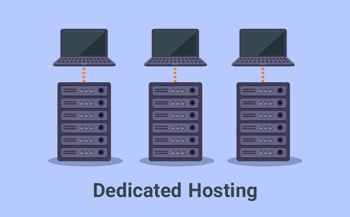 Dedicated hosting is more expensive, and understandably so because it is a customized form of hosting. A firm or person has a server all to themselves on a dedicated host. They do not share any money or allow rent or squat on their property to any third party. This allows complete server customization, higher traffic capacity, and improved security. If you have a more prominent company or a website experiencing heavy traffic levels, take a closer look at dedicated hosting.
If you are willing to know the advantages and disadvantages of dedicated web hosting , this article can help you!
Website Builder Hosting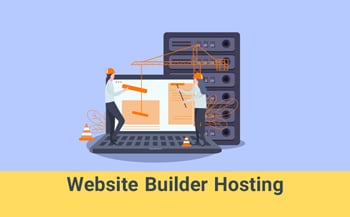 Whether you are a big or small business, you want a fast and easy way to build a functional, beautiful website. Website Builder is for that. However, if you are a business or organization that needs to handle high customer traffic and protect its details, you would prefer to invest in a more advanced hosting solution (like a dedicated server).
If you want to learn how to add a bbpress forum to a page, check this article out!
What Is a Website Builder?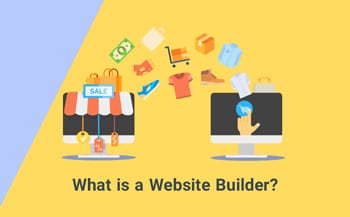 A website builder is an all-in-one tool that executes the fast creation of your website with so much ease. A website builder will also use drag-and-drop editors to create beautiful pages without learning how to code.
Although a website builder sounds like a straightforward tool, you can create a professional-looking website optimized for use on mobile devices. When you use a good website builder coupled with creativity, a user-friendly interface that works well with social media can be used for e-commerce, and updates seamlessly to keep up with web security, you can create a great website.
If you want to know about the best Adsense plugin for WordPress, check this article out!
If you are planning to develop your very first site, a website builder is a choice that is easy and has low stress. A website builder will be an excellent fit for you if:
You want to launch a website quickly.

You do not have the technical expertise required to design a website from scratch, and you do not have the time or the intention to learn.

You are not interested in learning content management systems like WordPress

The thought of creating a website for the first time sounds overwhelming.

You would instead let someone else do site updates.

Your website has a small budget.
When using a good website builder like Wix website builder, you will find that it comes with templates you can use for your small business website, your e-commerce shop, your blog, or other business. The goal is to get your site up and to dash.
Don't miss this post for detailed information on Wix website builder reviews!
What to Expect from a Website Builder?
The best website builder offers all the tools you need to create, manage, and expand a website. Here are some things to expect:
1- Different Templates
The allure to use a website designer is that they are pre-coded. So anyone with zero coding experience can use the user interface to build their website. It is achieved in templates format. Each website designer will have their own set of pre-coded, built, and colour-coordinated templates. Those templates can be personalized to suit a brand or personality once selected.
If you aim to know how to transfer domain from one host to another , click on the link provided!
2- Features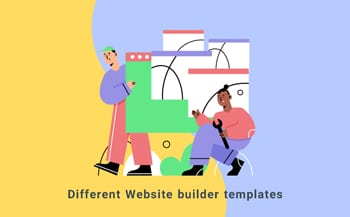 A good website builder should have an image editor, drag and drop features, and templates that can be customized. A website builder's components should be easy to use and flexible.
If you want to know how to select a domain name, click on the link provided!
3- Mobile Version
It is no secret that people are just as likely to visit your website on their mobile devices as they are on computers. Mobile version is not just essential for websites nowadays; it's a must. If the website creator you consider is not formatted for phones, run fast. You can't risk losing customers because your website is not fully loaded into their mobile devices.
If you are willing to figure out the difference between web server vs application server, check this article out!
4- User Interface & Technical Assistance
Website builders are built to be user-friendly, making it easy to develop a site for even the most computer-illiterate people. To this end, a reliable and dedicated professional customer service team will back up any website builder. If something happens to break in the website or other parts do not fit together, then a good company will provide customer service to troubleshoot the issue.
For detailed information on what is vds , please read the source of our article.
5- Analytics and SEO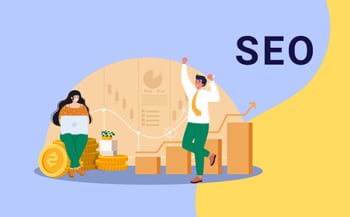 Now every effective website uses analytics and SEO, so you can expect your website builder to provide some sort of both. This can mean providing seamless Google Analytics integration or even some generation of keywords at the ground level for SEO. These tools will allow a user to understand how well they have placed themselves on the internet, what they do wrong, and where they need to improve.
If you are interested to know eCommerce SEO tools, don't miss this post!
Why is Web Hosting Confused with Website Builder?
Now that you know the difference between website builders and hosting, you understand that web hosting and website builders are two entirely different items. Then why are they confused with each other sometimes?
Both terms are likely to occur when a person is researching how to create a new website in the early stages. They are unique words that many new website owners do not yet fully understand and need more information about them. For instance, many web hosting plans come with website builders included in the package. This type of web service packaging is prevalent because most people starting a new website would need several products and services — web hosting, a website builder, a domain name, an SSL certificate, email addresses, etc.
If you want to know what is the use of ssl certificate , check this article out!
Conclusion
Now you understand the difference between website builder vs web hosting; you know that the whole point is combining both tools. From here, how should we get started? First and foremost, you need a domain name. Your domain name will be your website name, which will ideally fit your brand or business. From there, you can select the hosting package and the website builder you desire.
Finally, note that you don't need to be a professional coder; you only need the best website builder and a good web hosting package.