21 Easiest Website Builder; How To Choose the Best Website Builder?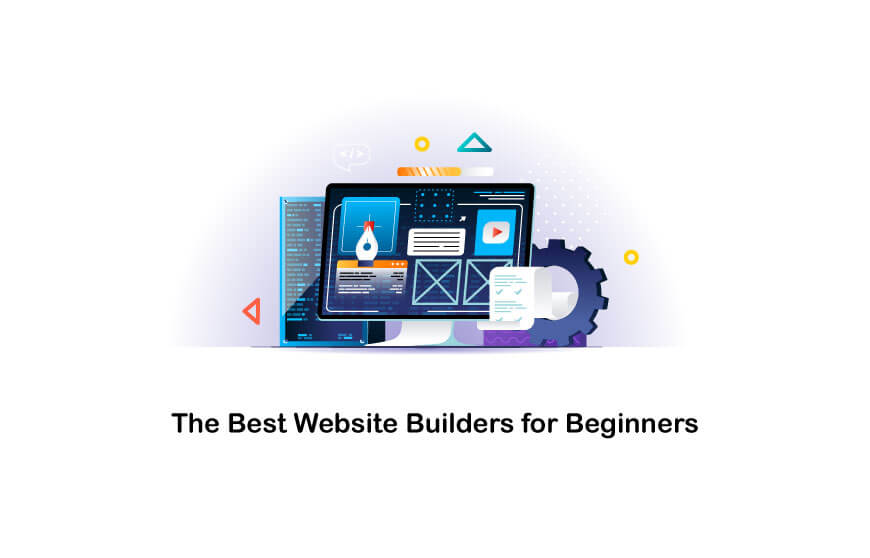 Are you wondering about designing your website using easy-to-use tools with no coding knowledge? Getting started with a 
website maker
is an easy and effective way to deploy a suitable website for a user's business. It can be a difficult job when it comes to selecting and working with the best website builder for seo
. One of the common questions among users is 
which site builder is the best for seo?
If we look upon the web, there are several standard options for doing so. Looking back at the origin of building website tools, it all started in the early 2000s. There are many changes in the present if looked back in older times. Rather than spending money on giving other developers to build and website, it is best to choose an efficient website creator and get it done on our own. Many people must have heard about WordPress, which is used for creating websites. Many such WordPress platforms can be used to develop high-end dazzling websites.( If you want to use WordPress instead of website meker tools, be sure to read this article, what is wordpress) In this article, we will introduce the
easiest website builder for beginners
. So, stay tuned!
1- Sitepad.com
2- Wix.com
3- Zyro.com
4- Squarespace.com
5- Weebly.com
6- Shopify.com
7- Ucraft.com
8- Webflow.com
9- Flothemes.com
10- SITE123
11- Strikingly
12- Jimdo
13- Webnode
14- GoDaddy
15- HubSpot Content Management System
15 Best Website Builders Compared
When it comes to creating a website on your own, the question 
"what is the best do it yourself website builder"
 comes to mind. Several good options can help you design your website in a few steps. Some of them need no coding knowledge, while there are some options that you need to work with a developer. In the following, we will figure out 
what is the best DIY website builder.
1) Sitepad.com
If you are looking for the top website builders in 2021, we can name SitePad. It is a handy tool with drag and drops features; we can be the designer on our own and can play with 649 different professional themes to add to our website. The themes cover all the necessary sections such as blog sites, business sections, portfolio sections, restaurants, traveling sectors, etc. There are numerous widgets that users would prefer, such as Image/video slider, Rich text video, supporting audio, Service box.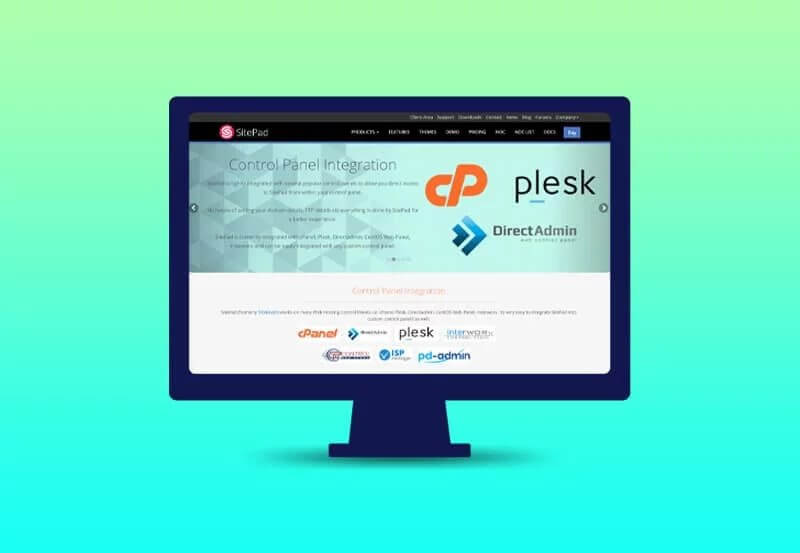 Working with SitePad brings out static files to the web hosting account. The following features allow users to make the loading speed and performance of the website two times faster than usual ones. To get started with SitePad, we will have to follow the four easy steps to begin with. The first part is to access the SitePad from the Softaculousenduser panel. The following user will select a theme after getting redirected to the SitePad server. As mentioned earlier, there are about 649 different themes to choose. Then after completing all the necessary parts, the user will be ready to click on Publish button.
A website and a blog are two different things to be more explicit. Unfortunately, while websites can contain a blog, WordPress blogs don't and cannot handle a complete website. A blog is by the ordered display of contents and often posts or essays written by the blog author. So Sitepad.com for websites is better in many ways.


Suggest you read our article about how to start an online store


2) Wix.com
This tool
is also one of the easiest website builder for small businesses, and it has many followers and users. Users will find 500+ ready-to-use templates that can be directly used for designing the website. The following template does contain all the necessary content for all sorts of industries.
Nowadays, websites are also accessed through mobile phones. Wix offers ready-to-use templates which are responsive in nature. Your website will be fully compatible with major smartphone devices.
Features:
• Receiving upgraded design templates.
• Its interface is intuitively useful.
• You aren't bound with Long Term measures.
• Wix looks after the site security without lemmatization the speed.
• You receive an all-in-one measure.
• The starter plan doesn't remove ads from your site.
• There are no unlimited plans.
For detailed information on wix review  , this article can help you!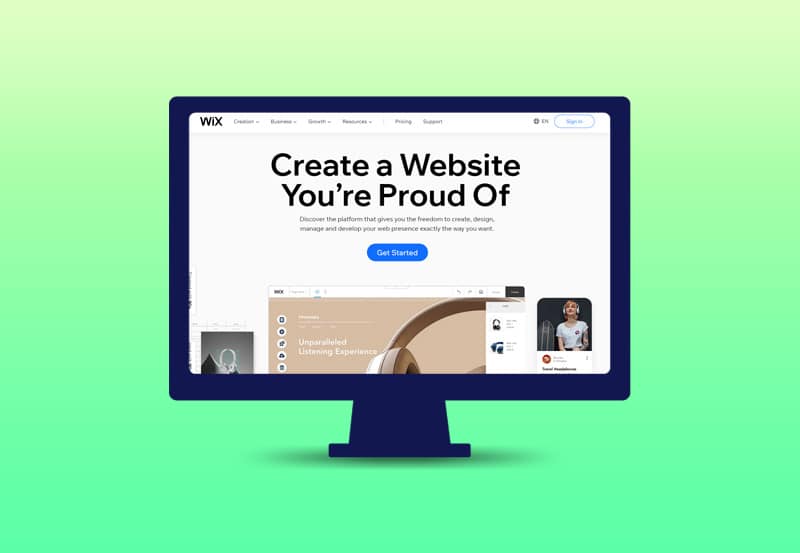 3) Zyro.com
If you are looking for the top free website builder, then select no other than Zyro . It is a easiest site  builder for beginners where users can find various free plans, to begin with. The main objective of Zyrois to help the local business in presenting their unique features. With Zyro there will be no need for coding or connection to be made where we can simply select a theme and get started with it.
Features:
• Simplicity.
• Existing templates.
• Page-building grids.
• It helps create content.
• Free images.
• Update rollouts.
• Logo & slogan reminders.
If you are willing to know about boost ecommerce sales , don't miss this post!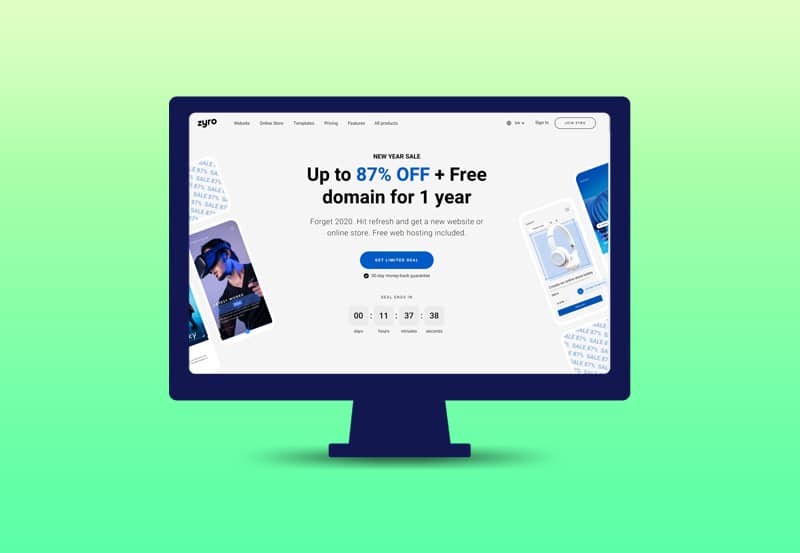 4) Squarespace.com
The next best suggestion for building a website is 
Squarespace
; when you decide to build your personal website, the first thing which comes to mind is the dazzling and beautiful home page designs. Squarespace does have over 100 design templates to choose from and work on. The methods, font selection, color schemes are very selected and presented to result in the best outcome.
Features:
• Templates offered that are ready for.
• Squarespace templates rely on pictures.
• The backend design is user-friendly.
• It's an all-in-one easiest website builder
• It is offered in a bundled approach.
• Customer support is invariably available


If you have any questions about Squarespace vs WordPress , be sure to read this article as well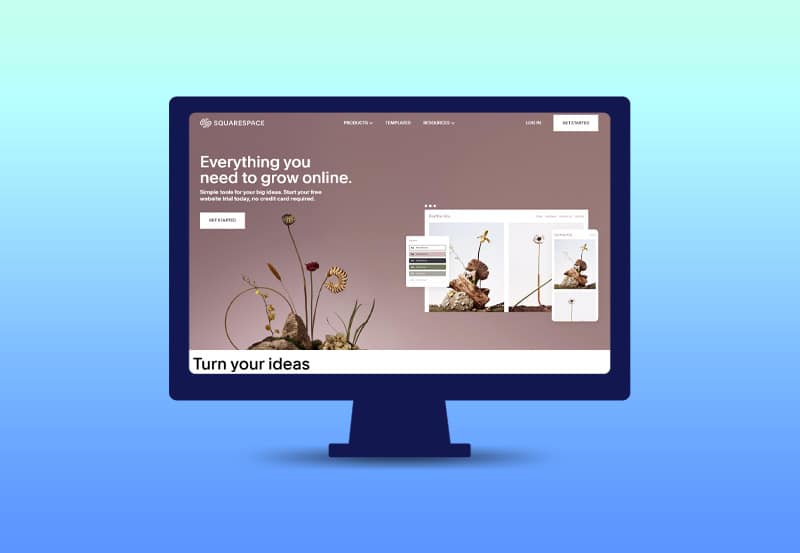 5) Weebly.com
Weebly
 is an e-commerce 
web page creator
 which Square introduces. Any user will be able to get along with Weebly without any technical expertise. The tool provides users with loads of features; for example, in the case of bloggers, they will be able to find all the necessary editing tools to add the text, images and edit the content. In addition, there is a mobile app for Weebly where we will be able to track all of the website's performance.
Features:
• Completely integrated website and online shop.
• A modern dashboard for guided and unified examinations.
• An upgraded visage and feel of the contacts page.
• Automated emails.
• Create an appearance.
• Easier than else builders.
• Captivate your audience to connect with
If you aim to know an alternative for wordpress , this article will help you!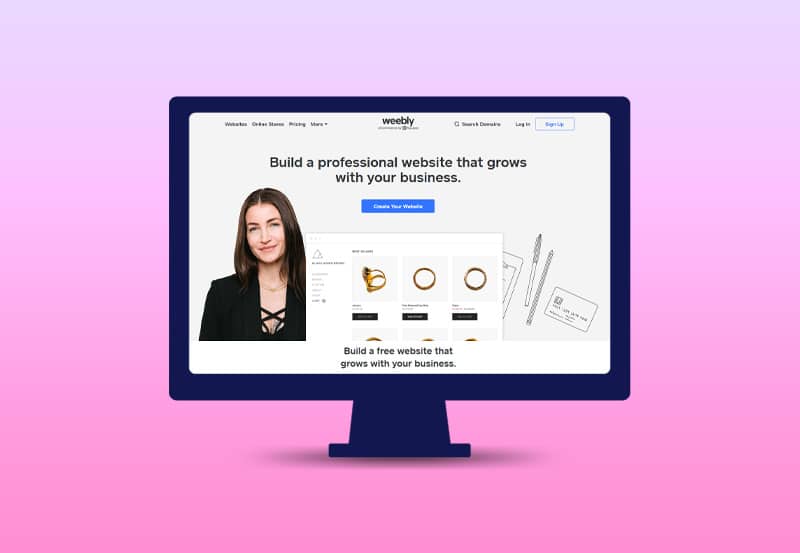 6) Shopify.com
Shopify
 is among the 
easiest website creators
, and in the case of users looking to get started with eCommerce, Shopify is the 
best website builder
 tool. It is used by over 800,000 online businesses worldwide and sells products online. This website creator was founded back in 2004, and then it quickly became the powerhouse with its simple, strong looks of the dashboard and have a connection with a load of app partners.
Features:
• Quick & easy to set up & use.
• No tech barriers.
• Secure & feasible.
• 24/7 customer service.
• Mobile ready.
• Customizable.
• Having an app for.
• SEO & Marketing menus like WordPress
If you are interested to know Difference Between WooCommerce vs Shopify , this post can help you!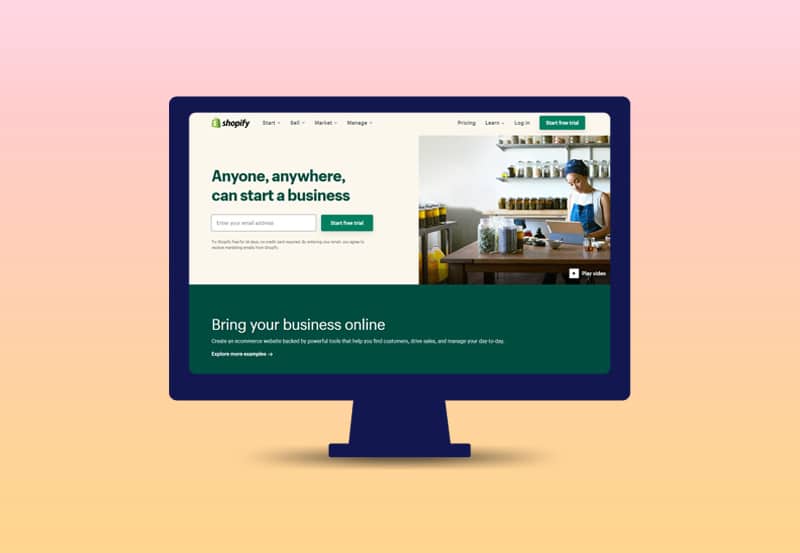 7) Ucraft.com
If you want to create a professional multifunctional website, Ucraft.com is the best site where you can set up a blogging platform and an eCommerce website with many templates and logos. These site templates are responsive to support various devices, including mobile, desktop, and tablets. When it comes to WooCommerce website, everyone feels insecure about the payment system, but this site offers a variety of payment methods.
As a matter of worthwhileness, we get a free domain name .ucraft.net is a free subdomain when building a website. If you have a custom domain, you can buy your domain name through it. When registering a domain with which it is connected to the platform servers.
If you are willing to know what is woocommerce , don't miss this article!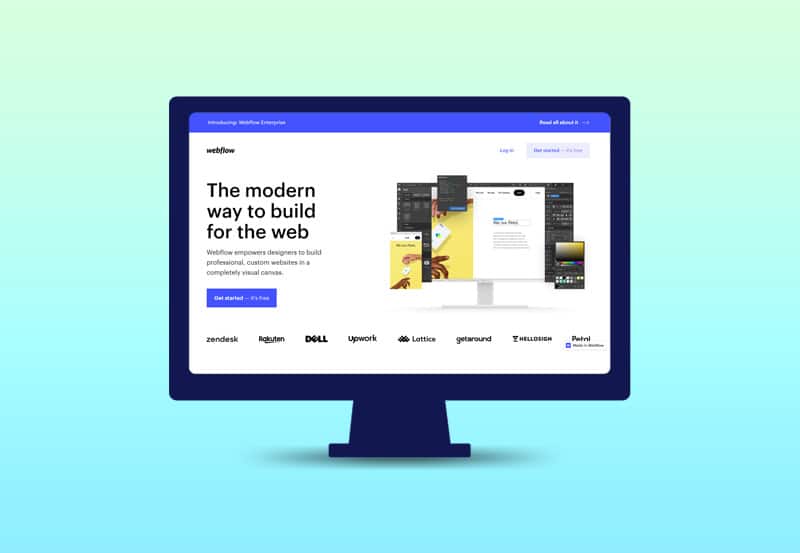 8) Webflow.com
Are you just a beginner in designing websites and wondering 
which is the easiest website builder for seo?
 Worry not 
Webflow.com
is there to help you understand and create your website. Webflow is one of the popular websites where you can build custom portfolios, blogs, and eCommerce stores. The site also helps us launch with world-class hosting and is discovered as customizable easiest website builder.
Features:
• Close the gap between visual design mocks and the final website.
• Faster iterations during the design review process.
• Custom client-facing CMS.
• Build landing pages faster and more easily.
• Better fidelity between mockups and live site
If you are interested to know ecommerce seo tools , don't miss this post!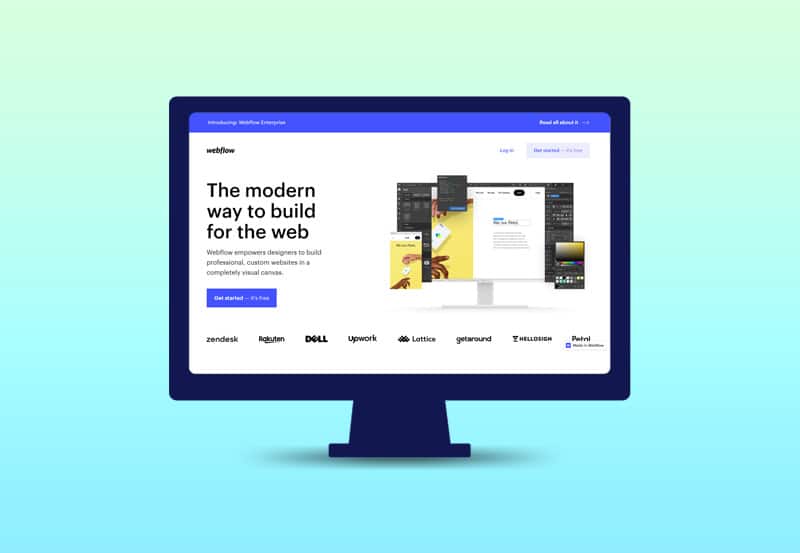 9) Flothemes.com
Flothemes
 is a site that can create designs according to the users' needs; additional features can be added according to the requirement. And in a case where personal branding is initiated, it is suggested for the user to create a portfolio, in which web designing plays a vital role.
With Flothemes, we provide a world-class design that looks & feels custom and helps you excel and attract the correct type of business.
If you are interested to know vps hosting benefits , this post can help you!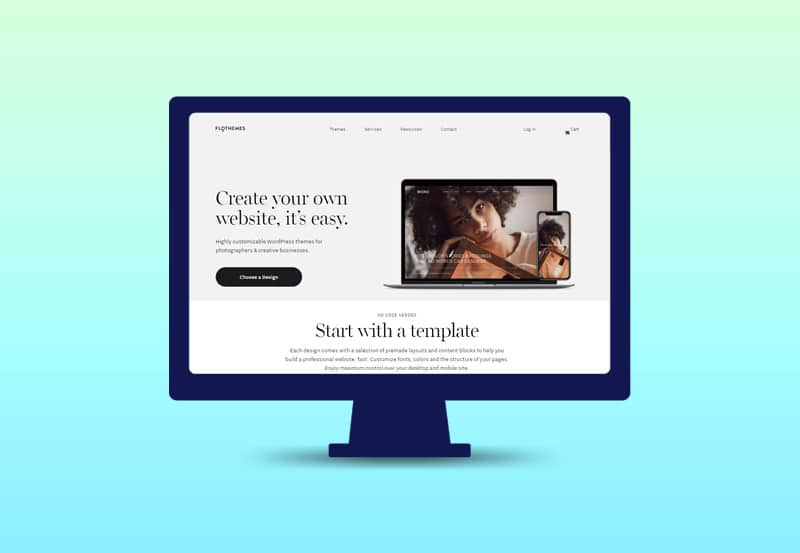 10) SITE123
another from easiest website builder isSITE123 .SITE123 is available for free while on monthly subscriptions. Free plans include 500MB of storage and 1GB bandwidth. The Premium paid plan begins from $12.80 a month, containing a free domain for 1 year, 10GB storage, and 5GB bandwidth.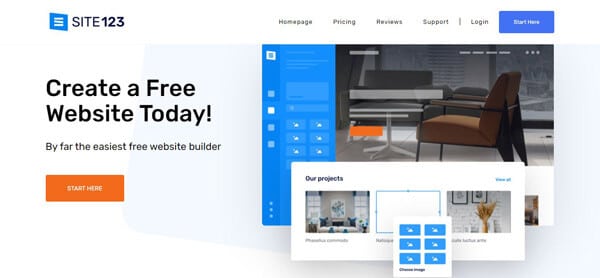 Features:
• Full web support.
• Useful for online merchants.
• Web page management.
• Supports integration.
11) Strikingly
The biggest advantage of strikingly is you don't need to leave the platform to create a website. So, everything such as design and layout creation is shaped by a drag-and-drop measure. If you are done creating your website, then you would publish straight on the platform itself after buying a domain.
If you are searching for the greatest 24/7 support, Strikingly is what you can seek out.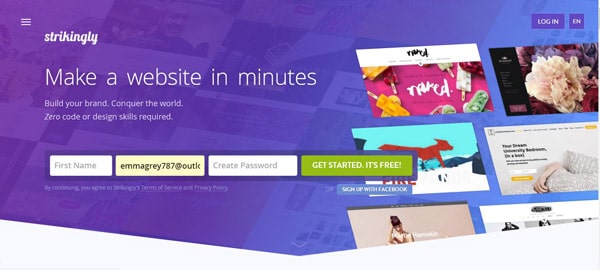 12) Jimdo
To start, it is fast and user-friendly. The platform's intuitive interface does not require you to be an expert in coding. You can add text and images in a breeze. Flexible and free, you can edit your website using your mobile device and update it via Jimdo's free iOS and Android app.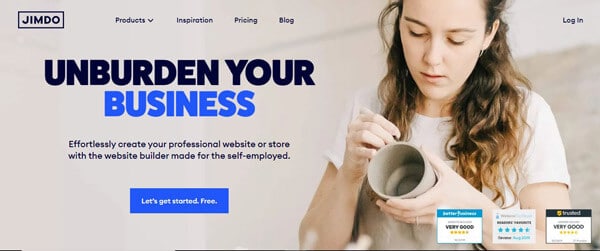 13) Webnode
Best tool for either technical or untechnical users to create a good display by the website. Webnode gives a very nice platform to create and keep out websites. It allows users to build a nice-looking site, even if they have no technical knowledge. It also provides a hosting service on its server.
• Easy to set up.
• Domain name.
• Multi-language support.
• SEO-optimized

If you are looking for an seo checklist for ecommerce store , this article can help you!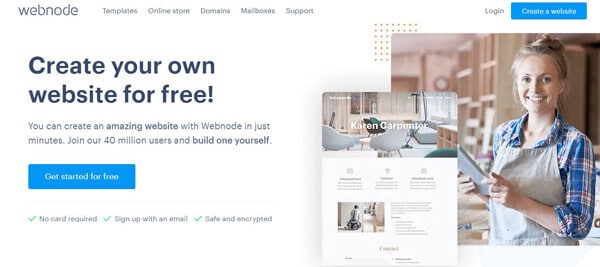 14) GoDaddy
GoDaddy provides a free plan, and paid plans that start at a relatively affordable $10 a month. They all come with 24/7 user support and website hosting. though, you can't use a custom domain name. Moreover, you can plan to open an online shop, however, it can only do this with their "Ecommerce" plan.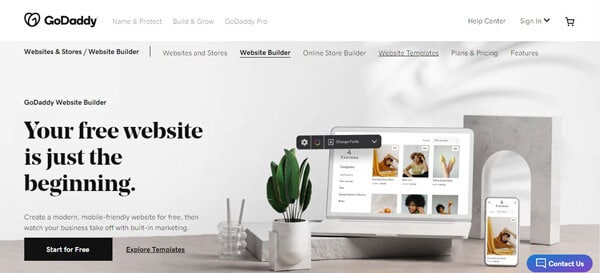 Features:
• Biggest Domain Name Registrar.
• Wide gamut of Services Available.
• Choose Linux or Windows Hosting.
• cPanel and Plesk Control Panel Interfaces.
• Unlimited Bandwidth.
• Unlimited free space.
• Host Unlimited Websites.
• Frequent communal Offer Discounts
15) HubSpot Content Management System
When creating a website for business, you have to choose the best website builder for seo which can offer a marketing platform, product sales, and customer service. Hubspot focuses on eCommerce where it has a good resource on the content management system. It is known as the leading brand for eCommerce with thousands of remarkable customers.
If you are interested to know the ways to increase ecommerce sales , don't miss this article!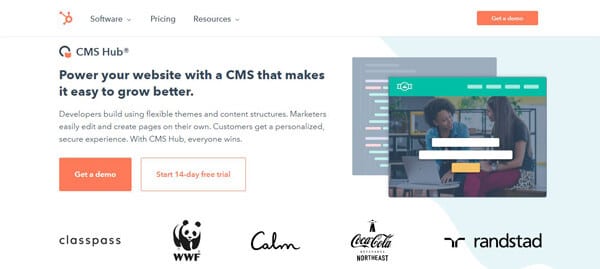 16) Duda
The Duda website builder powers over 450,000 businesses around the world. It aims to make quality, responsive web design easy through its simple templates and drag-and-drop editor. It works by providing a variety of templates to pick from, which can then be edited accordingly, involve changing text, creating new pages, adding images or even building personalized widgets. Duda also hosts your website for you The platform is particularly good for users looking to quickly create multiple sites for clients, which explains why Duda is so popular with freelancers and agencies. On the flip side, Duda has fewer features than a lot of its competitors. And it lacks an app store, so users have to pay extra for add-ons and features. Duda also has some of the most expensive starter prices on the market.
There is a table that makes an analogy between the best site builders. If you want to see the site builder price comparison, you can check it out and choose the best cheap website builder for your business!


18) Jimdo
Jimdo is a primary website builder that is best for creating simple websites instead of anything complicated or glamorous. While it is more limited than many competitors (especially in terms of features and scope of customization), it compensates for high levels of usability.
Jimdo comes with a free plan to build without risk and has two additional payment plans ranging from $ 9 to $ 15 per month (billed annually).
Jimdo has all the basic features you need to build your website. But if you want to edit, customize, or create something more advanced, the developer feels tough very quickly.
19) IONOS 1

IONOS 1 and 1 have everything you need to create a functional, standard website. It does not look like a Squarespace site or get awards for its designs, but it does. The builder has all the essential features you need, especially for small businesses, while the mobile site's fastest server response time and superb performance are impressive.
It is also an excellent option for people on a tight budget, as although IONOS 1 and 1 do not have a free app, they start at $ 7 a month.
One of the main drawbacks of IONOS 1 and 1 is that its designs look very old compared to the other top website builders on this list. 1 and 1 IONOS is a functional rather than stylish website builder – it does not create the best site on the Internet, but it does have features that make your site or business successful.
1 and 1 IONOS will charge $ 7 per month for its first plan if free for the first month. There are three designs, one of which is to build online stores.
20) WooCommerce

WooCommerce is the most popular eCommerce website builder on the planet to start an online store. It's an open-source eCommerce software built on top of WordPress.
According to our expert research, 8.8% of all websites use WooCommerce as their eCommerce website builder, making it twice as large as Shopify.
WooCommerce is the best easiest website builder for eCommerce sites because it gives you complete control over your website.
It comes with every feature you could imagine for running a successful online store.
You can accept online payments using WooCommerce Payments or integrate with over 83 other payment options, including Stripe, PayPal, Square, Authorize.net, AmazonPay, AfterPay, Klarna, Apple Pay Google Pay, and more.
Unlike Shopify, WooCommerce does not charge extra transaction fees if you use other payment solutions.
They also offer dozens of extensions to help you with shipping, delivery, fulfillment, sales tax management, inventory management, and just about every aspect of store management.


21)BigCommerce

BigCommerce is a famous e-commerce easiest website builder that lets you easily create an online store. It comes with all the essential interior features, so you can keep your overhead low and your margins high.
BigCommerce is a fully hosted e-commerce solution, so you do not have to worry about speed, security, or website updates. They manage the server and the technical aspect for you to focus on growing your business.
Unlike other host e-commerce solutions, BigCommerce has native integration with WordPress that allows you to use WordPress flexibility while leveraging the power of BigCommerce e-commerce. Simply put, your website will be fast and secure no matter what traffic you receive.
BigCommerce integrates with all popular payment gateways, including Stripe (credit cards and ACH), PayPal, Apple Pay, Square, Amazon Pay, Visa Checkout, Chase Pay, Ayden, and more. Unlike Shopify, BigCommerce does not charge a fee for using these payment gateways.
You can start with one of the many pre-made website templates and customize them to suit your needs using the easy-to-drag and drop website builder.


How to Choose the Easiest Website Builder?
To choose which platform is right for us, we appreciate researching the top website builders, searching out comparisons above, and reading deep reviews such as our Wix review or Squarespace review. We also suggest opening a free account or unpaid trial with your preferred website to test the platform next to selecting the best step for you. When installing your research and examining the tool, make out to reckon with these main items.

If you aim to know how do I make WooCommerce secure , click on the link provided!

Costs
The price should be measured in the face of your site's ROI. If you aim to know about the cost for web hosting , this article can help you!
Customization
To what degree do you want to customize your website and if it does the web builder offer enough options to achieve this?
Ease of Use
To what extent and to which technical expertise is needed to keep and run your website is reflected in the user-friendliness of the platform. The easier it is to edit and keep, the more user-friendly the system. So more easy to use, the better the website builder!
If you aim to compare website builder vs web hosting , check this article out!
Support
Check that the platform you choose offers a wide gamut of support options such as chat, phone, email, etc.. And knowledge-based subjects. So, we have somewhere to switch to if you need assistance as long as building your site. 
Now to get started, the basic procedure is to learn how to actually create a website. To do so we will have to look at a number of the platforms on the web. Before getting into that, let's check The next important step that comes in is selecting the right one. We will provide the necessary details about selecting the best tool for their business/personal use.
If you want to know the top security plugins for wordpress . check this article out!
Frequently Asked Questions
1) Which Is the Best Website Builder for Small Businesses?
Wix is the best site builder for small businesses but there are also some alternatives that you can take into consideration:
Weebly is a good choice for small eCommerce businesses
Squarespace is recommended due to its eye-catching templates
Hostgator is the cheapest alternative that helps startups save more money
2) Which Is the Best Cheap Website Builder?
When it comes to the cost of the best site builder 2021, some of them outstands others, such as:
Hostgator

Weebly

Uncraft

Webnode

Wix

Jimdo
3) What Are the Best Website Creator for SEO?

Some of the tools mentioned previously are better for improving the SEO of your website, such as Webnode, Jimdo, Strikingly, and Shopify. By using these tools you can create a good website that can rank higher in SERP and attract more traffic.
4) What Is the Easiest Website Builder?
Shopify
Webnode
Squarespace
Conclusion
Best free website makers
have solved the decade-old problem people used to face while building their own websites. The website creation process is prolonged and requires a dedicated developer to construct the website. The cost of the website is also the factor why people generally avoid building the website from the scratch. A web page creator provides instant and cost-effective solutions to all these problems. In this article, we mentioned which web builder is the best and the reason why it would be practical. For more information click
here
Suggest you read our article about what is the difference between blog and website