WordPress or Squarespace; which is better?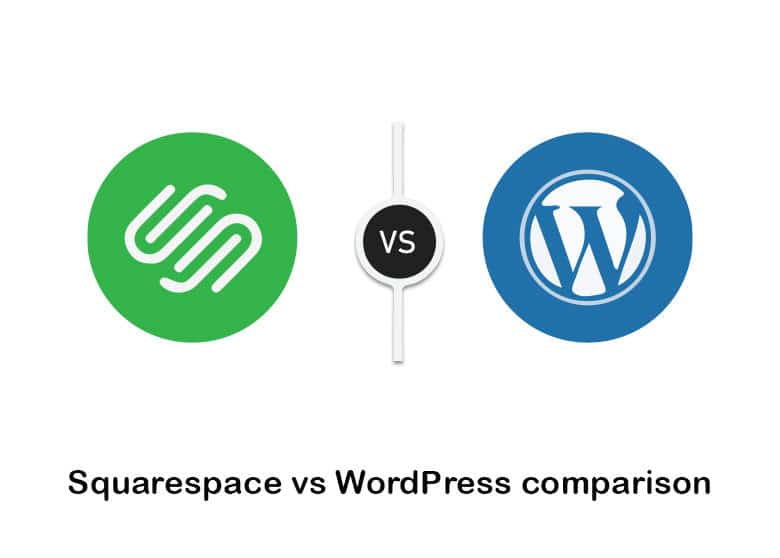 Both WordPress and Squarespace are two of the most prominent website-building platforms that you can find out there. However, we often see people getting confused when they try to pick an option out of WordPress or Squarespace. This is why we thought of doing a Squarespace vs WordPress comparison article. From this article, you will be able to figure out the difference between WordPress and Squarespace and then make the best decision to pick up the right platform.


What is Squarespace?

In the first part of the Squarespace vs WordPress comparison, let's deep dive and learn more about what Squarespace is all about. This is a website builder that offers you the platform to build a website independently. You will have to make a monthly payment to continue using Squarespace. For that, Squarespace will maintain your website along with time.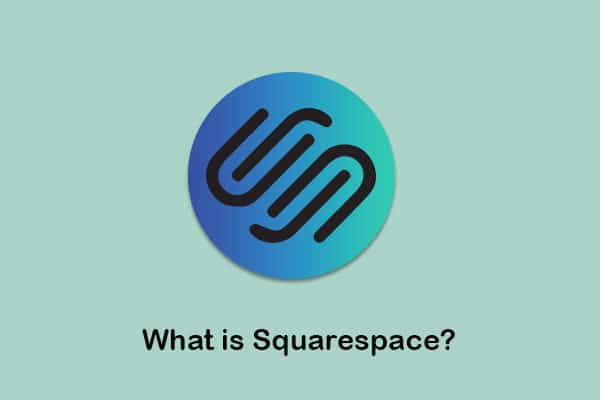 When you use Squarespace to design your website, you don't have to bother establishing hosting or obtaining a domain name; all you have to do is register a Squarespace account. In seconds, you'll be selecting a theme for your website. All you have to do now is change the text and graphics.


To use Squarespace, you must pay a monthly charge. Nonetheless, that cost includes the important tools to build and manage your websites, such as hosting, domain registration, and website creation.


Squarespace has introduced numerous new marketing tools to its feature set, including Squarespace Video Studio and Squarespace email campaigns underlining its "all-in-one" approach toward website construction. Squarespace's primary notion is that this is a 'code-free' solution that enables users to design and update websites without prior knowledge of HTML or CSS.
In another article easiest website builder for beginners was introduced.


Squarespace vs WordPress


Let's make a one-on-one comparison between these two platforms. Then you can decide whether you are going to select WordPress or Squarespace to create your website.


1- Ease of Use
Squarespace gives you access to a friendly drag-and-drop site builder. You don't need to know how to code to make a website, nor do you need to pay someone to help you. It is important to keep in mind that WordPress is a core CMS. You will need to install themes on the CMS to start using it. With the help of suitable themes, you can get the same level of usability as Squarespace.


Real-time previews of your modifications are available on it. It comes with a template editor that you can drag and drop. Drag-and-drop relates to the capability to alter a page's layout by dragging and dropping various components such as text fields and pictures. Squarespace's drag-and-drop editor allows you to move things around inside a block on the page, arranged by section.
Code and other external plugins are commonly used for altering pages. There are plugins available for WordPress which offers much-needed assistance with achieving the exact functionality you want.


You may hire a developer for an hourly fee of about $100 if you have money but not coding abilities. This will raise your company's expenses while reducing the quantity of technology you'll be responsible for.


2- Design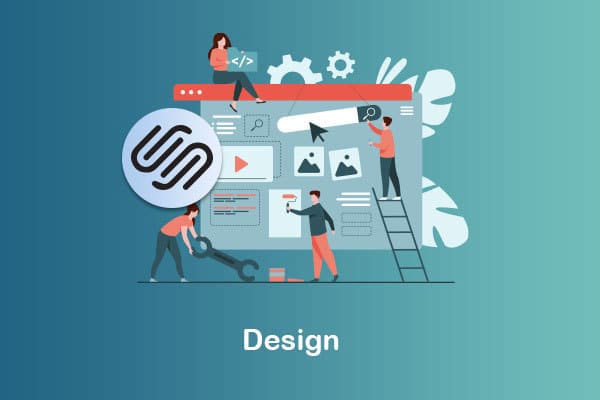 Squarespace gives you the freedom to build stunning, completely adjustable design templates designed with the consumer in mind. Squarespace's free designer themes are a great option if you want a page builder but don't want to compromise style. They're clean, contemporary, and professional. Customizing the colors of your selected template is simple, and you can even add more pages as you go. There are roughly 113 Squarespace layouts, ranging from web businesses to blogs.


WordPress offers a far more significant number of themes than Squarespace, although not all of these are as well-designed. To put it differently, to make the theme into something great, you'll nearly always have to throw in a lot more work yourself.

WordPress has deservedly established itself as the industry leader, offering you total control over the style and operation of your website. It's not quite as easy as dragging & drops to change your template, but there are no limits to what one can do with it. Experts advise using WordPress to build your website if you don't mind beginning with a blank canvas.


3- WordPress vs Squarespace pricing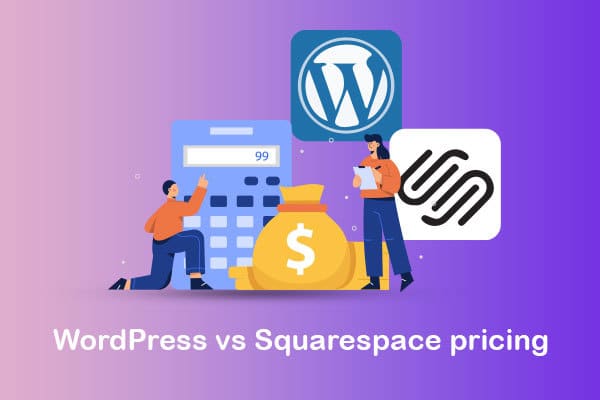 Given that WordPress is an entirely free platform, it's no wonder that the accessible platform's value for the money rating is greater than Squarespace's. Unlike paying for extra services like web hosting, you probably wouldn't be able to get your site up and operate. WordPress price offers a great level of versatility and customization since you may pick which of these extra fees to spend.


Squarespace provides four different price options ranging from $12 to $40 each month, depending on your demands. Everything you'll need to get a website up and operating is included in these fees. WordPress offers a lot for the money compared to other site builders on the market. You may receive a free custom domain, unlimited bandwidth, and SEO services to make your website stand out for as low as $12 per month.


4- Features
Squarespace's website editor comes with several high-quality tools for building web designs. Because it relies so mainly on third-party plugins, it doesn't have nearly as many built-in capabilities as the other content management solutions. You'll need to install extra third-party plugins if you want to use them to their full capacity.


Squarespace has several high-quality in-built features that may be used in various circumstances. Regularly, newly updated features are introduced. With Squarespace, you can keep track of website visits, traffic, visitor location, and other data points using website analytics. You may use your website to import material from social media networks like Instagram and Twitter. Feeds from your social network accounts may be easily integrated into your website.


WordPress's rich range of tools is one of its most prominent qualities; the only negative is that you must install the majority of them yourself. Nonetheless, you'll get several great extras, including options for customizing the design, and publishing tools, such as a Web page schedule that requires a login and password. Contributors from a range of sources and image editing tools come in various forms.


5- Apps and Plugins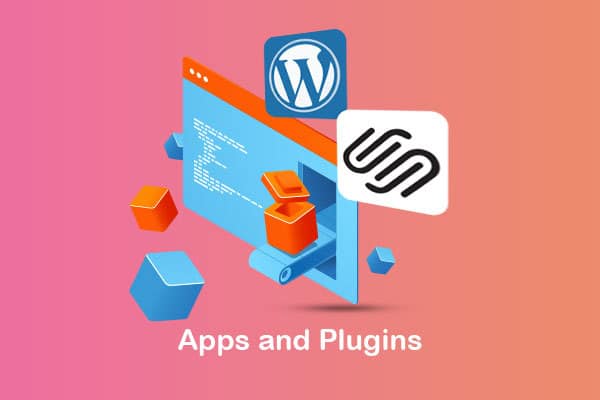 Imagine Squarespace to be akin to a restaurant in that all of your food is prepared and cooked in the kitchen. Your waiter is knowledgeable about the food and can answer any queries you may have. You may order anything you wish, and all of the food is produced and served right away in the Squarespace kitchen.


WordPress resembles a high-end buffet more than anything else. It includes meals from a wide range of regions and kitchens. Most of these meals have little information about where they were manufactured, and some are of greater quality than others.


6- Ecommerce
Squarespace offers everything you have to get to begin selling the stuff, including shipping if you're on the Business strategy or above. Your online shop will always seem fluid and professional since the sales tools are completely integrated. Additional shipping and tax features may also be found in the Squarespace Extensions marketplace.


You can quickly set up a strong online shop on your WordPress website with the free WooCommerce eCommerce plugin. You didn't have to worry about WooCommerce not functioning with your site or plugins since it was built mainly for WordPress. It has a robust collection of tools, making it an exceptionally efficient method to get your eCommerce store up and operating.


7- Squarespace vs WordPress for blogging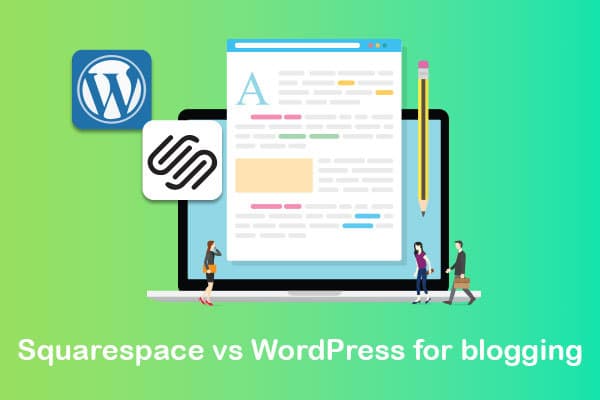 Without ever leaving Squarespace, you can manage the daily processes and utilize the dashboard to organize, publish, and tag blog entries on the go. Each new post may have a link immediately distributed to social media feeds like Facebook and Twitter and being excerpted. In those other worlds, Squarespace makes it simple to complete all of the basic requirements for running a professional-looking blog.


WordPress, like Squarespace, has a plethora of free blogger-friendly layouts. Built-in features include everything a blogger might want in terms of labeling and classifying and a choice of plugins to help bloggers interact with social media. For professional bloggers who wish to personalize the look of their site, WordPress also allows direct access to HTML, which Squarespace does not.


8- Security
Squarespace has been a target of DDoS assaults as its popularity has increased. You may create massive damage across numerous websites if you disrupt Squarespace's platform.


When it comes to WordPress, you are solely responsible for its security. This involves installing an SSL certificate, making frequent backups, and routinely upgrading your WordPress site. Some plugins may help you with various parts of your website's operation, but the ultimate choice is yours.


Although WordPress isn't as prone to DDoS assaults as other content management solutions, your hosting provider will considerably influence your security. Some hosting companies give free SSL and automated WordPress upgrades to help you keep your security up to date.


9- Help and Support
Experts believe Squarespace to be a superior CMS in terms of aid and support. With well-organized lessons and support from a committed staff. Customer assistance is also available through live chat and email. But there is a vast community with tools and lessons; one of the main issues with WordPress is it is not correctly structured. The vast majority of users pay developers to help them.

Because WordPress is indeed an open-source platform, you won't find an in-house support staff to help you. You may browse WordPress forums to read what the other developers and users have said about various subjects.
you can also read another article about wordpress alternatives 2022.


Conclusion
Now you are aware of the differences between Squarespace and WordPress. We strongly encourage you to compare these two site builders and pick the best one out of them to proceed with building a site on your own.