Best WordPress Alternatives in 2022 (Free and Paid)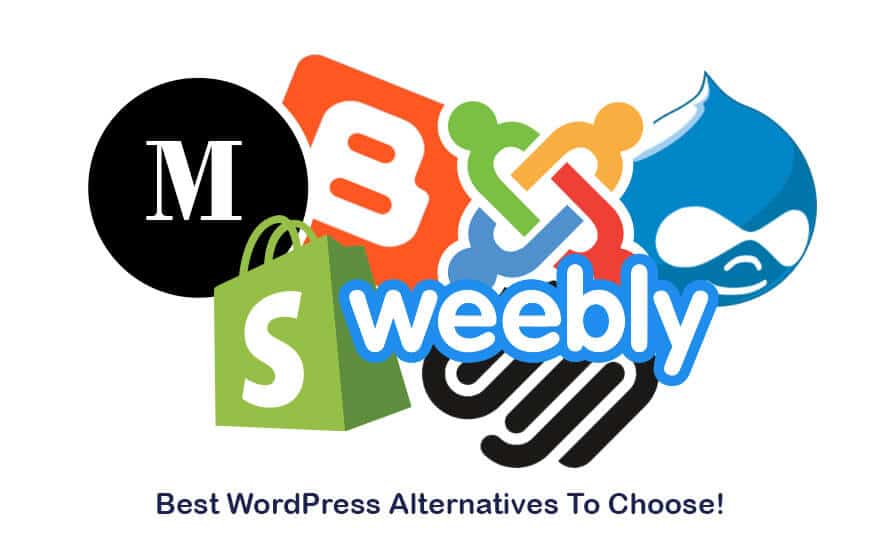 WordPress is the most popular CMS out there. You will use this CMS and develop a perfect website without encountering any challenges. However, there are situations where you will need to look for an alternative. Let's take a quick look at some of the best WordPress alternatives that you can find out there.


Best Alternative to WordPress
If you are convinced to use an alternative platform, you will need to take a look at the best options available. We have researched the top replacements that you can consider out there. You have to go through this list and then pick the ideal choice.
1- WiX
2- Shopify
3- Joomla
4- Drupal
5- Squarespace
6- Weebly
7- Medium
8- Ghost
9- Magento
10- Jimdo
1- WiX
Wix is the very first option that you will come across. If you are interested in just building a simple website, you don't need to use a complex CMS such as WordPress. Instead, you can use Wix, which will deliver a simpler and a convenient interface. You can also call Wix an all-in-one platform. The websites you build with Wix are entirely customizable as well.
A free version of Wix is available. Likewise, there are paid plans, starting from $13 per month. You can go through their features and pick the best plan per your needs.
If you are willing to know wix website pros and cons , this article can help you!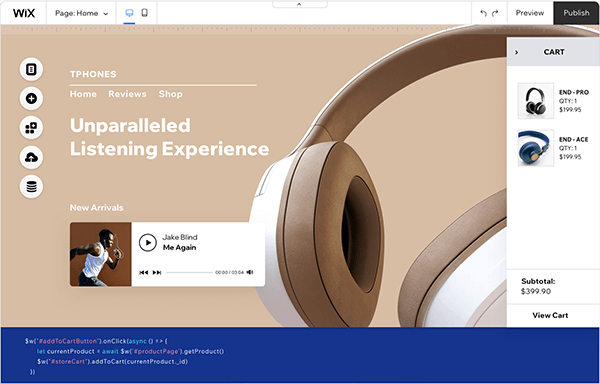 2- Shopify
If you are keen to develop an online store, Shopify is a great solution. You can develop an online store on WordPress while using the WooCommerce plugin. It is an e-commerce plugin that is quite complex to use. Instead of using such a complicated platform, you may start using a simpler solution such as Shopify as a wordpress alternatives cms. Even if you don't have any coding skills, you can develop a fully functional online store with the support of Shopify. Shopify comes along with excellent customer support as well. When you need customer support, you need to get in touch with the team and receive your support.
Shopify prices would be from $9 to $299 per month. However, most people prefer to go ahead with the $29 per month plan.

If you are willing to know advantages of woocommerce , don't miss this post!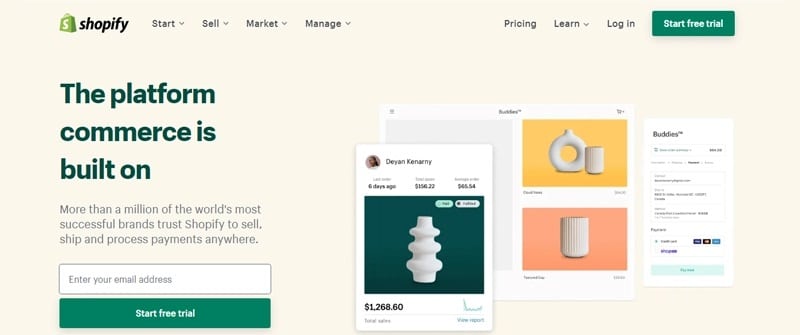 3- Joomla
Joomla is among the original WordPress replacement tools that you can find out there. If you wish to get your hands on one of the free WordPress alternatives, this would be a great choice. The functionality of Joomla is pretty much similar to WordPress. You can follow a similar approach and create numerous websites, including information websites, eCommerce sites, blogs, and social media networks. Joomla is available for free. You need to buy hosting and install Joomla on top of it.

If you are interested to know the best free adsense plugin for wordpress , this post can help you!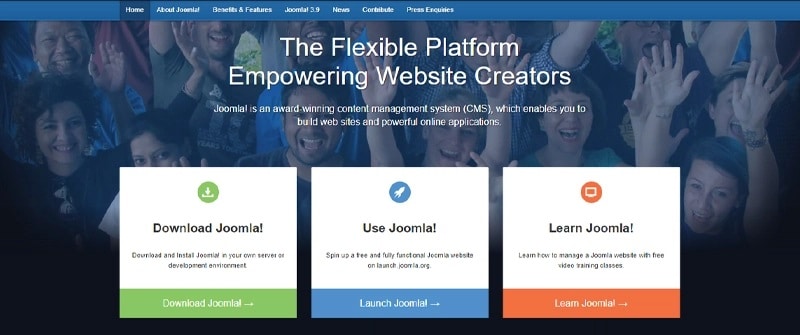 4- Drupal
Another excellent option for free WordPress alternatives would be Drupal. You can find numerous similarities between Drupal and Joomla. If you compare, You will find that Drupal offers some powerful technical features. Hence, people with technical expertise can get the most out of it. If you are not a tech expert, it is better to focus on an alternative, as you are not in a position to get the maximum out of what Drupal can offer.
It is available for free. You can buy web hosting and install Drupal on top of it.
If you are interested to know seo tools for ecommerce sites , don't miss this article!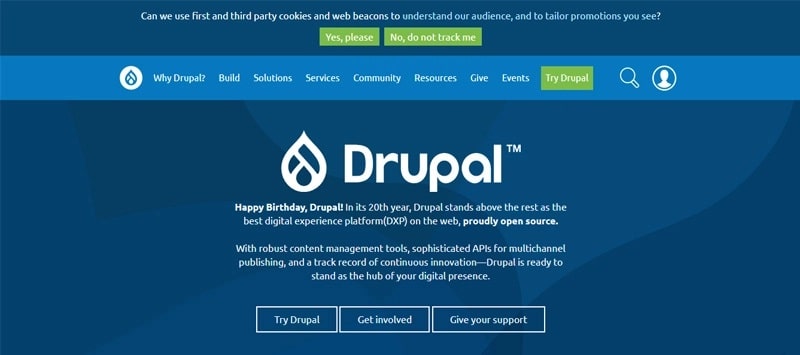 5- Squarespace
Squarespace is a WordPress alternative available for people with no comprehensive technical skills. If you are looking for a straightforward replacement, look no further as Squarespace will be a great option. You can develop a fully functional website with Squarespace's support. Since Squarespace comes in the form of an all-in-one web development platform, you will not have to go through installing any software. It is also a DIY tool that you can use to get work done without seeking the assistance of anyone. Squarespace offers you the chance to build numerous websites, including portfolio sites, e-commerce stores, and blog sites.
There is no free version of Squarespace available. However, the paid plans start from $12 per month.

If you are willing to know is squarespace better than wordpress , this article can help you!


6- Weebly
If you want to locate one of the WordPress alternatives for developers, you may consider getting Weebly. This is a hosted solution. Hence, you don't have to worry about getting hosting. You need to buy the Weebly subscription and continue to build your website. A user-friendly interface will be available for you to get the job done. Even though many developers use Weebly, its main objective has been to help any person out there proceed with building websites. Even if you need to develop a website for a specific purpose, you may use Weebly to get the job done.
There is a free version of Weebly available. However, the premium plans offer maximum value. Premium plans start from $5 per month.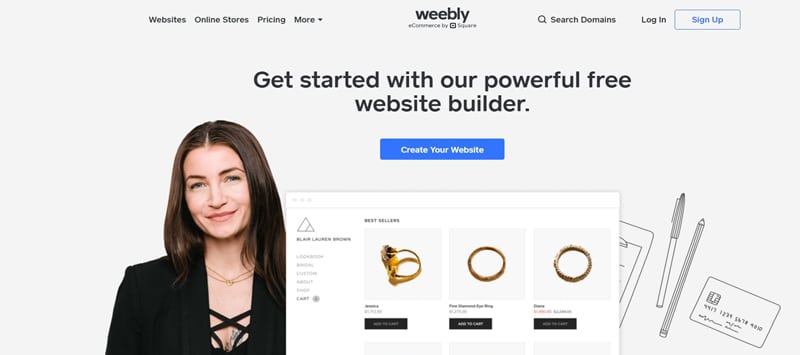 7- Medium
Once you start using Medium as a WordPress equivalent, you need to understand that it is not a direct alternative. Medium is based upon a unique concept, which differs from the other options we shared here. You cannot call Medium a standalone web development platform or a CMS available to consider. Instead, you may call it a publishing platform. If you have content to publish, you may do it on Medium. There is a fantastic community around Medium. You can get maximum exposure and visibility to your content on Medium without a struggle. If your content is unique, original, and interesting, you can get Medium's full returns.
A free version of Medium is available. However, people can buy a premium membership of Medium for $5 per month or $50 a year. You can also discover a partner program in Medium, which will help you make money out of Medium.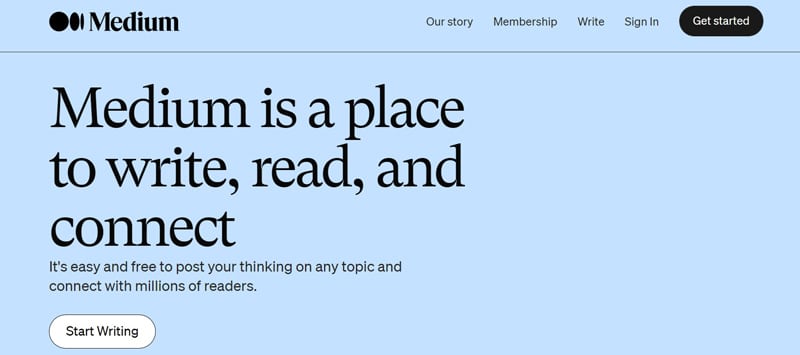 8- Ghost
Ghost is software like WordPress, which has received a lot of positive attention in the recent past. You can discover some great features within it. However, you may call it a pure blogging platform. This blogging platform is designed and developed based on the original concepts of Ghost. WordPress started as a purely blogging platform as well. However, it later changed the gears and started offering additional features. If you miss the pure blogging platform that it provided back in the day, you can begin using Ghost.
A free version of Ghost is available. However, people who need to get all the impressive features can subscribe to the Ghost Pro version, priced at $29 per month.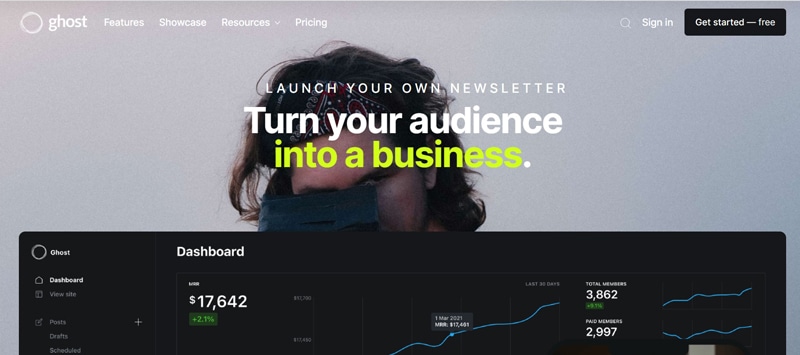 9- Magento
Magento is another platform that we can recommend to people interested in developing e-commerce stores. We can recommend Magento as a better alternative to the WooCommerce plugin. It is even advanced when compared to Shopify. You can discover two different versions of Magento. The first version out of them is the free version. You can install that on your web host and start using it. Then you can find a premium version of Magento as well. If you need a team of Magento experts to take care of your eCommerce store, you should go ahead with the premium version of Magento. Some of the advanced and impressive features you can receive from Magento include a shopping cart, payment gateway, coupon management, shipping charge calculation, and product options.


If you are willing to know what does magento do , this post can help you!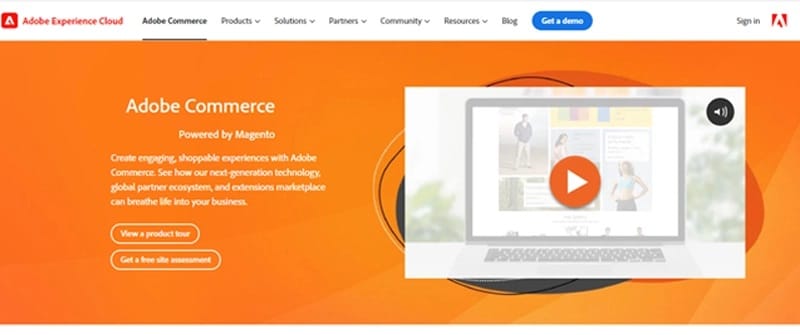 Even though the basic version is free, you will have to pay for the Magento Commerce premium version. It doesn't have a fixed price. However, people usually tend to pay around $15,000 to $50,000 per month.
10- Jimdo
Another all-in-one platform available out there to develop a website is Jimdo. You can find a visually appealing and advanced website builder with the help of Jimdo. One of the most impressive features you can find in it is the full-creator mode. You can get a functional and advanced drag and drop feature with Jimdo. It will help you introduce customizations that you want to add to the website without a challenge. If you are making severe customizations to the website, you may think about using Jimdo.
A free version, as well as a paid version of Jimdo, are available. The paid plans start from $9 per month.

If you are interested to know the best forum plugin for wordpress , this article can help you!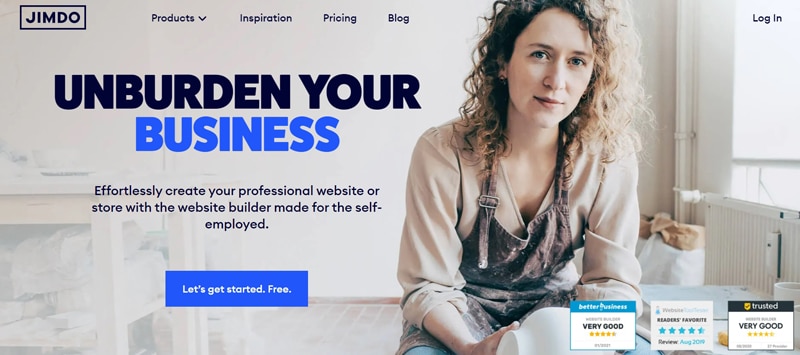 Why Would Anyone Need WordPress Replacements?
Even though WordPress is a feature-rich CMS, you cannot call it the most user-friendly platform. We often see people dealing with challenges in getting work done. If you are trying to develop a website with it for the first time, you will figure out how challenging it is.
You will not also be able to call it an all-in-one solution. It comes along with numerous features. For example, you will be able to add new functionality to your website along with the help of plugins. However, it will still not be the most comprehensive platform available. There are certain things that you cannot do with the features. Hence, you will have to custom code them. Instead of custom coding, it is better to move to a different alternative CMS. That's where you should focus on the best WordPress alternatives.
WordPress is based upon PHP. It is not the ideal web technology that you can find out there. You should evaluate and see whether you can get your intended work done out of PHP. If you are not in a position to do it, it is a good idea to look at one of the options mentioned previously.

If you are willing to know the best python hosting services , this post can help you!


How To Choose the Best WordPress Alternatives?
When you want to locate a better alternative, you will come across the challenge of selecting the most ideal option out there as well. Here are some of the prominent features that you need to check while you are looking for an alternative.
You should initially take a look at the budget. WP is available for free. If you don't want to spend your money on new CMS, you should start searching for a CMS that is available for free.

User-friendliness is another important feature that you should consider as you try to locate a replacement. This is where you should check and see how often you are adding content to your website.

You should also check and see the level of control that you wish to have over the overall appearance of your website.

It is a good idea to take a look at the security, speed, and performance of the platform you select. Otherwise, you will have to deal with numerous negative consequences in the long run.

As you go through the list of alternatives, you will notice that some of them come along with hosted solutions, and some are not. If you are looking for a hosted solution, you should be careful to look for one. Then you will not have to worry about dealing with web hosting on your own.
Some of the platforms come along with excellent blogging capabilities. This is why you should check and see whether you are trying to add a blog to your website or not as well.
If you are willing to protect wordpress site from hackers , don't miss this article!
Conclusion
Now you are aware of locating the correct option out of the best WordPress alternatives that you can find. You may consider this article as a guide and pick the best option out there. Then you can start using it, which offers a perfect web development experience. Even if you feel that you are restricted to WordPress, you may look at these alternatives and pick the right option out of them. If you need more information, check this article out!