Best Python Hosting Service You Should Consider in 2021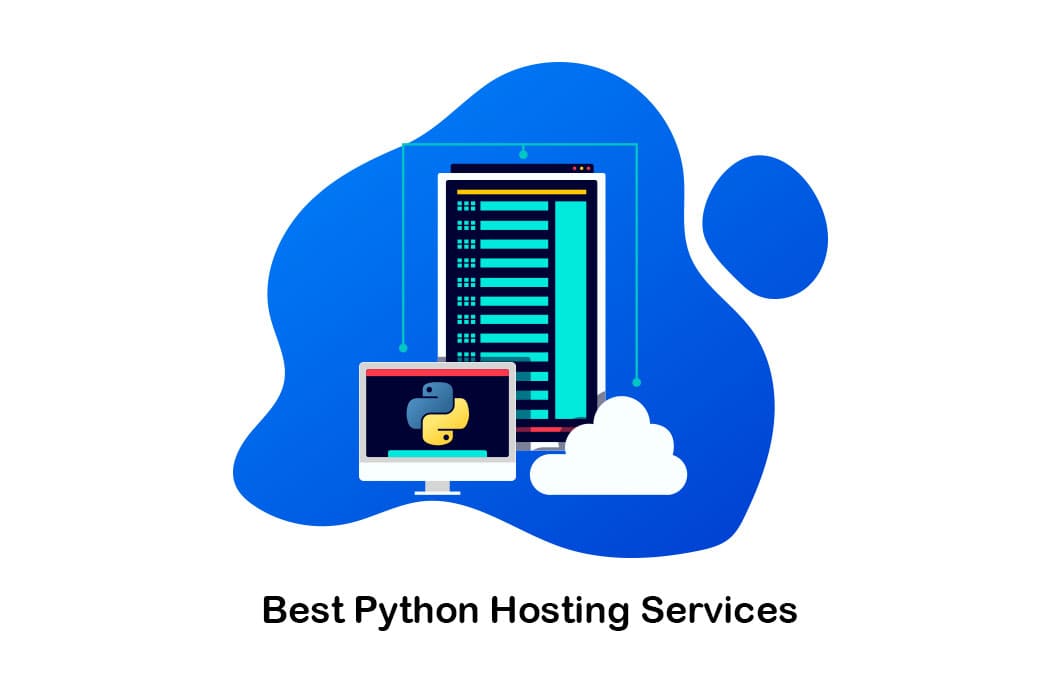 Are you a coding freak? If yes, the python application might be a common term for you. To optimize the maximum benefits with this application use, you need to detect, monitor, accelerate, and protect it in the right way. With the help of the best python hosting services, one can quickly and efficiently manage and work with these applications in a much simpler manner. Here is a small glimpse of every bit about the python programming language, its use, and the hosting platforms to manage its applications!
4 Best Python Hosting Services
When you start looking for the best Python hosting, you will come across multiple options. Here are six of the most popular and effective options available to consider. You may go through them in detail and figure out the best hosting platform to host your Python written application.
In the following, we are going to introduce you to some of the best python web hosting platforms available:

1- Platform.sh
2- A2 Hosting
3- PythonAnywhere
4- FastComet
5- InterServer
6- DreamHost
7- InMotion Hosting
8- SiteGround
9- iPage
10- GreenGeeks
1. Platform.sh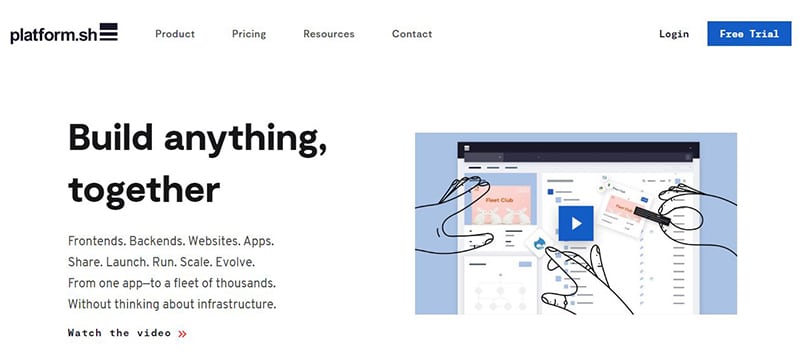 If you are fond of coding and programming,
Platform.sh
provides you with enterprise-grade hosting services. It comes with the "batteries-included" feature, which means you can directly optimize it through the standard library. Hence, there is no requirement for any extra packages when you switch to them. Besides, you can also enjoy the leverage of fuss-free deployment to Redis, MariaDB, MongoDB, RabbitMQ, PostgreSQL, and SSL certificates without paying any extra penny. It also assists Python in the development of advanced applications.
Platform.sh is the
best hosting for python which is
also helpful in retaining a single infrastructure for multiple python projects. It assists with Python 2 and Python 3 that allows you a Git-based workflow. As it is 2nd Gen Paas, it can help you with different projects and set template libraries for Uwsgi, Django, and even python 3.
Suggest you read our article about what is an ssl certificate


2. A2 Hosting
Next popular amongst the
Python hosting platforms
is the
A2 Hosting
python service. With this, you can avail customized, quick, and refined python hosting solutions. It also optimizes high-performing and high-speed Swiftservers for boosting the page loading speed up to 20 times higher. A2 python hosting platform is out since 2003 and concentrates on giving you the best versions of top-notch development software. It supports PostgreSQL, PHP, Python, MariaDB, MySQL, SFTP/FTP, SSH access, Node.js, and Apache.
A2 is a great hosting platform for Python that offers incredible server performance and enhances your conversion rates or SEO ranks.
It also allows you the freedom to pick any server close to you. It also assists in the prevention of cyber-attacks and blocks several online threats. Besides, it even offers Reinforced DDoS Protection to ensure site security from advanced attacks. You also get 99.99% uptime to ensure that your site is always available for visitors. If there are any loopholes in services, a money-back guarantee is also available.
If you are wondering what is apache tomcat used for , this guide can help you!

3. PythonAnywhere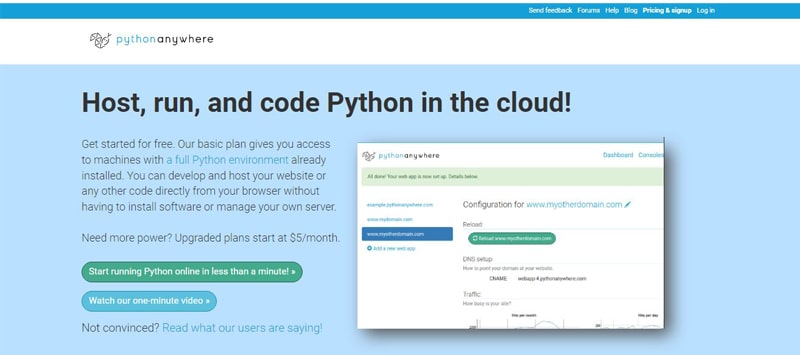 Another leading option for
python hosting platforms
is
PythonAnywhere
. It does not comprise of any web server maintenance or any configuration to start up. Enter the programming codes and start creating your applications. For a successful launch of the Django project, all you need to do is go with a simple process through PythonAnywhere without a web server or the Linux system. You can also get quick installers that aid in the installation of Flask, Django, web2copy, and Bottle. As per the type of business you own and the application you want to use, it is possible to opt for various plans.
PythonAnywhere is one of the
Python hosting platforms
that support top python versions from 2.7 to 3.6 along with the Python installation. Its libraries include Mechanize, pycrypto, NumPy, BeautifulSoup, and a lot more.
If you are willing to know about the best wordpress forum plugin 2021 , don't miss this post!

4. FastComet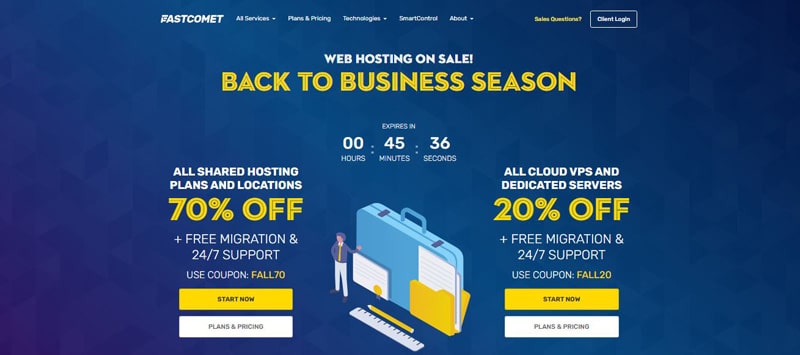 The advanced features and high performance of
FastComet
is worth making investments. You can avail of a quick free domain transfer along with yearly free renewals. With SSD storage, you can also access all files and databases at a 300% faster speed. Cloudflare CDN is also available for free so that customers can evenly distribute content from all over the globe. With the help of regular backups, whether weekly or daily, you can secure all the data.
FastComet also assures website security to protect servers from a global defense network avoiding all threats and accelerating the performance. Its security layer comprises a web app firewall, Brute Force Protection, malware detection, DDoS removal, and account isolation. You also receive 24/7 support for the management of all technical difficulties.
If you are interested to know what is shared web hosting , this article can help you!


5- InterServer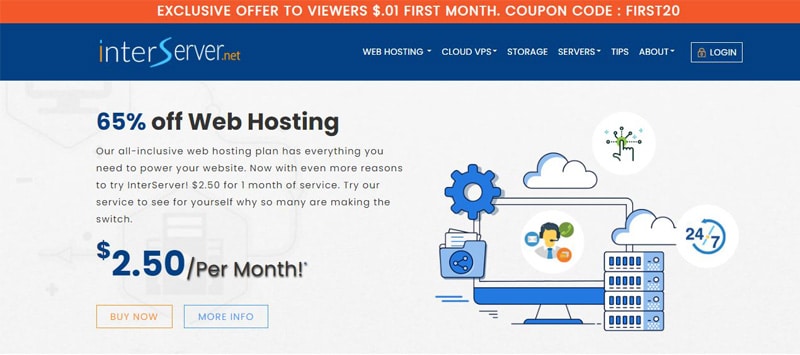 If you are looking for cheapest Python hosting, you may take a look at InterServer. The shared hosting subscriptions of InterServer are not offering any Python compatibility. However, you don't have to worry because you can get a Webuzo license without any extra cost. Due to the same reason, you don't need to have any skills in the SSH command line. You can quickly get your work done via the user-friendly web interface.
Compatibility
You can expect to receive a high functionality from InterServer with regards to Python hosting. Therefore, you will not come across any struggles when you are trying to ensure operational flexibility. It uses a pre-installed Python version. This Python version is fully compatible along with Cent OS. You will also be able to go ahead and manually install Python.
Ease of use
You can get a user-friendly and clean interface with the help of InterServer Python hosting. You can edit the database, documents and even add accounts or domains via the user-friendly interface. You can have some customizable features here as well.
Speed
The data centers of InterServer are located all around the world. No matter what, you can always expect to receive an uptime of 99.99%. In other words, you can make sure that your Python hosted application is running 24×7.
Pricing
You can get InterServer Python hosting for a starting price of $6 per month. This may look a bit expensive as you will not be getting shared hosting. Whether you like it or not, you will have to adhere to VPS hosting.


6- DreamHost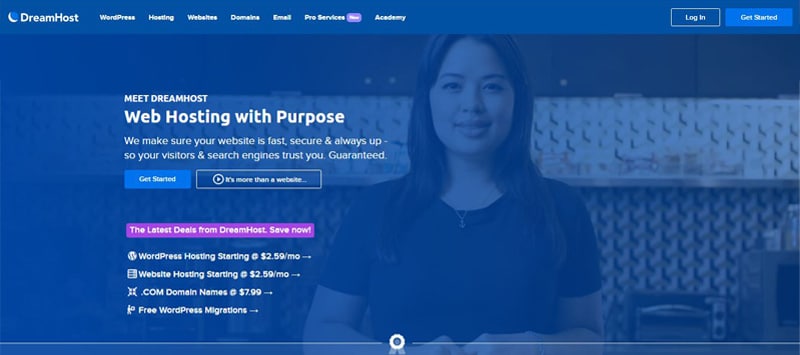 DreamHost is one of the oldest hosting providers out there. More than 1.5 million websites on the internet are powered up with Hosting. You can get Python hosting along with dedicated hosting plans of DreamHost. You will be able to gain access to the Python framework, which offers flash, Turbogear, Pylons, and Django.
Compatibility
In its dedicated server hosting, DreamHost offers python-based hosting. Django, pylons, TurboGears, and flask are some of the python frameworks that can be operated on DreamHost. DreamHost also offers a variety of options for deploying your Python program. There are three types of CGI: passenger, fast CGI, and CGI.
Ease of Use
DreamHost features a user-friendly interface that even newcomers can use. All of the server's features and characteristics, and hosting options are accessible and easy to comprehend. It features a self-designed control panel that makes all of the tools simply accessible. The control panel's navigation is simple. The board will keep you up to date on your site's newest news and notifications. Dreamhost's one-click installer allows you to install 11 different programs. You may also use the cPanel dashboard to upgrade to a higher plan.
Speed
You will be getting Python hosting with dedicated hosting plans of DreamHost. Therefore, you don't have to worry about speed. You can take the maximum out of the available resources available on the server. You will also have access to numerous methods when trying to deploy the Python based applications to your hosting plan. Hence, we can highly recommend DreamHost to all people who wish to get best Python web hosting.
Pricing
If you wish to get cheap Python hosting, DreamHost might not be the best option. That's because you will have to pay $169 for Python hosting on dedicated servers.


7- InMotion Hosting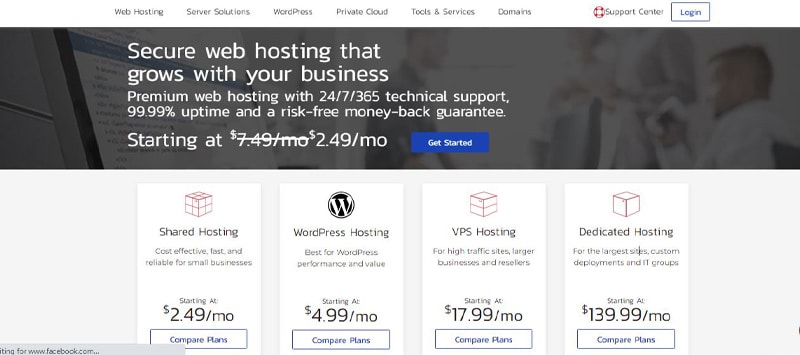 We can highly recommend InMotion Hosting for the people who wish to get hold of the best Python hosting service. The hosting company started offering hosting plans to customers back in the year 2001. As of now, it is providing hosting for more than 300,000 domains.
Compatibility
InMotion hosting plans are ideal for Python hosting. That's because you can get comprehensive support for Perl, Python, PHP7, and Ruby. On the other hand, it provides SSH access to you. This will help you to overcome administrative overheads.
Ease of Use
One of the most impressive features that come along with InMotion hosting is the one-click installer. It will help you to install more than 400 applications without a struggle. You can even get a free website builder. The GUI panel you can find in InMotion hosting is straightforward. You don't have to be a technical person to use this and get your work done.
Speed
When it comes to speed, InMotion Hosting is one of the most dependable hosts. When you use SSDs instead of standard HDDs, your site will not experience downtime. The SSDs make the site 20 times quicker. It has two data centers, one on the east coast and the other on the west coast. Its servers are Dell servers with Cisco Systems installed on them. Furthermore, the data centers are secure since they are equipped with cooling and fire suppression systems. It backs up your site daily to keep it up to date.
Pricing
You can get affordable Python hosting plans from InMotion hosting. The hosting plans start at $15.99 per month. You can even win a chance to secure $150 worth of free credits with Python hosting plans.


8- SiteGround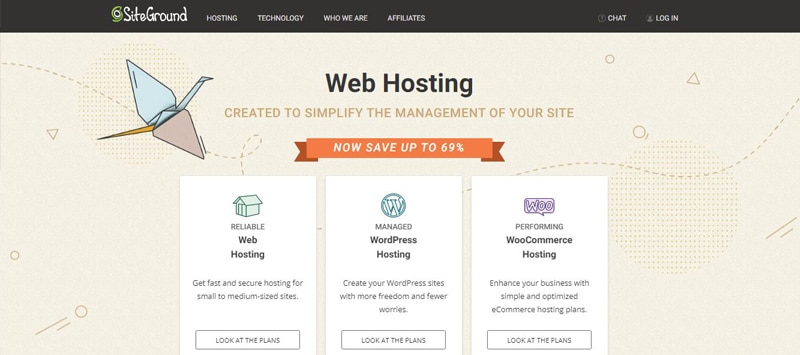 SiteGround offers several Python-friendly hosting options. While their shared hosting plans provide SSH and SFTP access, they only support Python versions 2.4 and 2.7, which might be restrictive for developers working with various technologies. Softaculous may be used to install whatever Python version you need on cloud VMs (virtual computers).
Compatibility
Siteground hosting plans are fully compatible with Python hosting. You can run either Python 2.4 or Python 2.7 on the hosting plan. If shared hosting isn't enough, SiteGround also provides completely customized cloud configurations that may be tailored to your project's specific requirements. The drawback is that cloud fee are high, which makes it suitable for complicated Python applications.
Ease of Use
With all of the features and prices accessible, the website appears to be a breeze. It manages the servers with the industry standard cPanel and WHM. You may also handle billing and the ticket support system by logging in as the user area. With only one click, you may install numerous scripts and programs. You may utilize the e-commerce tools specially built for e-commerce websites to launch an online store.
Speed
We can highly recommend Siteground because of its lightning-fast performance. It has data centers in the United States, Europe, and Asia-Pacific. It comes with a free CDN (content delivery network) for website optimization. It comes with a super caching tool that caches and speeds up the loading of your websites. With higher subscriptions, it provides a 99.99 percent uptime guarantee and a performance booster tool to help your website run better.
Pricing
The hosting package at Siteground starts at only $3.95 per month. Cloud hosting, VPS hosting, and dedicated hosting are also available for purchase. With all functionalities, a dedicated server may be had for as little as $2.69 per month.


9- iPage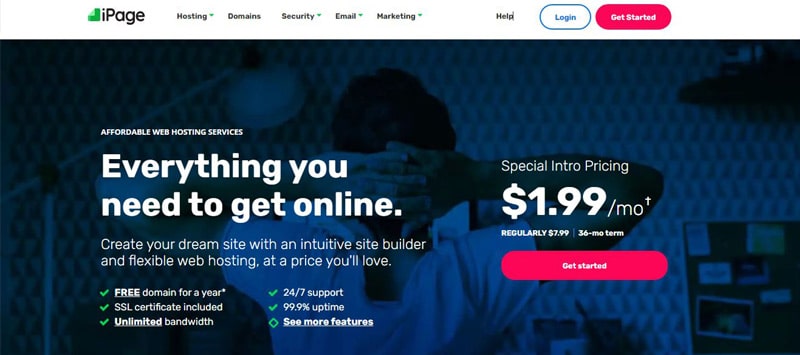 This is another reputed hosting company, which started operations back in the year 1998. As of now, more than 1.5 million websites are powered by iPage hosting. The features you can get with iPage hosting differ whether you go for Windows hosting or Linux hosting. However, Python hosting is compatible with both.
Compatibility
Python hosting is offered on both types of hosting platforms. You may pick from a variety of themes and layouts. It does, however, lack some capabilities, such as the PostGre SQL database. It does, however, provide unlimited MYSQL as well as unlimited add-on domains. Python, Perl, and PHP are all supported.
Ease of Use
Users of iPage may find it challenging to learn how to utilize cPanel and navigate the site. While certain aspects of the site are concealed, the most important ones are highlighted. The vDeck control panel is used for WordPress and shared hosting, whereas cPanel is used for VPS and dedicated hosting. The vDeck offers you access to domains, the Mojo marketplace, FTP, and website-building tools.
Speed
There are two dedicated data centers owned by iPage. All of them are fully equipped with cooling systems, fire management, and backups. The hosting company provides an uptime guarantee of 99.5% for all users. You can also get extra fast functionality since the hosting plans are equipped with CDNs. On top of that, you can experience the benefits that come along with the w3 tool cache.
Pricing
You can get the cheapest Python hosting plans from iPage, which starts at $1.99 per month. However, you can get VPS hosting for $19.99 per month. If you need dedicated hosting, you will have to pay $119.99 per month.


10- GreenGeeks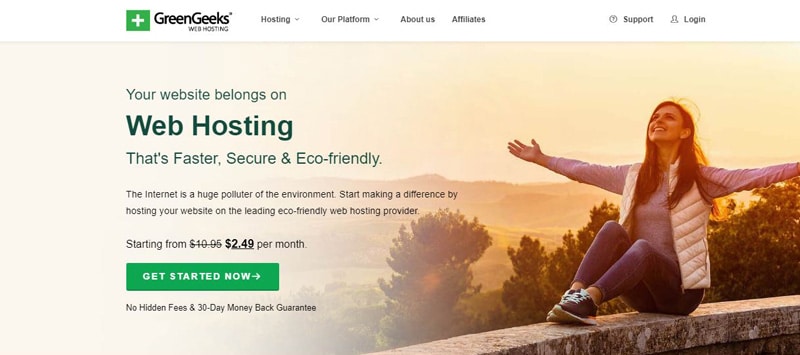 GreenGeeks, which was founded in 2008, is one of the top business hosting companies. Its servers are powered by a renewable energy source that is 300 percent renewable. This website host service offers the competition a run for their money with limitless SSD, website transfer, and hosting of unlimited domains.
Compatibility
GreenGeeks is entirely compatible with the most recent versions of PHP and Python. The Softaculous installer may be used to install Python 5. Installing the language takes only a few minutes.
Ease of Use
The one-click installer can make life easy for you as you use GreenGeeks python hosting. You will also be able to install SEO tools, CDN, and even spam protection without a struggle. On top of that, you can get a simple and easy-to-use website builder.
Speed
GreenGeeks operates four data centers across the world. These data centers feature redundant networks and are outfitted with high-end technology to keep your site running smoothly. GreenGeeks guarantees 99.99 percent uptime and lives up to the claim. Furthermore, the servers are equipped with SSDs, which accelerate your site 20 times quicker than standard HDDs, making it the ideal Python host.
Pricing
The Python is hosting plans of GreenGeeks hosting starts at $3.95 per month. When you compare what you get for the amount, you will figure out that it is a fantastic deal.


What To Look for in the Best Python Hosting?
SSH Root Access
To install essential development frameworks (such as Django), connect to the server and verify Python versions, switch to a newer version, and set up any modules your project requires, you'll need complete root access.

Powerful Server Control Panel
While most hosts charge extra for one, others provide one as part of the standard package. With only a few clicks, you can set up the Python environment.

Python Support
Configuring VPS or dedicated servers is fraught with difficulties. The top Python web hosting provides an extensive knowledge base and a dedicated support team to assist with troubleshooting.

Prices
To attract consumers, many web hosting providers offer inexpensive pricing, but they frequently sacrifice CPU, RAM, storage, and bandwidth in the process. The hosting services on my list have all the resources you'll need to run a Python web project without overcharging for features you'll never use.

Other Leading Python Hosting Platforms Include:
Heroku
Nodechef
Google cloud
What Are Python Applications?
Python programming language is merely 30- years old, but its craze and utilization by the beginners and tech elite are spectacular. It teaches coding on an object-oriented basis and comes up with so many new and advanced features making it a popular choice. As per the TIOBE Index, python ranks amongst the top 3 programming languages, including Java and C. And the new reports suggest that Python is about to overcome the popularity of Java and c in the years to come. All leading companies such as Mozilla, YouTube, and Google, even NASA optimized python applications to discover life on planet Mars!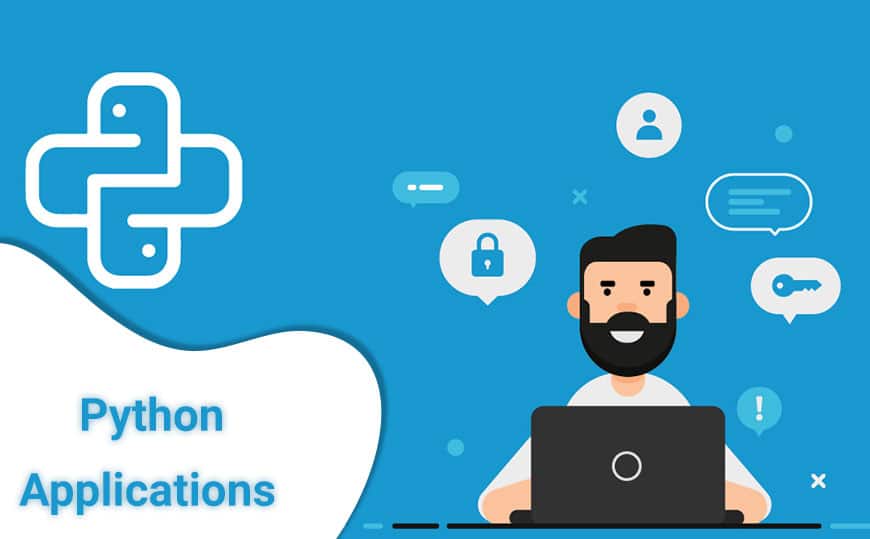 Every latest application optimizes Python language for the best outputs. Whether it is machine learning, data science, AI, or the Internet of things (IOT); python programming is a part of every item. With so much usability, it needs a professional support system for its best working. And python hosting platforms help you to manage and monitor python applications smoothly.


Python is a boon for the new-age coders who wish to create marvels with programming fanatics. It supports and promotes exact and apt coding, which is easy to understand and optimize. Popular frameworks by Python include Turbo gears and web2py.
What is Python Host
If you want to know about it, you can refer to an article written about it?
Why Python Applications Are Popular?
Easy to read and clear syntax
Abstains code compilation
Multiple built-in modules
Most convenient coding language for programmers
If you are interested to know what is a distributed denial of service attack , check this post out!


Why Do We Need Python Hosting Platforms?
As python applications are relatively newer in programming, it lacks reliable hosting platforms to take care of security monitoring. With good and professional Python hosting providers, you can skip all the blues of managing a poorly performing site or application. In the instance of internet vulnerability, such platforms also help protect against internet threats, malware, and phishing campaigns. Now you know the need for safe and reliable Python hosting platforms.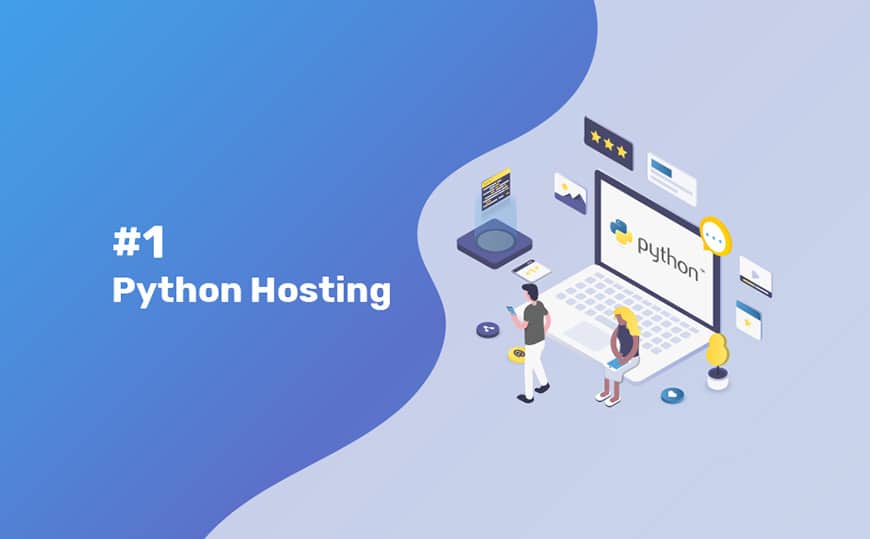 All the above-stated Python hosting platforms comply with the user-friendly prospect keeping in mind the versatility and learning curve. There are several vital aspects of python applications covered under such hosting platforms. As a result, now the Python developers can do all the tasks without any hindrances and complex ones. It boosts the overall performance of the Python Applications as well. If you are a programmer and want to indulge in coding with the Python language, optimizing these platforms is smart to get quick and effortless outcomes!
Which Python Hosting Is Right for You?
VPS plans are the most cost-effective method to run Python web architecture, allowing you to install and customize high-level frameworks like Django, CubicWeb, and TurboGears to meet your specific demands.
InterServer is a good choice if you're searching for a comprehensive and cost-effective Python web app server. Its infrastructure ensures quick delivery, while its support and knowledge base make web projects built using Python frameworks simple to maintain. If you want a dedicated hosting package, have a look at what DreamHost has to offer. Pay attention to all of these criteria before deciding on the
best Python hosting
plan accessible. If you are willing to
read more
, don't miss this post!