Difference Between Cloud Hosting vs Shared Hosting; Which One Is Right for You?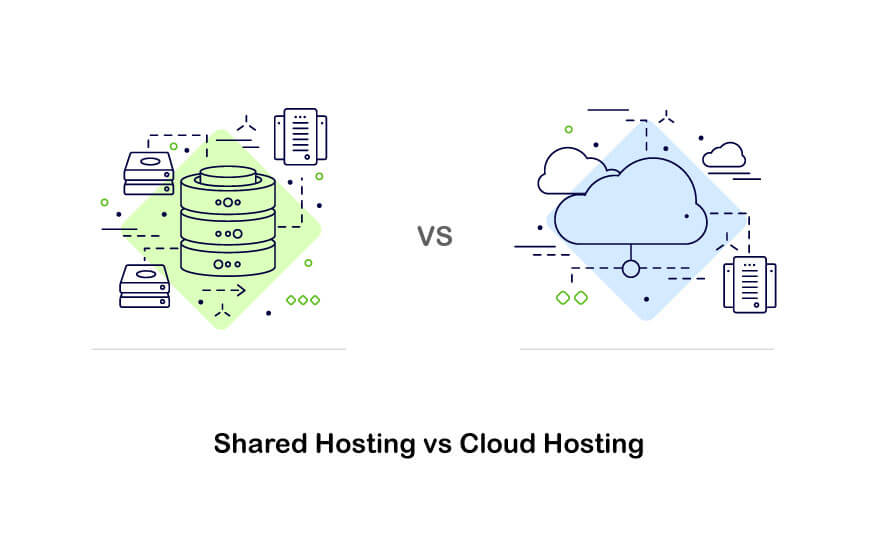 With the continuous development of web hosting as a service to meet the needs of various clients, hosting service providers are often asked about the particularities of each hosting service (especially cloud hosting and shared hosting). They are often debated by many to make better decisions when choosing a hosting package.
However, cloud hosting or shared hosting has its own characteristics, allowing their implementers to take full advantage of them. But with that said, they also have some shortcomings. This article aims to explain the difference between cloud hosting vs shared hosting and clarify the advantages and disadvantages. Stay with us.
What Is Shared Hosting?
Before starting to explain the
difference between shared hosting and cloud hosting
, it is better to know the
shared hosting definition
 exactly. Shared hosting is a type of web hosting service that allows many websites to share physical web servers and resources between the hosted websites. Shared hosting packages ideally allow each user to share a specific bandwidth with the server split across multiple users.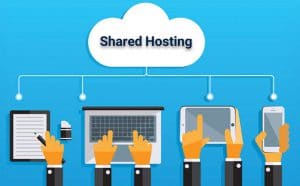 Thus, the user shares resources such as RAM disk space with other users. Think of it this way-you live on rent at home with your roommate. Because you live in the same house, all the resources in the house are shared by everyone who lives there. Shared hosting works the same.
Advantages of Shared Hosting
1) The cheapest way
shared hosting is a web hosting solution where each customer can receive a piece of the same physical server hardware to run their website or application. Shared hosting is often the cheapest way to get projects online, because the service provider hosts multiple clients on a single web server, reducing overall costs.
2) Shared hosting is easy to implement
One of the main reasons to use shared hosting is that it greatly reduces the time to go online due to its simple implementation.
3) You don't need to assume management responsibilities
This means that your hosting provider can take almost all technical responsibilities (such as maintenance and server maintenance), and you don't need to have technical knowledge.
4) Easy to manage
You can use cPanel, which is a virtual hosting management panel that allows you to manage websites and even download applications with the help of Softaculous. With Softaculous, you can download more than 300 applications and scripts with one click.
If you are willing to know about pros and cons of shared hosting , this article can help you!
Disadvantages of Shared Hosting
When it comes to comparing shared server vs cloud server, you should know that shared hosting does not allow websites to serve a large number of customers, mainly because it has a limited number of resources to support website traffic. This is a major downside of shared hosting. In addition, there are other disadvantages include:
1) Flexibility and customization
Shared instances are optimized and configured to be easy to use, but this can be a downside as there is very little room for customization. The range of third-party apps that can be added is very limited. Additionally, support for third-party applications often falls outside of server support, leaving users with good but limited building blocks for their site.
2) Targeted Attack
Although it is inexpensive, shared hosting is also less secure. If multiple websites are sharing a server, and one of them has been compromised or hacked, the hacker's next action is to attack the site that remains on the same server. Not only are hackers exploited, but they also look for vulnerabilities. It is inconvenient even if this site is protected. In another scenario, if one of the sites starts spam using a local mail server, the server's IP will affect the email deliverability of all sites on that server, usually blacklisted with the spam domain. This can accidentally affect the site.
Suggest you read our article about cloud computing price
3) Sluggishness and server Downtime
Since many requests need to be serviced, the server can become overloaded with volume, resulting in downtime or even crashing. In addition, shared hosting serves many stakeholders together, users may experience slower speeds because other users request the same resources.
Related article: disadvantages and advantages of shared hosting
When Can Shared Hosting Be Deployed?
Although shared hosting as a service can be achieved in almost any situation, we recommend that you implement shared hosting in the following situations to take full advantage of it:
You want a strong web image without much investment

You don't have many Monthly income visitors/views on your website

You are a start-up company in the early stages of business

It has limited demand for disk space, RAM, and other resources.
If you want to know

 

what is virtual private server hosting

 

, click on the link provided!
What Is Cloud Hosting?
Before knowing the pros and cons of cloud hosting, here's an overview of cloud hosting. Cloud hosting is a web hosting service where you can get computing resources to host data, web services, and solutions with the help of cloud computing tools. You can use the resources of multiple servers instead of being limited to a single server location.
In cloud hosting, you are the resource facilitator to oversee your configuration, security, and maintenance. These compute and storage resources are distributed across virtual machines to help balance compute load.
If you are willing to compare web hosting vs cloud hosting , don't miss this article!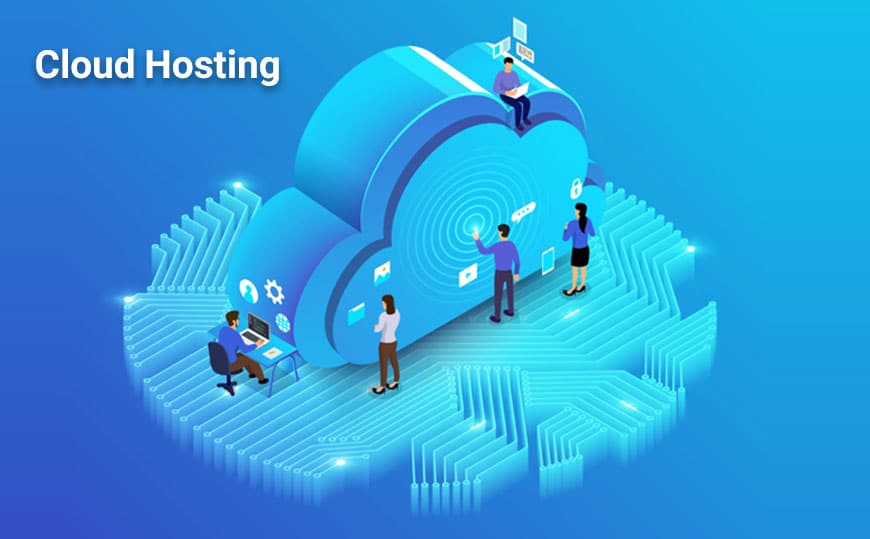 Similar to cloud computing, cloud hosting draws the computer energy of "cloud", that is, instead of fixed hardware sets, the resources allocated dynamically through a network of large-scale physical components get the name to get the pool.
Cloud hosting is theoretically scalable because it allows an unlimited number of machines to work effectively as a system. By taking advantage of virtualization, multiple physical servers are grouped and are shown as a machine on the website or application.
If you want to know

 

what is the meaning of cloud computing

 

, click on the link provided!
Advantages of Cloud Hosting
1) Easy to scale
Because cloud hosting has a lot of resources to configure, it is easy for users to scale too quickly. This means that as business requirements increase over time, web traffic is involved, and so on. Cloud hosting allows users to easily expand and add more resources.
2) Primary storage space
The space provided by cloud hosting is very large. This is a great reward for web professionals who want to create applications for their clients. Furthermore, due to the huge storage space, cloud hosting implementers can also host multiple websites on the same hosting and control or maintain the same website through a single cPanel.
3) Save on Capital and Operational Expenses
Cloud hosting saves you a lot of upfront costs because the hosting provider is responsible for maintaining the infrastructure. Thus, you can save your implementation time, effort, and final cost.
4) Faster page load times
Cloud hosting developers benefit from faster page load times because the hosting service incorporates a caching mechanism. With Varnish cache (which many providers are now using), users enjoy high speeds when it comes to page load times.
5) Lost data recovery
Through cloud hosting, you can recover lost data with the help of backup mechanism tools. This is mainly for users because the data is stored in other locations, namely in the data center.
If you want to know about

 

windows hosting meaning

 

, check this article out!
Downsides of Cloud Hosting
Each technology has strengths and weaknesses. While there aren't many downsides to cloud hosting, there are a few things to consider.
1) Cost
Cloud hosting is significantly more expensive than shared hosting. While the prices are often reasonable, it becomes more difficult for small-cap companies and individual players to get these services.
2) Maintenance and Safety
Full control involves full responsibility for maintenance and safety. The hosting provider should ensure a clean working environment, but beyond that, most of the maintenance and security is left to the service contractor. A security strategy and regular site audits should be implemented regularly to ensure the integrity of your version.
3) Platform dependency
Cloud hosting can restrict certain users by restricting certain users to one provider, resulting in provider lock-in. The huge differences between supplier systems can prevent users from migrating from one cloud platform to another, which can lead to higher costs. However, this problem can be solved by understanding the services provided by the provider. Since most vendors use the same open-source components, migration is also easy.
4) Limited Flexibility and Control
Cloud hosting providers' policies and SLAs can sometimes limit users to varying degrees of what they can do with the service. service. However, not all service providers impose such restrictions. Some suppliers provide support capable of hosting management by providing cPanel to manage storage and enable app downloads.
Suggest you read our article about public cloud vs private cloud
When Can Cloud Hosting Be Deployed?
To take full advantage of services such as cloud hosting, you should ensure that it is configured in the following situations:
You are an e-commerce website and want high traffic

You only want to pay for the number of resources you pay for

Do not want to buy Hardware

Want to expand your business globally

Want to store a large number of files
If you are looking for top vps hosting providers , don't miss this post!
Difference Between Cloud Hosting and Shared Hosting
One of the common questions among users is that "
why cloud hosting is better?
". The fundamental
difference between shared and cloud hosting
is the zone of servers. Cloud hosting has multiple cloud servers for managing the website that makes it fast and reliable. The same is not right for shared hosting because here, the host has to operate the website in sharing mode under the same server. It is the reason why shared hosting is cheaper than cloud hosting. Some more differences that can give much clarity between
shared hosting vs cloud hosting
are the following:
If you want to know what is a dedicated server, check this article out!
1- Price
The most highlighted variation between cloud vs shared hosting is the pricing. Cloud hosting services are higher in price in comparison to the shared ones due to elevated features. But, beginner people must prefer shared hosting to get practical ideas about working with hosting. Some hosting providers' options to directly jump from shared hosting to cloud server by upgrading the plans. It reduces the burden of manual website migration for the customers.
2- Bandwidth
It refers to the limit of data transfer from the server to the hosting zone for the website's steady functioning. More bandwidth in a website helps to resolve problems of javascript and loading speed. Shared hosting plans usually provide low bandwidth, which can handle limited numbers of traffic. But, the case is not the same for cloud hosting plans. It can handle all ups and downs errors related to website loading because of data exchange from multiple web servers.
3- Speed
Most users wonder "is cloud hosting faster than shared hosting?". Cloud hosting servers have numerous data centers in different countries. It works like a smart backup plan to continue the workflow related to blog traffic. Users can check the details about the server center in the schemes of the cloud hosting provider. Complaints regarding the speed issue are infrequent for cloud hosting. So, Users should check the hosting company's data center to get benefited page loading speed in shared plans.
4- Domain Linking Limits
Most of the shared hosting plans provide the facility of linking a fixed domain name on their server. The more domain the user will connect, the more obligation the shared server has to face. Cloud hosting runs on multiple servers, so users do not need to worry about domain linking issues.
5- Scalability
It represents the hosted catalogs' time required to upgrade the virtual cloud resources. In the cloud hosting vs shared hosting comparison, the scalability is much better in cloud hosting providers. Whereas shared plans take a little more time to adjust the catalogs on the machine.
6- Uptime
Server uptime rate indicates the server time for the operation. This feature doesn't let a website go offline. Both shared, and cloud servers offer the same or high uptime rates depending upon the hosting provider. But, no problem related to offline is faced in cloud hosting. It is all due to the presence of multiple servers that increase the uptime limit of the website. The problem arises for a shared hosted website if the server has below 99% of the uptime limit.
7- Uptime Customer Support
Because of high pricing and extensive features, cloud hosters were given exceptional customer support to rectify the problems. It does not mean that people using Shared hosting get discriminated against by cloud services. Shared hosting plans have limitations from the beginning. If they go above the limit of their features. It can affect the performance of the website in a negative way.
Shared Hosting or Cloud Hosting Which One Is Better?
The important question here is: should you upgrade from shared to cloud hosting? The first step in deciding whether to choose between cloud hosting and shared hosting is to define your requirements. Before an accurate action plan, it is necessary to clarify the type, size, and experience of the traffic flow team and the security budget of the data dealing with economic constraints.
The difference between cloud and shared hosting is that they serve different purposes while both are web hosting services. Shared hosting grows rapidly when you want to do it online. So you don't need expensive or time-consuming services as a user. On the one hand, cloud hosting is about setting up the right resources, deploying the right server with the right amount of disk space, and so on.
Shared hosting is the default option for small sites with low to medium traffic. Implementing the latest security technologies or having huge amounts of resources will not be cost-effective. Some use cases could be personal blogs, reference guides, informational websites, personal archives, or testing platforms.
Cloud hosting is the best choice for high-performance websites that require a secure and scalable (on-demand) environment. It is also best for low-traffic sites with visitors doing heavy computing tasks or users with specific framework needs or custom setups. Game servers, highly competitive stores, streaming platforms, or hosting data centers that are HIPAA compliant are some of the most common cases where a cloud hosting solution is required.
Why Is a Comparison Between Cloud Hosting vs Shared Hosting Necessary?
Most people think of starting their blog or website to earn money or boost their sales. But, choosing a hosting plan with requirements creates confusion. It is because different hosting companies sell the programs with other catchy names. Before investing in such hosting services, it is necessary to be clear about the features of shared, cloud, VPS, and other essential terms instead of starter plan, gold pack, super ultra pack like names. Under these names' tagline, companies also highlight professional terms like cloud and shared hosting to make the customer get opened to the offerings.
Frequently Asked Questions

Is Cloud Hosting Faster Than Shared Hosting?
When it comes to comparing cloud hosting vs shared hosting speed, it is good to know that shared hosting servers are those which host multiple websites. But cloud hosting servers are more dynamic and as a result, they can perform faster and also more secure than shared ones.
Should You Upgrade From Shared to Cloud Hosting?
Cloud hosting outweighs shared hosting due to some specific features. If your website attracts lots of traffic and needs more security protection, so upgrading to cloud web hosting would be a good choice. but keep in mind that this kind of web hosting is more expensive. So before upgrading, you have to make sure that paying much more money is worth it.
Conclusion
The difference between shared hosting vs cloud hosting can help a beginner to decide which hosting plan to choose. Both of the methods are very much appreciable based on the requirements. It creates an opportunity for both beginner and professional website managers to benefit from the programs in the best possible way.
The range of pricing helps to invite maximum web seekers to avail of the affordable facilities. Users can take advantage of the hosting plan by applying their skills to run websites and generate profit. In conclusion, cloud hosting has more gains in the above considerations. Once you've chosen your cloud type, the next step is to choose a reputable and reliable hosting provider.
For more information click
here
.