What Is Windows Hosting Meaning, Advantages and Disadvantages?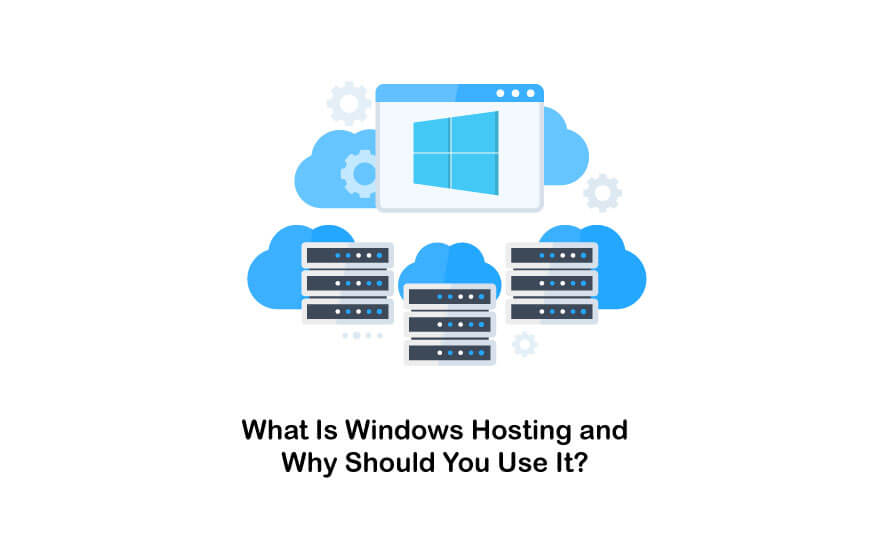 The necessity of having a dynamic website with visually attractive elements has now become an essential factor for many individuals. Windows web hosting is one of the most popular and feature-rich services offered by hosting companies that meet these needs markedly.
Generally speaking, there are two main options available for web hosting: Windows and Linux. Windows hosting with its dynamic technology can help you stay ahead of the competition with eye-catching pages that run smoothly.
What Is Windows Hosting Meaning?
It is typically a web hosting server that runs by the Windows OS or its other variants. Your website pages can efficiently have access to web development features of Windows when you use a hosting service of this kind.
The popularity of Windows as an operating system around the world has paved the way for
windows hosting meaning
to become hugely favorable among website owners. Currently, more than 75% of the desktop operating system's global market belongs to Windows. Microsoft is continually researching this product, and we can see the improvements it makes on Windows every year not only in the technical aspects but also in support of various scripts.
Suggestion: advantages and disadvantages of dedicated web hosting


What to Look for in a Windows Hosting Provider
If you built your website with technologies such as .NET (Windows). When choosing a host, you should pay attention to the following points.
Software compatibility
Every Windows hosting plan should have the proper compatibility that you need for all your Windows-based applications and software, including:
 . ASP Classic
 . ASP.NET
 . MSSQL (Microsoft SQL Server)
 . MS Access (Microsoft Access)
 . Visual Basic Development
 . C sharp
 . Remote desktop
 . Microsoft Exchange
 . Microsoft SharePoint
If your business relies on either of these, there's no harm in re-checking that the Windows web host you choose works seamlessly with them.
In the following, we will learn more about the
advantages and disadvantages of Windows hosting server
 than the best choice
Have
Advantages of Windows Web Hosting Hosting
When you are looking for a hosting solution, you will come across numerous options. Windows hosting holds a prominent place among them. If you are looking for a feature-rich hosting solution, you may take a look at this type of hosting. However, it is better to evaluate its pros and cons before you proceed.
1. A Microsoft-Friendly Option
Many websites and businesses rely on different products and tools of Microsoft like FrontPage and ASP to function properly. The same conditions apply to Microsoft Exchange for efficient management of emails and Microsoft SharePoint for better collaboration between team members.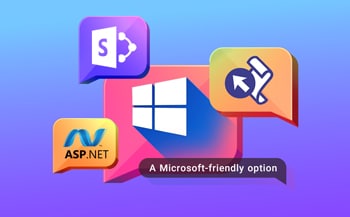 These products offer excellent quality and have proved to be the best option in their category. For instance, ASP is much easier to use than other server-side services and integrates perfectly with many other languages as well.
Therefore,
windows shared hosting
counts as a perfect solution for this purpose that provides you with enough capabilities to build dynamic and interactive websites. Moreover, many tech professionals are accustomed to maintaining and updating windows and its programs. This familiarity with Windows OS makes it easy for them to work with the server interface, too.
If you are willing to know how does virtualization work , this article can help you!
2. Powerful and Simple
Windows hosting services are often based on Windows Server OS. This operating system enables you to manage your server and scale it without any concerns about its security.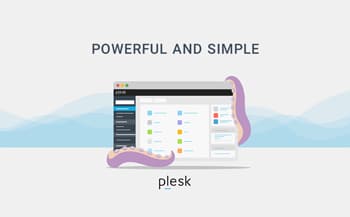 Additionally, these
windows website hosting
packages come with the user-friendly Plesk control panel that makes it much easier for you to update your website and make changes where needed. The intuitive interface of Plesk, with its great focus on commercial websites, lets you manage multiple sites conveniently. Plus, it's completely compatible with the most popular content management systems, including WordPress and Joomla.
Above all, all the Microsoft products are developed in a way to support one another. This advantage has attracted developers towards creating various applications in complete compatibility with Windows. Similarly, open-source tools like MySQL and PHP run efficiently on this hosting platform, and this feature isn't available on Linux to this extent.
If you are willing to know what is windows server used for , check this post out!
3. A Reasonable Solution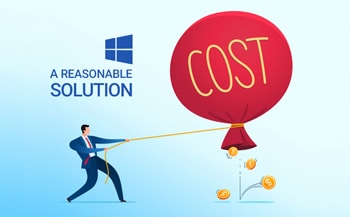 It used to be a costly service due to the high price of Microsoft licenses. However, these days you can find affordable plans as low as $10 a month from different service providers. Although Windows hosting packages are costlier than Linux, compared to the features you receive in return for the budget, you can rest assured that your money is spent well.
4. It Runs on Windows Operating System
Most of us are familiar with Windows operating system which windows shared hosting runs on it. Hence, you don't have to go through the struggle of getting used to it. In other words, you don't have to go through a lengthy learning curve while you are trying to work with this hosting solution. You will find specific features, which you can use according to your preferences. On these plans, you will discover the Plesk control panel. This delivers an intuitive experience than cPanel, which you can find in Linux hosting.
If you are interested to know what does cpanel do , don't miss this post!
5. It Is Compatible With Other Windows Tools
One of the main reasons why people go for this type of hosting is the presence of numerous familiar tools. This makes life easy for them when managing the hosting plan. For example, if your website is developed with ASP.NET, Windows hosting would be a great solution available to consider. On the other hand, you will notice how compatible your hosting plan with Microsoft SQL is. You might even be able to use Microsoft Exchange as the email server.
 
6. It Comes With a Plesk Control Panel
As mentioned earlier, hosting windows server comes with a Plesk control panel. You can access straightforward controls on this control panel. Hence, managing your hosting plan will never be a challenging thing. If you want to make any changes or updates to your website, you can easily do them. You will even be able to manage multiple domains and websites in your hosting solution without a problem.

If you are interetsted to know what is a web server used for , this post can help you!
Disadvantages of Windows Hosting
1. It Is Not Secure as Linux Hosting
When you make a cross-comparison between the security of Windows hosting and Linux hosting, you will notice some significant differences. In other words, Linux hosting is more secure. Windows hosting solutions are highly vulnerable to numerous attacks, including ransomware attacks. However, Linux hosting is more confident, and you will keep peace of mind. Since security is a significant concern, you must be mindful of this fact as you pick a hosting solution.

Read more: what is difference between linux hosting and windows hosting?
2. It Is Expensive
You will have to spend more money to get this type of hosting when compared to Linux hosting. However, this varies depending on the hosting solutions provider. For example, if you look at Hostgator, you will notice that Linux hosting plans start at $2.75 per month, whereas Windows hosting plans start at $4.76 per month. You will be able to save money in the long run by going ahead with Linux hosting.
3. It Is Less Stable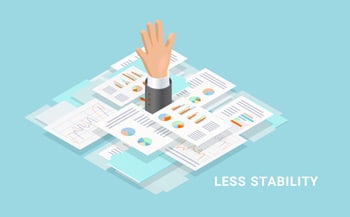 Linux servers are well-known for their dependability. They seldom need to be restarted and can perform many tasks at once. On the other hand, Windows servers have difficulty running many programs and processes simultaneously without crashing. Like any other web technology, Windows servers have improved over time and are anticipated to continue to do so. However, they aren't relatively as constant in their performance as Linux servers.
However, this is another area where selecting the appropriate web hosting company may make a significant impact. When a Windows hosting business offers a 99.9% uptime guarantee, it means they've taken all the necessary steps to keep their Windows servers running as smoothly as possible. A competent web hosting company can assist overcome the gap in server stability between Windows and Linux hosting by paying attention to maintenance and planning.

If you are interested to know the difference between cloud hosting and shared hosting , this post can help you!
Who Should Choose
Windows Web Hosting Server

?

Windows hosting, compared to its Linux counterpart, has many areas with exceptional strength that makes it a perfect match for a hosting service. It's essential for some web programming languages and scripts such as ASP, Visual Basic, and C# to work seamlessly.

Additionally, it supports commonly-used databases like SQL and MS Access so that you won't have any difficulty managing your database.

If you aim to know the difference between linux and windows hosting , check this article out!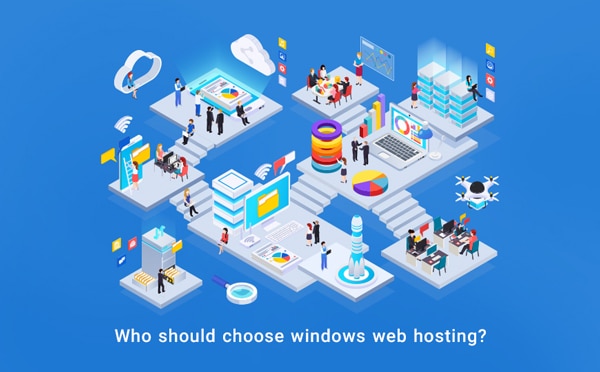 Wondering to use this service or not? Here's the answer:
In simple words, if you are a small business or startup with basic needs, choosing the shared or cloud hosting plans that run on the Linux server suits you the best. On the other hand, if you are a large business with a considerable number of daily visits, windows hosting makes the most sense for you. Your IT team will also have a better time with website maintenances.
Now you have a basic understanding of the differences between Windows and Linux hosting. There are some specific reasons why you need to go ahead with getting this hosting. Let's explore those reasons and see why you should proceed with it.

If you aim to learn What is Windows 11 , this post can help you!
Your website is developed with ASP.NET
If the website you will host on the server is developed with ASP.NET, it would be a great solution to consider. That's because your website will be compatible with the hosting solution. Hence, no problems would take place in the long run. You will be able to manage your website without encountering any significant challenges.
If you are interested to know what is internet information services , don't miss this article!
You Get Multiple Features
Along with this type of hosting, you can get your hands on multiple features. For example, you will be able to gain access to the Microsoft Exchange mail server. This will help you to manage the emails without encountering any significant challenges. Likewise, it is up to you to start using the features and manage your hosting as per your preferences.
In the case you want to know Windows Server 2022 , this article can help you!
It Is Beginner-Friendly
If you are not a technical person, you should go for windows shared hosting instead of Linux hosting. That's because you don't need to be highly specialized to manage it. You can continue to work on your hosting plan without encountering too many challenges. You will not usually come across the need to seek the assistance of a technical expert to manage your hosting plan. Instead, you can order it on your own and get work done.
You Get MySQL
Most systems use MySQL as the database. If you are interested in using MySQL as the database, you may think about using this kind of hosting. It will help you to receive all the support that you want for MySQL hosting without a challenge.


Frequently Asked Questions
Does Windows Hosting Support WordPress?
One of the common questions among users is "can you host WordPress on a Windows server?". Microsoft provides a set of tools and a robust platform that is capable of hosting WordPress. One of the most important things about Microsoft's web platform is its interface. The Microsoft Windows server family provides several roles which can take control of complicated IT tasks.
Does Windows Hosting Support PHP?
The answer is yes. Most shared hosting services of windows support PHP by default. If PHP is not enabled on your host, you should ask your hosting provider to activate it for you.
Conclusion
We know what is windows web hosting. Windows shared hosting is an excellent option for a broad range of requirements. Although you will need to pay more money compared to the Linux solution, the efficiency and advantages of windows web hosting will outweigh its costs. So if you want high functionality and integration with popular applications, don't hesitate to go for this service.