Public Cloud vs Private Cloud vs Hybrid Cloud; Which One Is Right for You?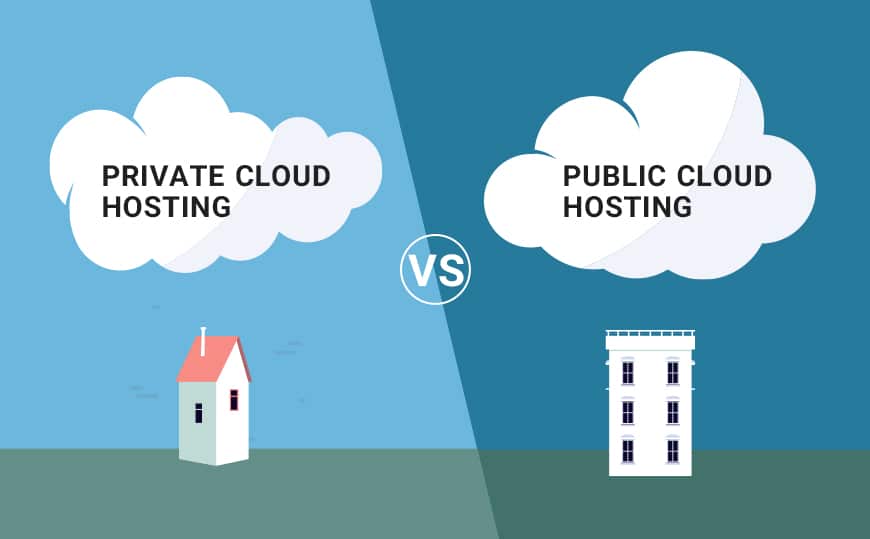 cloud computing is now a familiar technology for many of us since we use it in many online services every day. Dating back to the 1960s, the cloud solution was first suggested through a computer network by the early concepts of time-sharing. Cloud computing has kept getting evolved ever since, and it is now being used in a wide range of companies and industries. To put it simply, cloud computing refers to storing and having access to the data on the internet instead of using your own hard disk drive. The servers used for cloud computing can be placed anywhere, as what really matters is their accessibility and functionality.


The hosting world has also benefitted from these advancements, and the relevant solutions have likewise turned to cloud-based services. They are generally categorized into two groups, public, and private cloud hosting. You can use either one for running a website, but the vital thing to bear in mind is that each offers some advantages and disadvantages that can be a good match for various needs.


Below is a breakdown of dedicated private cloud and the public cloud services about the way they are different from each other.
Hybrid cloud computing has been gaining a lot of attention in the recent past. The advantages of hybrid cloud computing play a significant role in the fact mentioned above. If you want to learn more about hybrid cloud computing, you are at the right place. Continue to read, and we will share some important details about it with you.
If you are willing to know cloud computing costs , don't miss this post!

Public Cloud vs Private Cloud vs Hybrid Cloud
In order to clarify the difference among these three types of hosting, we have to give an explanation of each of them and then decide which one is proper for what kind of situation. So, let's start with public cloud hosting.
Public Cloud Hosting
A public cloud hosting, as the name suggests, shares the servers between two or more users, and it is off-site so that you won't need a particular place or facilities for it. When you choose a public cloud hosting solution, you free yourself from the responsibility of managing it. Both storing the data and managing it are done by your service provider, which can save you a great deal of time in the long run. A public cloud hosting service provider sells you access to servers that are located alongside many other ones.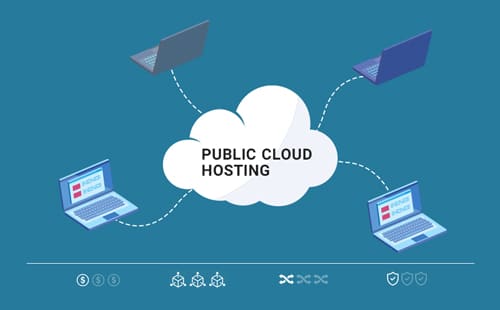 The data is usually backed up automatically in this hosting, and you only pay fees for the resources you utilize. You are free to ask for more resources once you need them and can have them at your disposal in the shortest time. While many companies opt for this service, there have always been debates around the insufficient security features in it. You have no control over your security, but it doesn't necessarily mean that you are always at the risk of data loss or security breaches.
Private Cloud Server
A private cloud server means that the servers are owned and used by only one user or several users who are related to each other. Contrary to what you get by choosing a public cloud, you are in charge of managing your data and server maintenances. Private cloud hosting, also known as the enterprise, internal, and dedicated private cloud, is relied on the data center you have inside your company or off-site. This service is advised to those who already own such an infrastructure, and in fact, have the necessary expertise to maintain the data centers. With the emergence and spread of the internet, big companies used to have private hosting on-site in the early days of the world wide web. They would have servers inside their buildings or even have a data center on their own.
If you are willing to know what is internet information services , check this post out!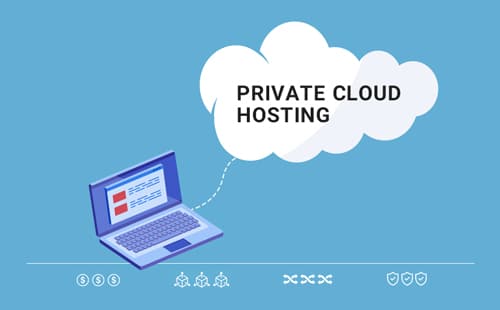 A high level of security is what a dedicated private cloud brings to you. Yet, you should be aware of future performance, capacity, and also the expenses required for replacing the servers. Therefore, choosing this service needs long-term decisions and plans, and is often selected for high levels of expected functionality. If you want to have private cloud hosting, you can choose from two methods—in-house hosting or using the services provider's data center. Most companies prefer the managed private cloud option as they will not have to hire an IT expert to take care of their servers.
If you are interested to know the advantages of cloud hosting , this post can help you!
Which Cloud Should You Choose?
The most significant determining factor for choosing private vs public cloud is the budget and your hosting needs. Are you a large company with specific needs and sensitive data or a small one? Generally speaking, a private cloud server is a proper choice for bigger companies, while the smaller ones could suffice to the public solution. With that being said, it does not imply that the websites with high daily traffic always need the advantages offered by a dedicated private cloud.
If customizability matters to you, his is one of the most important benefits of a private cloud server, and it will meet all your needs. You are the only user on your server, and no one can stop you from making changes in the way that suits you. Software, hardware, operating system, and all the other elements of your server are fully customizable with no limits.
If you are interested to know the dedicated server hosting meaning ,  this post can help you!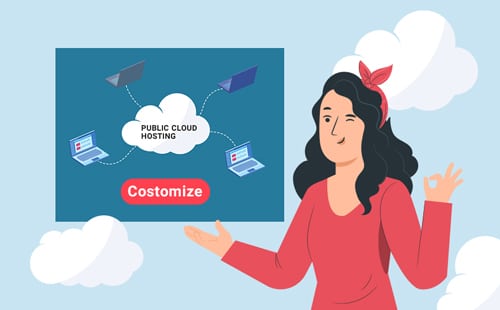 On the other hand, it is not considered a good option for starters because the initial setups cost them a fortune. The extra expenses are not limited to the initial setup since the regular maintenance and updates charge additional costs, which should not be underestimated. The private cloud server is suitable for high-level businesses equipped with the necessary cash flow to support this type of network. Moreover, the higher levels of security associated with private servers can lead to some issues with remote access and also the users who access your server from their mobile phones. You should always keep these drawbacks in mind for a sensible decision.
The public cloud solution is best for those who don't need dedicated data centers and want to save time and money benefiting from the flexibility of these services. It can also simplify communication with customers in different locations. The chances of having an insecure neighboring website with high daily traffic and its impact on your performance should also be taken into consideration as a disadvantage that comes with this service.
The advantages that users receive from a public cloud service have led to an increasing number of service providers and their various plans for it all over the world. Many vendors offer features that are enticing enough for even the larger companies to choose them over a dedicated or managed private cloud.
In many cases, you can have the best of both worlds by making use of the private cloud vs. public cloud advantages. A hybrid cloud can be an appropriate solution for companies in which an integration of public and private services is set up. It can be best for those who expect to see high demands that could happen during some seasons or periods of the year, or when the main data center gets out of order.
If you are interested in knowing website hosting charges , this post can help you!
Conclusion
Before opting for the service, define your exact needs and expectations so that you know what you should get. Consider cost and scalability as the main factors for your service and make the final decision in accordance with your type of business and future plans. Overall, go for a dedicated private cloud hosting if you have been considering using a dedicated server with increased levels of flexibility. If you still need more information,
visit
this article!
If you are willing to know who owns woocommerce , don't miss this article!