How To Add a Forum to WordPress with Best WordPress Forum Plugins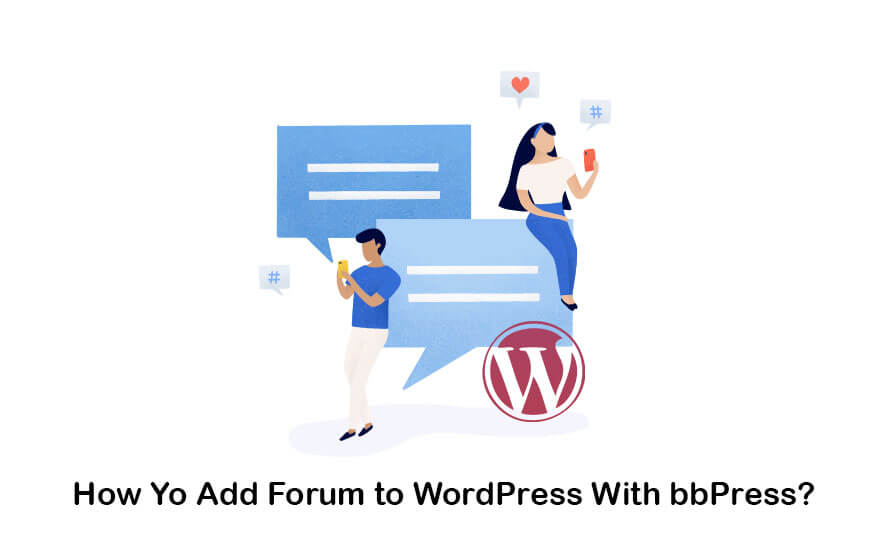 Do you want to create an online community? Then it would help if you thought about developing that on top of WordPress. That's because you can easily
add forum to WordPress
. If you don't have a clear understanding of how to do it, you should continue to read this. We will share all details on how to add a forum to WordPress. All you have to do is to follow the steps we share in this guide.
Why Include a Forum on Your Website?
Social networks and blogging are time-tested ways of linking brands to clients. But building a highly oriented community around your brand will build more significant interaction and interactivity right from your website. Growing numbers of small and large companies in niches of all kinds are integrating on their sites, social networking, and message boards due to several reasons:
Engage Your Audience
If you are trying to start a new business, you probably wouldn't have the budget or the resources to employ a research team to analyze your target audience. Nevertheless, understanding your target audience and focusing on their needs and what they're looking for in a brand is a critical factor in the growth of a business.
Plus, you might not have enough time to speak to each of your users; in this case, adding a bbpress tutorial forum to your website can be an easy solution to your problems. By setting up an interactive forum, you are trying to engage your users to speak to one another in a safe digital environment. Your role comes after that, as you can read, review, and respond to what your audience honestly thinks without asking.
Check this article out if you aim to compare Magento vs WordPress security features!
User-Produced Content
It was mentioned that forums are a fantastic tool for communicating with your audience and streamlining your customer service processes; besides, forums could be the opportunity for users to get creative and produce valuable content. Your audience might help you produce high-quality content about your social media strategy or your products. Still, it would help to create an online community around your brand to make this happen. bbpress tutorial forum can help make this plan work.
If you aim to know the security plugins for WordPress, check this article out!


Offering Better Quality
No matter how diligent you might be, things won't go as planned; you may deal with delivery problems or quality control. Many might not want to write about these problems in their reviews. Nevertheless, Encouraging a friendly and natural environment within your forum could help you gain your user's trust. bbPress forum plugin will give you an excellent platform to apologize, interact, and solve any problem.
Forum content could be so much more than letting you into your customers' world; it could be the ideal place to allow your customers to interact with the human side of your brand. You can build an actual relationship with your customers by letting them know who you are and what you care about. In the modern world, where thousands of brands compete to get the customer's attention, speaking to your target audience could be a huge perk.


If you want to know WordPress replacement, check this article out!


How to Create a Forum to WordPress?
A plugin is the most common approach to install set up a forum on a WordPress website. For maintaining a forum on your site, there are several plugin alternatives. Make sure your plugin of choice supports forums that are easy to set up, edit, moderate, and scale as your site's audience grows.


Best WordPress Forum Plugins

The following are some popular and well-reviewed plugins for developing WordPress forums:


bbPress –

bbPress

is a free plugin that WordPress users widely use. The simplicity, ease of use, and dependability of bbPress are well-known.

BuddyPress –

BuddyPress

is a WordPress plugin that allows you to create a social community. Customizable discussion boards, public profiles, activity feeds, and private messaging are just a few of the free features. if you want

a forum with social profiles and networking aspects this is a right choice for you. 

wpForo –

wpForo

is a free plugin with premium addons that allow you to personalize your forums even further.

Asgaros Forum – Another free and straightforward solution with various options for using all of the forums mentioned above benefits is Asgaros Forum.

DW Question & Answer – this plugin create a question and answer forum like StackOverflow. it's best for creating a support forum.




These are some of the best plugins available for create a forum on WordPress. You can pick any of these and proceed to add discussion forum to WordPress.
Conclusion
In this article, we shared steps on how to add forum to WordPress. You can customize this plugins to fit in with the rest of your website.