How To Add a Forum to WordPress Step by Step?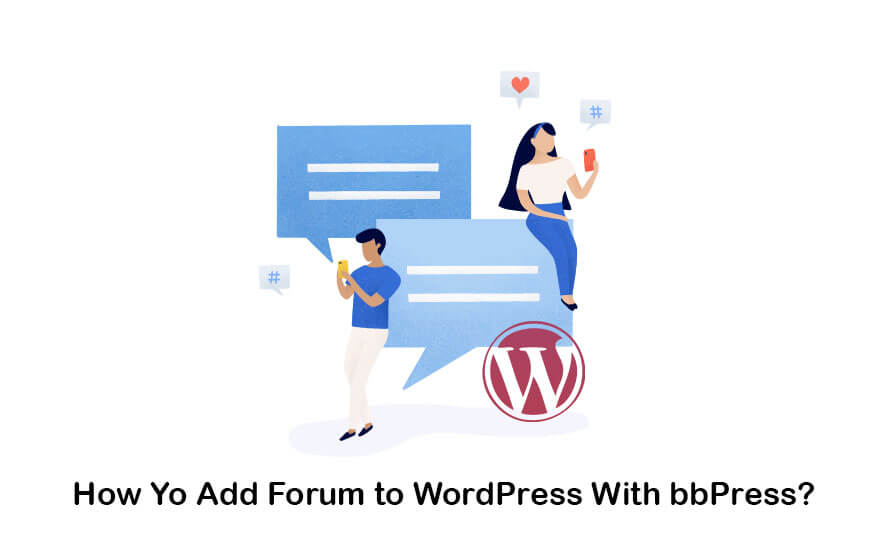 Do you want to create an online community? Then it would help if you thought about developing that on top of WordPress. That's because you can easily add forum to WordPress. If you don't have a clear understanding of how to do it, you should continue to read this. We will share all details on how to add a forum to WordPress. All you have to do is to follow the steps we share in this guide.
How to Create a Forum to WordPress?
A plugin is the most common approach to install set up a forum on a WordPress website. For maintaining a forum on your site, there are several plugin alternatives. Make sure your plugin of choice supports forums that are easy to set up, edit, moderate, and scale as your site's audience grows.
The following are some popular and well-reviewed plugins for developing WordPress forums:
These are some of the best solutions available to people on how to create a forum on WordPress. You can pick any of these and proceed to add discussion forum to WordPress.
How to Create a Forum With bbPress?
Here are the steps that you should follow to add forum to WordPress with bbPress. If you can follow these steps, you can get the job done with ease.
Step 1: Install bbPress
As the very first thing, you will need to navigate to the WordPress Admin Dashboard. Then it would help if you moved to Plugins and then select Add New. You can now search for "bbPress" under the search bar. After locating the bbPress plugin, you should click on the button called "Activate".
Step 2: Create the Main Forum Page
Upon installation of bbPress, you will be able to see the welcome screen. From there, you should develop the main forum page. There are two methods available to do it.
Method 1: Creating a Parent Forum With the Help of bbPress
You need to pick the Forum option out of three options that you can see. Then you can click on the button named "New Forum". Now you will come to a new page, which has multiple options. This is where you should enter the forum name and description. Make sure that you indicate the forum as "Closed" so that no other person will be able to post on it. Once you are done with making changes, you can hit on the "Publish" button.
Method 2: Creating the Forum Index Page
You will need to come to a new page and then provide a suitable name for it. Then you should copy and below-mentioned code to the page.
"[bbp-forum-index]"
Next, you should go ahead and hit on the "Publish" button. Make sure that you stick to just one method out of these two. Otherwise, you will end up creating two forums on your WordPress site.
Step 3: Add the Forum to the Main Menu
Now is the time to add a forum to the main menu. This is where you should get to the WordPress Dashboard, go to Appearance, and then pick Menu. You will need to click on the option named "Add Menu Items". Then you can select the items that you want to add to the menu. Once you add items to the menu, you can hit on "Save Menu" button.
Step 4: Creating Forum Topics
To create forum topics, you will need to get to the WP Admin Dashboard, select "Topics", and then pick "Add New Topic". This is not mandatory because privileged users on your forum will be able to create forum topics independently.
Step 5: User Registration
You can allow interested users to register to the forum on their own. This is where you should get to the WordPress Admin Dashboard, click on Settings, go to General, and then select Membership. You can allow anyone to sign up with your website as a member. Then you can save the settings.
Step 6: Creating Lost Password Page
You will have to use the following shortcode to create the lost password page within the forum.
bbPress Forum Roles
Now you know how to add a forum to WordPress with bbPress. You should also figure out that there are some roles for members in the forum. If you are a complete beginner to online forums, these roles will look unfamiliar to you. That's why we thought of sharing more details with you on the forum roles. Make sure that you have a good understanding of these forum roles, as they can be beneficial in the future.
1- Keymaster
Keymaster is a bbPress forum that is pretty much equivalent to the WordPress admin. A person under this role will not just be able to create topics or edit topics but will also be able to create and edit other people's issues. On the other hand, the key master can manage tags, create new forums, and change the global settings of the online forum.
2- Moderator
A moderator can access all privileges of the key master. However, a moderator will not delete other users who have signed up with the forum. Forum admins usually get moderators to moderate content published within the forum.
3- Participant
A forum participant will be a user who is capable of creating topics. Moreover, a forum participant can comment on the issues that are already completed as well.
4- Spectator
A forum spectator will only be able to view topics. In other words, a forum spectator has read-only access to the topics. However, it is still possible to comment on the topics if the comments section is allowed. Or else, there is no possibility to comment on any subject as well.
5- Blocked
If a user is blocked, he/she will not be able to do anything on the forum. Some of the blocks are temporary, whereas others are permanent. A key master or a moderator will be able to block a user in the forum.
Conclusion
In this article, we shared steps on how to add forum to WordPress. You can customize bbPress to fit in with the rest of your website. The first step is to check through the options under Settings > Forums and make any required adjustments to the way people interact with your board. Most of the options are self-explanatory, but the Auto Role option is the most crucial. This option allows you to choose the default role for new users when they register.


The default design of bbPress will match the look of your website, but there is always a method to make it look a little more professional. There are several bbPress-specific themes available. ThemeForest is the ideal place to start if you want to alter the appearance and feel of your forum. They provide a large number of bbPress themes that are both responsive and appealing and a variety of additional features. If you still need
more details
, visit this post.