Best Ecommerce Hosting 2022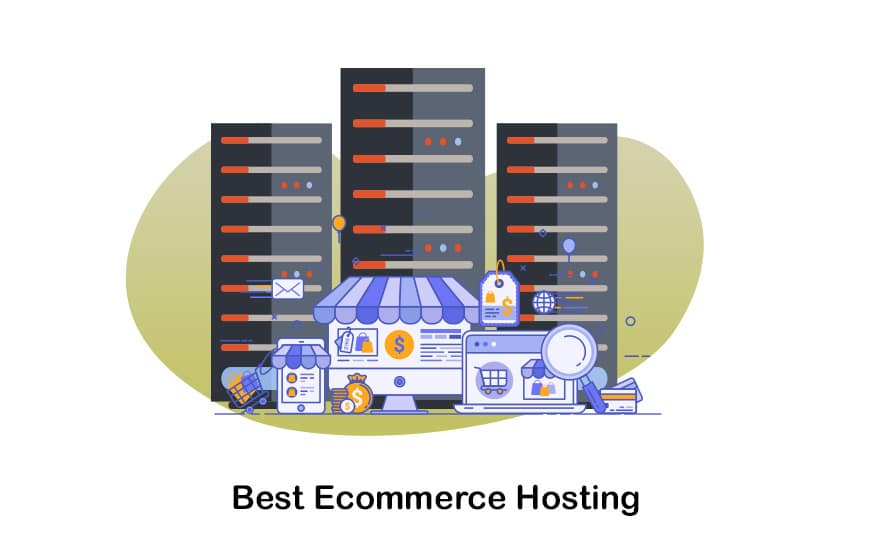 Do you plan to have an eCommerce store running up on the internet? Then you should locate the best eCommerce hosting platform available out there to consider. We will do an eCommerce web hosting comparison to make your life easy. All you have to do is go through this comparison and locate the best online store hosting services provider. It's best to read " How to start an online shop " first.


What is ecommerce hosting?

eCommerce Webhosting targets online shop owners. A good eCommerce hosting provider considers adding SSL certificates, daily backups, and support. The best e-commerce web host will have a specified plan for online shop owners.



Best web host for eCommerce
What is the best eCommerce hosting service? Take a look at these options and pick the right one. Then you can locate the best web hosting for eCommerce services providers out there as of now.


1. A2 Hosting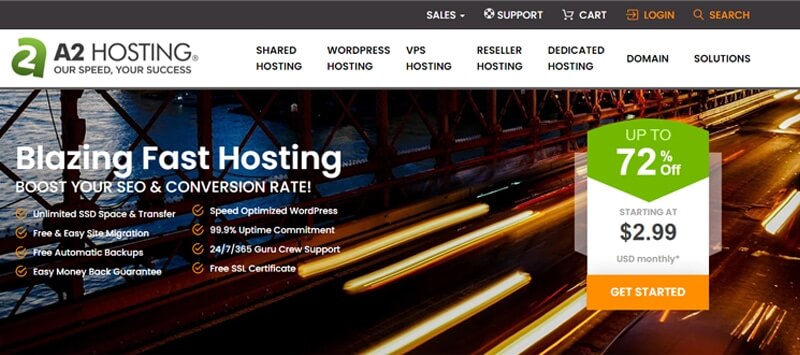 Features
A2 Hosting received a 3.6 out of 5 rating for its features in our study, putting them in the center of the pack. Despite not being as far up as InMotion, A2 has a lot to offer. Its Turbo Servers can load pages 20 times quicker than ordinary servers, and additional features, including SSD storage and unlimited disk space, help to provide a speedy user experience. Even each delay may impact conversions by 7%.


Even though A2 Hosting provides various hosting options, it only offers VPS, WordPress, and dedicated servers plans for eCommerce. That's not to suggest you can't run your online shop on a shared hosting package; it simply means you'll miss out on key eCommerce features like ultra-fast CPU speed and increased traffic capacity.


Uptime isn't one of the benefits of A2 Hosting. Its uptime guarantee is a middling 99.95 percent, which is reasonable but not exceptional. A2 came in second to bottom in this area out of the six constructors on the list, with a 2.5 out of 5 ratings.


However, 99.95 percent uptime is just a minimum guarantee, so that you may get much higher uptime. And what A2 Host lacks in uptime, it more than makes up for in speed & customer service – it's simply a matter of prioritizing which of those things is most important to you.


Pricing
If you are looking for excellent value for money, A2 Hosting would be a great option. The cheapest plan would cost just $2.99 per month. Shared hosting plans are not too bad. On the other hand, you can get the Turbo Boost option for just $6.99, which is impressive.


2.SiteGround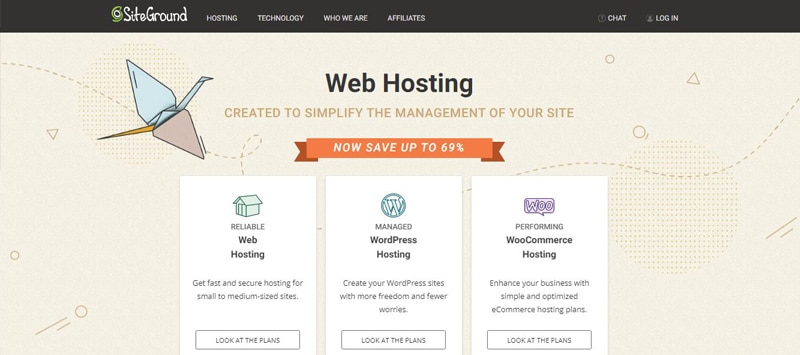 Features
Auto-installation is a lifesaver that speeds up your site and makes your visitors happy, while CDNs like Cloudflare increase site performance and make your visitors happy.


Free shopping carts and an eCommerce Ready Server are all included with SiteGround's eCommerce plans. Multiple server locations on three continents offer superior site performance for visitors from all around the globe, while unmetered data transmission assures scalability as your business expands. SiteGround was named Best for Resulting In cost, and we weren't joking when we said it got a 4.8 out of 5 rating in this area. Most designs do not have a wide range of amenities; thus, this is not the standard!


SiteGround has a 99.98 percent uptime guarantee, which isn't as good as HostGator's 99.99 percent promise, but it's still remarkable. One hour and half an hour of interruption per year are equivalent to 99.98 percent uptime. You'll want that time to be as little as feasible for an eCommerce site.


Pricing

The eCommerce hosting plans of Siteground start at just $2.99 per month. You can find some great deals by signing up with long-term plans.


3. HostGator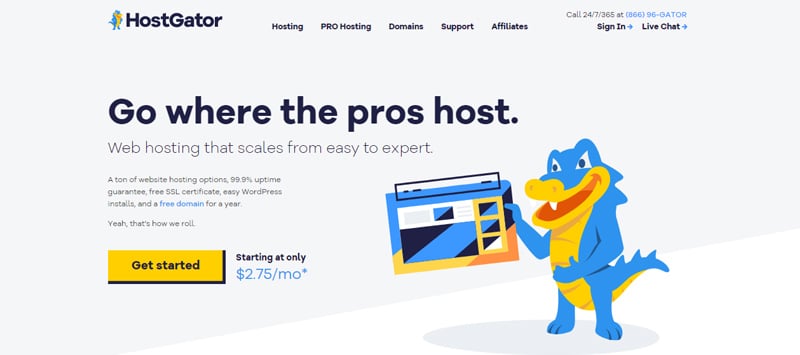 Features
HostGator can offer an easy and hassle-free experience to anyone looking forward to developing an eCommerce website. You will be able to proceed with template-based website designing to the next level with HostGator. On the other hand, you can also get professional functionality and features with HostGator.

You will be able to access some of the best quality design templates when you are using HostGator. Even though there aren't too many templates, all the available ones are good-looking. Hence, you can pick one of them and customize it according to your needs.

When you are using HostGator to set up an eCommerce store, you can receive some additional goodies to make your life easy. For example, you will be able to get a free domain and SSL certificate. On top of that, you can also receive basic SEO functionalities, which can make your life easy by securing better rankings on search engines.
HostGator ensures uptime and speed in their eCommerce hosting plans. Therefore, you can keep peace of mind and proceed with using it as your hosting services provider. You will surely appreciate the support and assistance you can get out of HostGator to host a website and take it to the next level of success. Just use HostGator, and you will never be disappointed with the results.


Pricing
Shared plans of Hostgator are going to be a bit more expensive. You will have to spend $5.25 per month on it.


4. Bluehost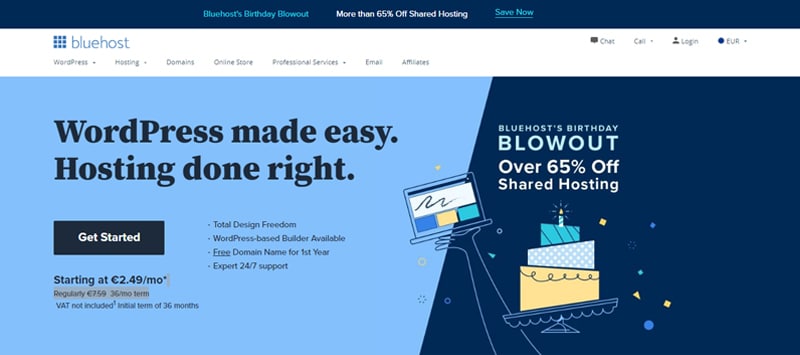 Features
Bluehost's 99.98 percent uptime, which received a 4 out of 5 rating in our analysis, translates to around 1.5 hours of downtime each year, almost flawless. Online retailers, in particular, need high uptime since time is money, and the longer the site is offline, the more sales you will lose.


Bluehost has a modest disadvantage in terms of functionality, despite its excellent uptime. We gave it a 3.3 out of 5 ratings, putting it in the same league as HostGator. This is mainly because Bluehost's lowest plan does not include free backups.

Although it is excellent for those setting up a WooCommerce shop, it does not support Magento or other eCommerce platforms.
However, Bluehost's mid-tier services, which are suited for fledgling online shops, perform well. BLUEHOST'S Plus shared hosting plan, SSD storage, unlimited bandwidth, and unlimited websites are included ($5.45/month).


Pricing
The pricing plans of Bluehost vary between $15.95 per month and $32.95 per month. The standard plan is more than enough for essential work.


5. DreamHost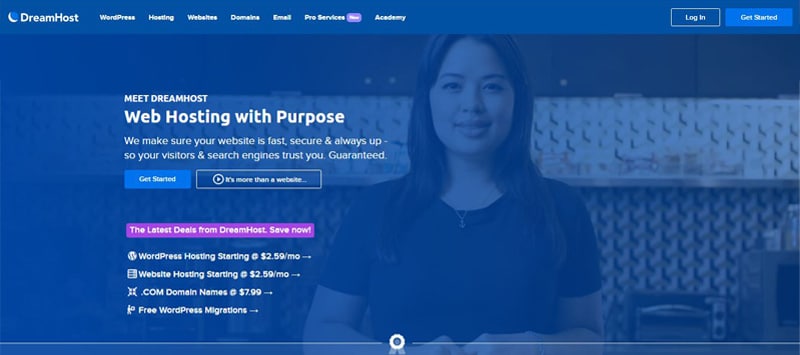 Features
We gave DreamHost a 3.8 out of 5 ratings because it did well in this area. Every plan includes "unlimited traffic," which means DreamHost does not measure bandwidth and traffic, so you will not be charged if you exceed a specified limit. This is similar to other providers' "unmetered bandwidth," which means your site won't be penalized as it grows!


DreamHost also offers free daily backups on all of its plans, which may be a lifeline if you're just getting started since you won't have to worry about losing all of your work due to a single error. When you register a.com, .net, or .org, or.info domain, you get a free domain name for the first year, and every plan comes with unlimited email. However, no dedicated IP address is included in its plans.


DreamHost's shared and VPS packages are more than capable of operating a new eCommerce business; the sheer number of features available on shared plans makes DreamHost so appealing to novices. DreamHost's dedicated plans, on the other hand, are underwhelming. However, since few online companies would need the vast capacity of a dedicated plan, this shouldn't have a significant impact on your selection.


Pricing
The cheapest plan would cost $16.95 per month. There are even plans at $71.95 per month, which are more advanced.


6. InMotion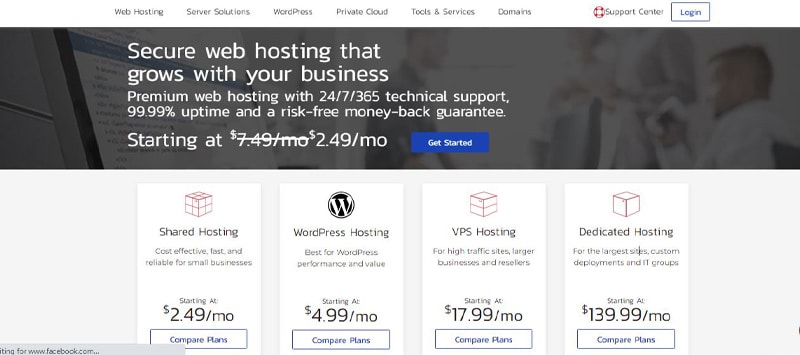 Features
Even its most basic shared plans come with unlimited data and free SSL certificates, so InMotion doesn't scrimp on vital features. You can even obtain limitless storage and websites if you forgo the Core plan. It's no surprise that this web host received a 4.3 out of 5 rating in our research's "features" category.


InMotion is a fantastic shared and VPS hosting provider. If you have a small or new shop, InMotion's shared services are an excellent starting place since you can quickly upgrade to a VPS plan later. The Power shared plan is "E-Commerce Ready," with one-click shopping cart installs and a selection of eCommerce software, including PrestaShop, Magento, WooCommerce, and OpenCart.


All InMotion plans now include complimentary SSDs, which are quicker than hard disk drives in delivering content and give enough speed to satisfy even the most anxious consumers. Each InMotion package also includes $150 in free advertising credits, allowing you to get a head start on marketing your company on leading search engines.


Pricing


You can get the cheapest shared hosting plan at $12.99 per month. If you want to get VPS hosting, you can find packages for $19.99 per month.


Conclusion
We can recommend all these for the eCommerce hosting needs. After selecting the best web hosting for eCommerce, you will not have to worry too much about its performance. You can continue to offer a top-notch experience to all your visitors. in the end uts recomended to read our article about how to increase online sales fast.